Profligate's Regress
May 7 - Panama
After a sizzling quick Canal passage, Profligate is back in the Pacific, anchored about a half mile from the Flamenco YC. The Panama City skyline looms about 10 miles in the distance. It's hot. Real hot. Although it's early morning, sweat pours from every pore. If you don't like heat and humidity, you have no business in the tropics.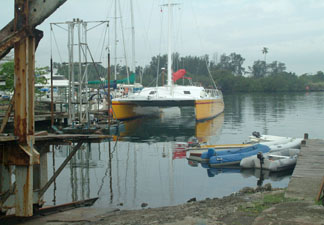 The new Gold Coast built 65-ft Tropicat as seen at the Panama Canal YC. She's headed for charter service in Cabo, where she'll take out nearly 100 passengers at a time, replacing the trimaran Pez Gato, which long ago went 'soft'.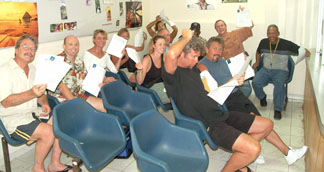 There are new and nutty rules for transiting the Panama Canal. One of them is that our entire crew of 11 had to have their photos taken and be fingerprinted!
It's been one of the wildest two weeks of our sailing lives. In less than 14 days, we've raced Antigua Sailing Week aboard the R/P 92 Leopard of London; taken great photos of the new MaxZ86s Pyewacket and Morning Glory, as well as the 140-ft Pacific Cup bound Mari-Cha; with 10 others sailed 1,200 miles from Antigua to the San Blas Islands; set a new boat speed record of 25.3 knots among hundreds of surfs; spent a day - and a ton of money - running around Colon setting up a rapid Canal transit; got photographed and fingerprinted in order to transit the Canal; hung out at the Panama Canal YC; did a Canal transit in six hours; anchored in Flamenco Marina; and dropped off crew. Plus met hundreds of great people.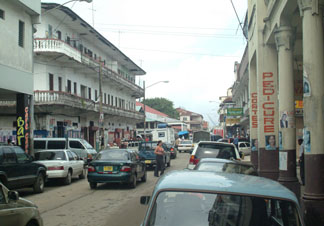 One of the better streets in Colon, Panama, the so-called 'colon of the universe'. This was once a beautiful colonial town that has completely gone to hell. Lack of jobs will do that.
Having completed that, Doña de Mallorca and the Wanderer had about 11 minutes before welcoming the new crew. Fortunately, the list of things to be done was small - solve the starting problem on the port engine; make sure the house charging system problem had really been fixed; deal with some steering issues; and catch up on two week's worth of sleep. Once that was done, the rest - dashing to Nicaragua, Acapulco, Cabo, and San Diego before the start of hurricane season - almost sounds easy. But of course, it's never that way. The one thing we can say for sure is that life hasn't been boring.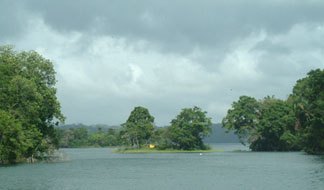 Lake Gatun, the heart of the Panama Canal. The only way to cross the continental divide by yacht!
Everything now seems much better. A lost crew member was found; the port engine starting problem mysteriously cured itself; the alternator bracket and steering issues will apparently hold until California; and a good night of sleep was enjoyed. See the June issue of Latitude 38 for more stories.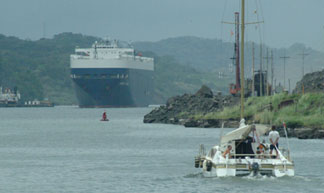 A slow and small boat in the canal about to cross paths with a big ship. The little guy paid about $350 to transit, the ship about $100,000. No wonder the Canal doesn't want small boats.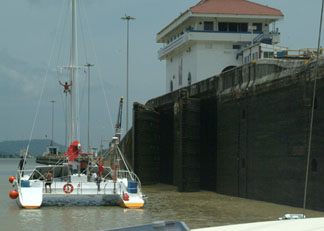 Our new friends on Tropicat locking down on the Pacific side
Photos Latitude/Richard