St. Barth Bucket: Everything but Wind
April 5 - St. Barth, FWI
Over the weekend, 22 of the world's finest megayachts gathered in St. Barth in the Eastern Caribbean for the biggest Bucket ever. What's a Bucket? It's when owners of megayachts not designed for racing get together for fun and games with their boats. This mostly takes the form of several fun races. Because of the tremendous differences in style and age of these sailing yachts - everything from the new 138-ft J Class yacht Ranger, built to a pre-World War II design, to the 172-ft cruising ketch Salperton, also new - it's almost impossible to handicap these boats fairly. As such, after the first race, the boats that do really well are given a bigger handicap. So while the results don't really count for much, it's still great to watch these boats compete, especially since rabbit starts are employed, meaning the boats take their handicaps at the start, and the first boat across the finish line wins. This means lots of boats get passed during the race.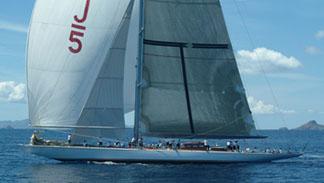 Ranger, the newest and fastest of the J Class boats, which were once used in the America's Cup.
The Bucket concept was started 18 years ago in Newport by Tommy Taylor and Nelson Doubleday. Usually there are just a handful of boats. The 22 boats this year in St. Barth was the largest group ever, and the quality was superb. It rivaled the megayacht regatta in New Zealand prior to the last America's Cup. Given the ever reliable trades of the Eastern Caribbean, everybody was expecting a terrific Bucket. Alas, the trades weren't so reliable, so both races had to be sailed in 5-10 knots of wind. It was very frustrating, as these boats are quite heavy, and because they aren't nimble - many have to furl headsails in order to tack because of staysail stays - they can't take advantage of any but the most extreme windshifts.
Nonetheless, the Bucket made for tremendous spectating. The first race was the approximately 22-mile around-the-island race. The biggest suspense was whether Hasso Plattner, sometime resident of Northern California, and his new R/P 147 Visione could catch the other boats, some of which had been given a head start of more than 90 minutes. The extremely light air was just what they needed, and after passing J Class yachts Ranger and the spectacular Cambria, which, if we're not mistaken, was built in 1928, on the last weather leg, they took honors. It was only 15 miles away and just a month ago that Plattner, again with Novato's Dee Smith aboard, sailed to victory in the Heineken Regatta, except then it was with Plattner's also new MaxZ86 Morning Glory.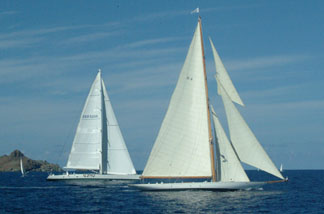 Visione, the modern 147-footer to leeward, and easily the fastest boat in the fleet, takes the J Class Cambria, arguably the most beautiful boat in the fleet, to leeward on the last leg of the first race.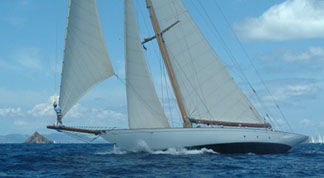 Cambria sails with three headsails ­ one of which is so high up you can't even see it in this photo. She looks spectacular.
With the wind as light or even lighter the second day, Visione was a favorite to win again. But then the course was shortened, then changed entirely. Finally, due to some kind of committee error, what was to be a 14-mile course turned out to be under 10 miles, and Visione's chances to catch up with what was in effect a greatly increased handicap were nil. As a result, the winner of the two-day Bucket was Carlo Falcone's 80-ft Fife-designed Mariella, which was built early in the last century. It wasn't an easy victory, for 'executive skipper' Antonio des Mortes, the wild and crazy former captain of Latitude 38's Ocean 71 Big O, had brought along Pablo, his 18-month old son. In the hot and slow going, Pablo was restless and kept calling for "Papa," reportedly driving Carlo halfway to crazy. With Pablo and his mother safely aboard Profligate for the second race, Mariella triumphed in one of the most exciting three boat finishes we've ever seen. With two bigger and faster boats only feet behind, and unable to lay the finish line, she dropped her headsail to sail under main alone to be able to point just a little higher for the last few yards. Spectators whooped and hollered.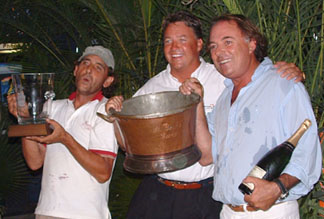 Carlo Falcone, owner of Mariella, winner of the Bucket, stands at right with a bottle of champagne, while Antonio des Mortes holds one of the trophies.
Second place honors went to Unfurled, a previous winner of the Bucket. Skipper Greg Perkins looked familiar, and after talking, we learned that we'd raced with him aboard the maxi Ondine in Hawaii way back in 1987 when he was a lowly deckhand just getting started. It's great to see that Perkins, now married and a father, has done so well for himself.
Third place honors went to Plattner's Visione. "She's no Mari-Cha IV," says Smith, referring to Bob Miller's 144-ft all out race boat, "but she's really fast."
Not quite as fast, but correcting out second in the last race was Bucket co-founder Tommy Taylor's 106-ft Avalon. It was a popular near-the-top finish, for Taylor, who had previously owned the boat for many years.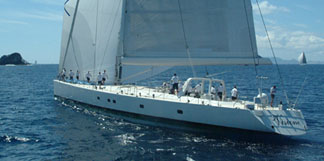 Visione is one fast - and long - yacht.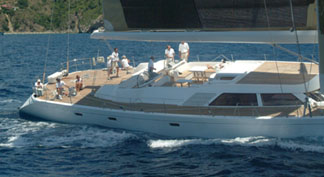 The size of Ipanema's cockpit and aft deck demonstrate why these are called megayachts.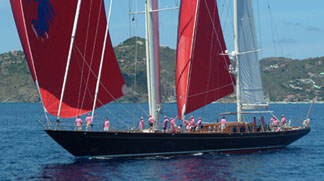 Victoria of Strathearn, her crew decked out in pink shirts, took honors in the second race.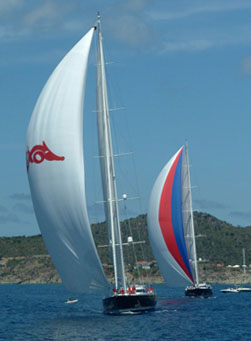 Destination Fox Harbor and the Aussie-based Kokomo, a couple of similar looking 130-footers, would sail the second race like a couple of Melges 24s, taking each other up higher and higher in a private battle.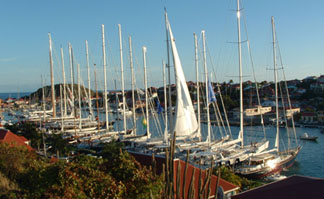 The quay at St. Barth was filled with the Bucket boats. The 147-ft Visione is the second front right. That little black dot on the unfurled jib is a human.
Photos Latitude/Richard