Profligate's Progress
April 2 - St. Barth, FWI
We stopped in St. Martin the other day on our way to Anguilla, and while picking up some boat parts at Water World saw a familiar face observing a Catana 42 cat being hauled out for survey. It was Jerry Blakeslee, formerly of the Bay Area, who opened a branch of Bay Island Yachts in St. Martin, became the commodore of the St. Martin YC, and otherwise has kept himself very, very busy. In fact, he's been so busy - boats have been selling like hotcakes in St. Martin - he's retiring to cruise on his own boat. Having been in St. Martin for a long time, he's thinking about sailing down to Cartagena and checking it out.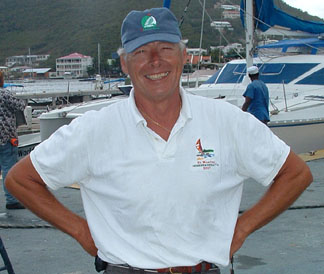 Jerry Blakeslee
The next day we made it over to Road Bay, Anguilla, a lovely anchorage. Off on the western edge were a couple of ships, victims of Hurricane Luis, which hit in '97 with nearly 200-knot winds. Or maybe they were victims of Hurricane Lenny about four years ago, which wasn't as strong, but which hung around for three days. There's just no place to hide in this part of the Caribbean from stuff like that.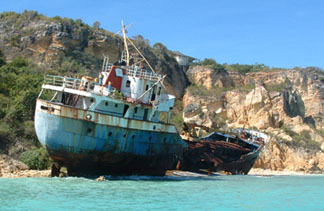 Road Bay hurricane victim
In the afternoon, we were given a tour of Anguilla by Latitude reader Bob Conrich, who was born and raised in San Francisco, but who has been living in Anguilla for nearly 20 years. Like Blakeslee, Conrich dreams about moving on, preferably on a cat even larger than Profligate! If you're a lady who wouldn't mind possibly hooking up with a guy with a house on a beautiful beach in the Caribbean, you can email him. He and his lady of some time broke up not too long ago.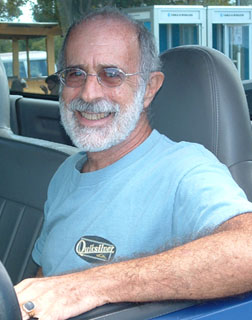 Bob Conrich
Anguilla has some spectacular diving out at the reefs, terrific white sand beaches, three world-class resorts - but not much else. If you're looking for tranquility, this is the place. If you're looking for action, it's not.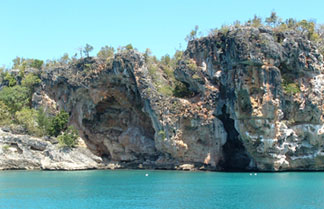 Crocus Bay, Anguilla
While back on Profligate in Road Bay, another reader, Hans Deller of the F/P 48-2 cat Pentesilea II, stopped by to say how much he loved the magazine. He and his wife Ruth have owned and chartered their cat for the last six years. And they are having a killer year, with 22 charters booked from Christmas until August. In the charter business, that's working your buns to the bone, but is better than too little work, which they had last year. They charge $12,800 for up to eight guests. If you're interested in booking a charter, email them.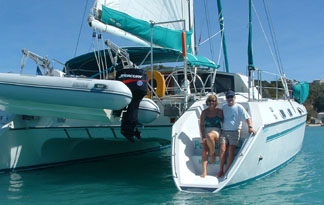 The Dellers aboard Pentesilea II
Photos Latitude/Richard
We're back in St. Barth for this weekend's ultra spectacular St. Barth Bucket, featuring some 22 boats, most of them new or nearly new, and all but one or two over 100 feet. Most will be racing with 20 to 30 crew, including the likes of Brad Butterworth, Kiwi key to Alinghi's triumph in the America's Cup, for the around the island race on Saturday, and a second race on Sunday. We haven't had a photographic opportunity like this in ages, so we're drooling.