Photos of the Day: March Madness
March 19 - San Francisco Bay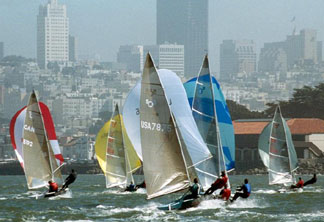 Three of the best reasons to go sailing in March are St. Francis YC's trio of Spring Invitationals. Two of the three are history now - the Spring Keel (March 6-7) and the Spring Dinghy (March 13-14). The third and final one, the Spring One Design, occurs tomorrow and Sunday. Our not-so-trusty Bertram 25 is up and running again, and we'll be out there taking photos of the four classes (J/120s, Express 37s, Beneteau 40.7s, and J/105s) that are sailing.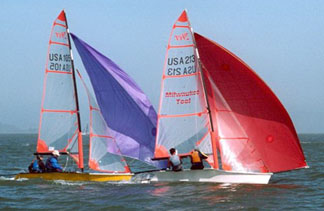 The accompanying pictures of the Spring Dinghy Invitational were taken by budding photographer Patrick Kerslake, son of well-known StFYC sailor John Kerslake. Patrick, a junior at Redwood High who has an interest in photography, was doing race committee last weekend when he snapped these fine photos (see more at www.sailpix.com/~pkphotos/index.htm). "I was on safety boat duty, so couldn't really get much variety in the shot angles - lots of windward mark roundings," he told us. Patrick also mentioned that he might be photographing 'Sail a Skiff Day' tomorrow out of the Treasure Island Sailing Center. Hopefully, there'll be some wind. Either way, keep the pics coming, Patrick!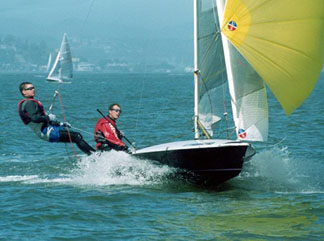 Class winners of the first two Invites follow. Full results may be viewed at www.stfyc.com.
SPRING KEEL (March 6-7; 3 races):
MELGES 24 - 1) Go Dogs Go, Tim Hawkins. (10 boats)
EXPRESS 27 - 1) Chimo, Brad Pennington. (12 boats)
MOORE 24 - 1) Kat, Breen McBurney. (18 boats)
J/24 - 1) Snowjob, Brian Goepfrich. (12 boats)
KNARR - 1) Peerless, Larry Drew. (11 boats)
SPRING DINGHY (March 13-14):
505 - 1) Howie Hamlin/Jon Bell. (22 boats; 5 races)
VANGUARD 15 - 1) Melissa Purdy/Shane Wells. (17 boats; 12 races w/1
throwout)
29er - 1) Dan Brandt/Paul Heineken. (6 boats; 5 races)
LASER - 1) Tracy Usher. (18 boats; 4 races)
FINN - 1) Patrick Weaver. (5 boats; 5 races)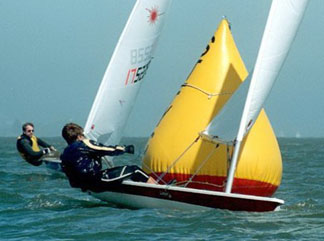 Photos Patrick Kerslake