Cheyenne and Geronimo in Tense Times in Southern Ocean
March 17 - Southern Ocean
Tension in the Southern Ocean is usually associated with rough weather, but not now, as both the maxi cat Cheyenne, and the maxi tri Geronimo, are being bedeviled by light airs. Although Cheyenne is expected to round the Horn and head up the Atlantic by late tonight, she was nearly becalmed yesterday some 400 miles from the Horn, and made only 365 miles in 24 hours. Nonetheless, she's still 1,600 miles ahead of the current Jules Verne record pace.
However - and this is a big one - Cheyenne's crew have discovered that more sail track is pulling out of the mast, this time near the top of the 143-ft tall mast. Can it be repaired like the other parts of the mast track, or will they have to sail the rest of the way with a reefed main?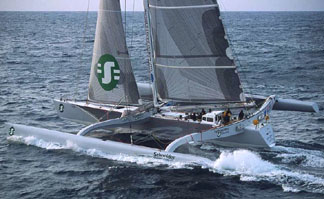 Geronimo
Photo Jacques Vapillon/DPPI/Cap Gemini Schneider Electric
Geronimo, which started the Jules Verne course after Cheyenne, but has been running at a faster pace, has seen that 'lead' shrink to just 41 miles. Plus, it's at this point that Cheyenne went on a tear, so it's going to be interesting to see what happens.