Big Bad Voodoo Daddy Regatta
March 15 - Pt. Richmond
Richmond YC's 22nd Annual Big Daddy Regatta attracted 107 boats this weekend, all rating 168 or lower. The club served up their tried-and-true fare of buoy racing on Saturday, a theme party on Saturday night, and the always-entertaining either-way pursuit race around Alcatraz and Angel islands on Sunday. The weather, as anyone who lives in the Bay Area already knows, was simply splendid.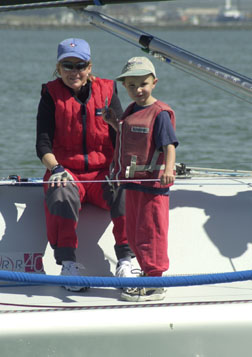 Sunday was a great day to bring the kids along. This one's sailing on Walt Logan's Farr 40 Blue Chip.
The accompanying pictures are from Sunday's pursuit race - a real brain-teaser this year. Most boats opted for a clockwise circumnavigation, including the overall winner, Pat Nolan's relatively new-to-him Farr 40 Javelin (ex-Endurance). Nolan and crew (Norman Davant, Glenn Hansen, Ted Wilson, James Tung, Hugh Loveless, Hunt Conrad, Billy Brandt and fitness advocate Joe McCoy) traded the lead throughout Sunday with Rob Weed's red Farr 40 Wired, until Javelin went hard left out of Raccoon Strait while Wired sliced off the fairway to the right.
"We had a lot of laughs on Sunday," reported Nolan, the new co-owner of Sail California. "It made up for Saturday. We went out with old sails and weren't prepared for all the wind. Three-quarters of the way up the first beat, our jib exploded - which ended our day prematurely."
Class winners of Saturday's buoy racing were Astra (Farr 40, Mary Coleman), Swiftsure (Schumacher 54, Sy Kleinman), Expeditious (Express 37, Bartz Schneider), Tiburon (J/105, Steve Stroub), Max (Antrim 27, Bryan Wade), Razzberries (Olson 34, Bruce and Lina Nesbit), Dance Away (Santana 35, Doug Storkovich), Mr. McGregor (Wylie Wabbit, Kim Desenberg), Light'N Up (Express 27, Gary Clifford), Ixxis (Olson 911-S), Silkye (WylieCat 30, John Skinner) and El Gavilan (Hawkfarm, Jocelyn Nash). See www.richmondyc.org for full results.
Voodoo was the theme of the shoreside activities, with swamp decor, voodoo dolls at every table, fog machines and a T-shirt with 'Big Bad Voodoo Daddy' surrounding a photo of the Governator attired as Conan the Barbarian.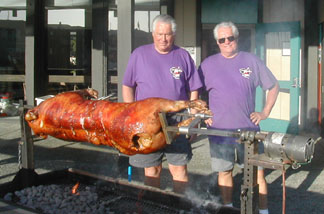 The McClaine brothers had the barbecues going at 5:00am Saturday. They cooked pig and chicken for more than 250 hungry sailors.
Torben & Judy Bentsen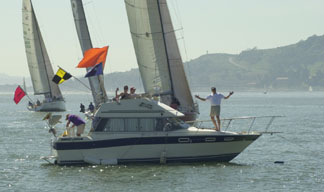 Farr 40 start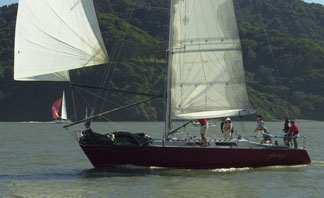 Flashgirl's two-pole jibing system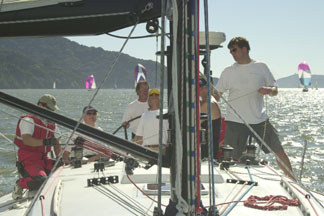 Onboard the Schumacher 50 Morpheus in Raccoon Strait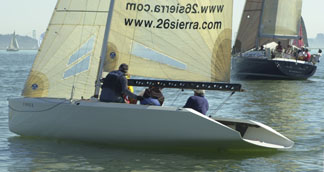 Saturday's winning Wabbiteer Kim Desenberg took the helm of the Sierra 26 on Sunday.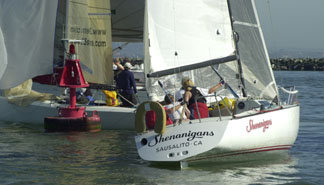 Bill Moore's Express 27 Shenanigans about to finish - or not!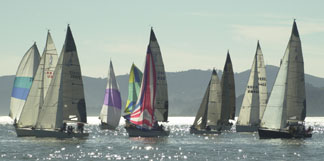 The fleet drifts through the day's last parking lot.
Photos Latitude/Rob except as noted