Profligate's Progress
March 4 - St. Martin
The Heineken Regatta in St. Martin starts tomorrow [Friday] and two things have been happening: boats have been signing up like crazy and the wind has been honking all week. At last count, something like 258 boats had signed up. The glamor boats, of course, are Roy Disney and Hasso Plattner's new MaxZ86s with canting keels and canard rudders. As for the wind, the other day the French Meteo forecast was for 29 knots of wind, with gusts to 40 in squalls, for the following three days. The wind has been going from calm to 25 knots in a matter of ten minutes, with big seas.
Upon arriving at St. Martin, we had a chat with Stan Honey, navigator aboard the new Pyewacket, Roy Disney's MaxZ86. He says that the new boat points higher than the old one. It will sail 11.5 knots going upwind, about a half to three-quarters of a knot faster. Robbie Haines, who manages the Pyewacket program, says they reached speeds up to 27 knots in 26 knots of wind yesterday. The canting keel has 4 buttons with 3 speeds each, and has to be worked constantly, wearing out the operator's fingers.
Roy Disney is needed back in the U.S. for the goings-on at Disney Corp., so he will have to miss this first meeting of these cutting edge boats.
Stan Honey normally sails aboard Steve Fossett's Cheyenne, and he says it's killing him not to be with them in the Southern Ocean, as they approach the halfway point in their Jules Verne Trophy attempt. Honey talks to Fossett about three times a day, usually helping him with questions and problems regarding the catamaran's electronics.
In other news, Antonio des Mortes, our former captain several times on Big O, and self-proclaimed 'Terrorist of the Caribbean', banged on the hull last night and insisted we come over and meet this incredible sailor friend of his from his hometown on the Galacian coast of Spain. When we learned the fellow's name was Javier Babe - what image does that raise in your mind? - we have to admit we weren't sure if the visit was going to be worth the time. Well, it was. It turns out that the 55-year-old Babe has sailed across the Atlantic 23 times, and has sailed around the Horn twice, all on his own boats. His wife Christina has been across the Atlantic 17 times. His 13-year-old son Oscar has been across 13 times - and not against his will. "The sailing life is la buena vida," he told us.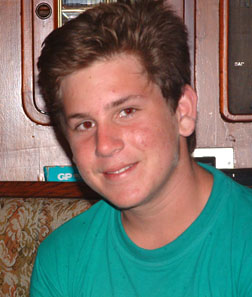 13-year old Oscar - who has crossed the Atlantic 13 times already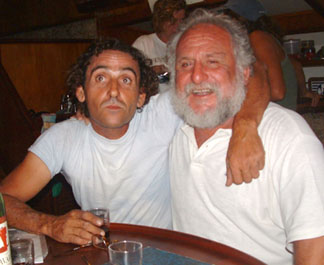 Antonio, Terrorist of the Caribbean, and often times Captain of Big O, with Javier Babe, his friend from childhood on the Galacian coast of Spain.
Initially a captain in the merchant marine, Babe became frustrated with stopping at great ports only long enough to load and unload cargo. Plus, he's a dedicated diver. "I am passionate about sailing, diving and the sea." So he bought and ran a three-masted 110-ft schooner. After several years, it was going to break him financially, so thanks to the help of Mary Crowley of Ocean Voyages in Sausalito, he sold the schooner, and acquired the 65-ft Frers-designed Argentinean-built ketch Peregrina, which means 'female pilgrim'. Anyway, he now runs back and forth across the Atlantic doing sailing and diving charters.
But not next year. Babe and five others will be sailing across the Atlantic on a traditional 26-ft open Galacian fishing boat. Everything used in the boat will have also been available in the 1700s. So not only will they not have a GPS or radar, they won't even have a sextant. When we asked what Babe would use to navigate, he pulled out a crude astrolabe-like device he made from the cardboard from a beer box. "With this, I can get my position, without tables or a watch, to within 60 miles." Babe looks forward to this extremely risky expedition as much as a five-year-old looks forward to Christmas morning.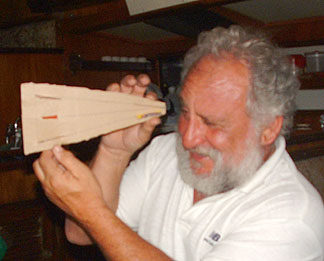 Javier Babe and the navigation device he'll use to cross the Atlantic later this year on a 26-ft open boat with five others.
Photos Latitude/Richard
Babe is as good a diver as he is a sailor. The last time he was home, he did a lot of drinking in the bars, and when it came time to pay, bet the local fishermen the cost of drinks that he could hold his breath underwater for over three minutes. He did it for 3 minutes and 15 seconds, so he got to drink free of charge. His son Oscar is also an enthusiastic diver. He currently free dives to 50 feet.
We'd have gotten much more information on Babe and his incredible adventures, but he was leaving a few minutes later on a night passage to Culebra. If all goes well, we'll meet up in the Virgins at the end of this month for an interview.
Babe also had some news about a sailor we'd known from the past. About eight years ago, we did a wild Antigua Sailing Week with Big O, with lots of topless women as crew. One of these women was a beautiful young Spanish girl who was cruising with an older Spanish gentleman. Although we could never prove it, it appeared the guy was physically abusing her for racing with us. It was a tricky situation, as she wouldn't admit she was being beaten, so all we could do was warn the guy that if he wasn't careful, a bunch of people were going to beat the shit out of him.
We're not sure what has become of the girl, but the fellow, Isadoro, left South Africa singlehanding on his 42-ft sloop in 2003, and began sending strange messages to Babe and other friends. Over a series of reports, he advised friends that his boat was being taken over by witches and dwarfs. In fact, it was getting hard to navigate because the compass kept transforming into a dwarf's head. The troubled fellow's boat was later found without him aboard. It's believed that he went mad and committed suicide.
If you think life if boring, you've clearly never spent much time living the sailing life or meeting the characters in the Caribbean. And Lord knows, there will be plenty of excitement this weekend in St. Martin.