Dog Gone Drug Bust
March 3 - Alameda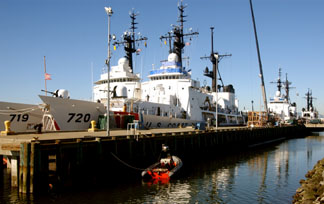 It's a rare and beautiful February day to find all four 378-ft High Endurance Class cutters in port at Coast Guard Island, Alameda
Photo Petty Officer 3rd Class Mariana O'Leary/U.S. Coast Guard
When the Coast Guard Cutter Munro pulled into its homeport, Alameda, on February 4, Petty Officer 2nd Class David Thomas was bringing back something a little unexpected after two months at sea: a new family member.
On December 22, the Munro was on patrol approximately 120 miles SSW of the Guatemalan and Honduran border when it sighted a 60-ft fishing vessel. The Munro's boarding team embarked the Candy1 and began an initial security inspection. There was more than one surprise waiting for them.
"We started hearing what sounded like a dog coming from a back compartment," said Lt.j.g. Nicholas Tabori. "We were pretty careful when we opened that door - it's always hit or miss when you find a dog onboard. You never know if it's friendly or not."
What the boarding team found was a scared but friendly 3-year-old Dalmatian with lots of energy, which the Candy1's crew called Danye. "He was really skinny when we found him; you could see his ribs," said Tabori. "We thought the dog would probably respond to Spanish because of where we were geographically," said Fireman Jesse Freeman, "so we started saying 'bueno perro,' which is Spanish for good dog, for about 20 minutes trying to calm him down."
The Munro's boarding team ultimately discovered 108 bales of cocaine worth about $40 million onboard the Candy1. Despite detaining eight men and bringing all the drugs onboard the Munro, they still had a dilemma. "Once we realized we had to dispose of the boat, we also realized we had to deal with the dog," said Ensign Gerrod Glauner. "We couldn't very well sink the boat with a dog onboard."
The first taste of life on a U.S. Coast Guard cutter for Danye was a meal of kitchen scraps and a bath. "We gave him a bath the first day we brought him onboard. He turned from grungy brown to bright white with spots," said Glauner. Danye started to gain weight from the kitchen scraps fed to him before Munro could stop in port and buy dog food.
"He definitely boosted crew morale. We made him a little alcove for sleeping in the hangar, and he would hang out with us. He would sit there when we did our workouts and jump up and down with our jumping jacks," said Freeman.
"A couple different people were talking about wanting to keep him or make him a mascot," said Tabori, but Petty Officer Thomas seemed to have the best situation to take him in.
The Munro had been back about a week when Thomas stood on the pier with his newly named dog, Luke. A bright new-looking collar gleamed red against his shiny spotted coat and his alert eyes seemed to catch every little movement on the busy pier.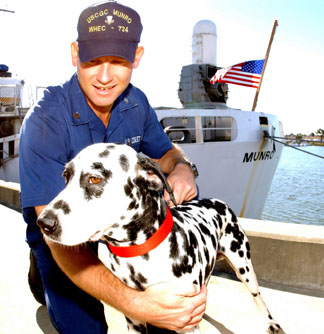 U.S. Coast Guard Petty Officer Dave Thomas, a Food Service Specialist aboard the CGC Munro, proudly introduces Luke, the newest member of his family. The Munro is in the background.
"I just kind of fell in love with him," said Thomas, who came up with the name from the movie Cool Hand Luke. He was fun to play with and I started getting attached. I told the executive officer I wanted to keep him. My family and I were actually looking for a dog before I left, and then this great dog just fell in our lap," said Thomas.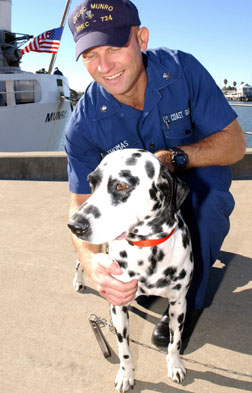 Luke checks out his new home on Coast Guard Island, after almost two months at sea.
Photos Petty Officer 3rd Class Mariana O'Leary/U.S. Coast Guard