Olympic Team Trials
February 25 - Ft. Lauderdale, FL
Persistence paid off for Kevin Hall of Ventura on Sunday, when his fourth bid for an Olympic slot was a winner in the Finn class of the U.S. Olympic Team Trials-Sailing being held in Ft. Lauderdale February 12-22. Hall had previously finished eighth at the '92 Olympic Trials in the Finn, fifth at the '96 Olympic Trials in the Laser, and second in the 2000 Olympic Trials in the 49er class. Hall only started sailing the Finn within the last year, which speaks volumes about the talent that has made him a noteworthy sailor since he won his first world championship in 1986. By winning the first four races of the Trials, conducted from Lauderdale Yacht Club, Hall established a commanding lead in the 23-boat Finn fleet. Over the remaining races, he would cross the finish line first an additional five times, including the 16th and final race of the series - which he did not have to sail.
| | |
| --- | --- |
| | Kevin Hall |
In the opening race Sunday for the Yngling fleet, with just four boatlengths to spare, Carol Cronin (Jamestown, RI), Liz Filter (Stevensville, MD) and Nancy Haberland (Annapolis, MD) crossed the finish line first, making them mathematically unbeatable, and they elected to sit out race 16 as the remaining five teams fought through the last race to determine the final standings for the fleet. Cronin, Filter and Haberland won with a low score of 31 points. Hannah Swett (New York, NY/Jamestown, RI) with Joan Touchette (Newport, RI) and Melissa Purdy of Tiburon finished 4-3 to retain second overall on 36 points. Sally Barkow (Nashotah, WI), Carrie Howe (Grosse Pointe Farms, MI) and Debbie Capozzi (Bayport, NY) kept third place overall after finishes of 2-4 gave them 38 points.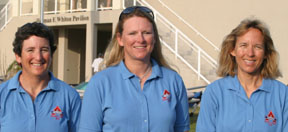 Left to right: Carol Cronin, Liz Filter, Nancy Haberland
Not only will Cronin, Filter and Haberland get to compete in Athens, but they will do so in the event making its Olympic debut at the 2004 Summer Games.
The 49er class also saw their champions decided before the final race of the weekend. Tim Wadlow (San Diego) and Pete Spaulding (Miami, FL) opened the day by winning their 10th race of the series and followed that with a second place finish. That performance allowed them to take a DNS (did not sail) score for the final race of the series, which they then dropped, for a total of 48 points. Dalton Bergan (Seattle) and Zack Maxam (Coronado) posted finishes of 2-1-1 to move back into second overall on 59 points, while Andy Mack (White Salmon, WA) and Adam Lowry (San Francisco) dropped back one spot in the overall standings - to third - on 64 points after finishes of 3-3-4.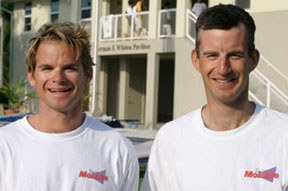 Pete Spaulding and Tim Wadlow
After trading wins yesterday with Lars Guck (Bristol, RI) and Jonathan Farrar (Niantic, CT) in the Tornado class, two-time Olympians John Lovell (New Orleans, LA) and Charlie Ogletree (Houston, TX) put the hammer down in Sunday's first race, turning a sizable lead into a win. When Guck and Farrar crossed the finish line fifth, Lovell and Ogletree became mathematically unbeatable.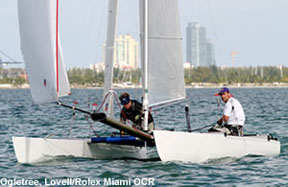 | | |
| --- | --- |
| John Lovell | Charlie Ogletree |
On Saturday, Meg Gaillard (Pelham, NY/Jamestown, RI) clinched the Europe class with 15 points, followed by Krysia Pohl of Alameda with 34 points. Gaillard set the pace from the outset of the regatta, only failing once to cross the finish line first - in race 10, when she and two other sailors were over the starting line early, an infraction which required them to restart properly, leaving Gaillard with some ground to make up. Even in that race, she caught up to finish second.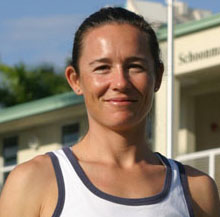 Meg Gaillard
Photos Media Pro
The winners of these Trials now become members of the USA's 2004 Olympic Sailing Team which will compete next August in the Games of the XXVIII Olympiad in Athens, Greece. For complete results: www.ussailing.org/olympics/OlympicTrials/2004/.