Photos of the Day:
Corinthian Midwinters
February 16 - Tiburon
The Corinthian YC's wildly popular midwinter series wrapped up this weekend with a light air jaunt to the Cityfront on Saturday and an abandonment due to lack of wind on Sunday. Despite the truncation of the series, a good time was had by all, both on the water and on land, as these photos demonstrate.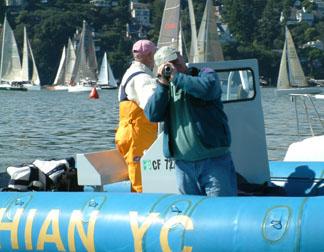 The pretty blue Mermaid served as crash boat and video platform.
Final regatta results were not posted as of Monday morning, but check back at www.cyc.org/race/2004/midwinters.html later on. We'll also have results, more photos and a report in the March issue of Latitude 38.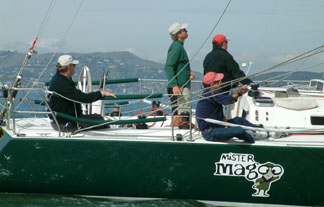 The often-victorious J/120 Mister Magoo finished first in PHRF 1 on Saturday.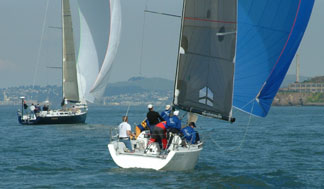 The Schumacher 50 Morpheus and the 1D-35 Sensational sail down to Fort Mason.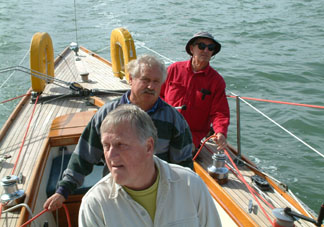 On board Yucca, Hank Easom's 8-Meter, which finished second in PHRF 2.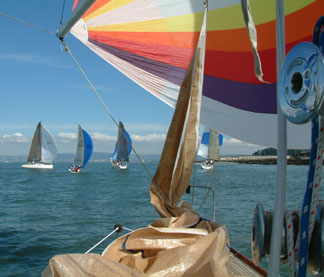 The view from Yucca's bow while running from Crissy Field along the Marina to Fort Mason.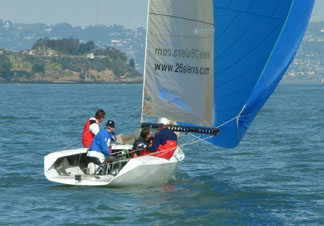 The Sierra 26 sported an all-pro crew of Mark Rudiger, Carlos Badell, Robert Flowerman and Kim Desenberg.
Photos Latitude/Rob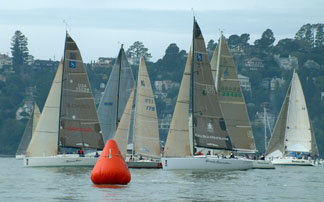 Fleets A and B were able to start on Sunday, but they were recalled by the race committee when the wind died completely.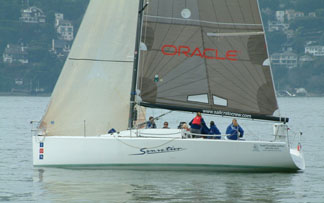 Sensation, one of four 1D-35s operated by Grand Prix Sailing Academy, was an all-women entry.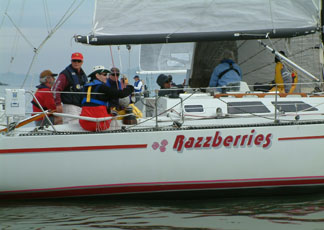 Razzberries, in their starting sequence prior to a postponement, drifts toward the starting line in Sunday's still air.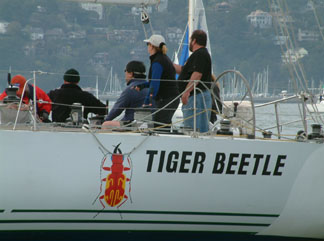 Tiger Beetle picked up the first place trophy in the IOR Warhorses division.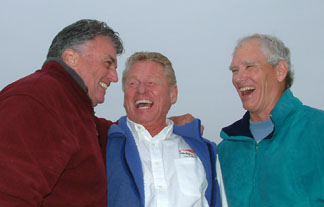 Aotea Team Trophy winners, Corinthians Ted Goldbeck of the Cal 20 Chica, Julle Le Vicki of Smogen III, and Ron Kell of the Express 27 Abigail Morgan, share a laugh.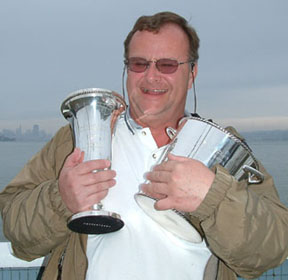 An ebullient Jan Borjeson of the Elliott 1050 Basic Instinct won first place in Non-Spinnaker 1 and the trophy for Best Performance by a CYC member.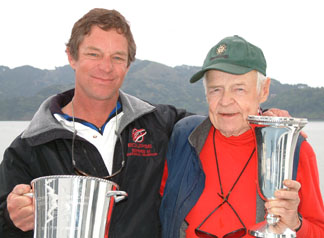 Bill and his father Richard Melbostad, of San Francisco YC, won PHRF 2 and the trophy for Best Performance.