Profligate's Progress
February 13 - St. Barth, FWI
It's Friday the 13th, which is particularly unlucky for us, because it means it's the end of the February segment of our 25th Anniversary Cruise aboard Profligate in the Caribbean. We sure hope summer has come to Northern California, because we don't know how we're going to be able to survive with anything less than 82-degree air and water temperatures. It would also be nice if SF Bay waters had miraculously turned a transparent blue.
Actually, the weather has been a bit off here for the last week. The air and water are still warm, but it's been cloudy and windy. Yesterday was a beauty, but today is kind of overcast and gray again. When we say windy down here, we mean windy. We tried to sail to Anguilla the other day from St. Barth, and had a steaming reach in the teens with just a main and a tiny jib. But when it started blowing over 30 late in the day in the lee of St. Martin, we decided to bag it right there, as the water was going to be too cloudy for good snorkeling anyway. On our return trip two days later, we tucked a reef into the main - something we're embarrassed to say we haven't done in about three years - and headed back to St. Barth. As you might expect, it only blew 8-10 kts and we were way under powered. Then the squalls came, with lots of rain with wind in the low 30s. Oh yes, were we glad to have the reef in. With the changes in wind speeds came great changes in sea conditions. In a distance of 15 miles, we had everything from 8-ft seas to virtually flat water - on the open ocean.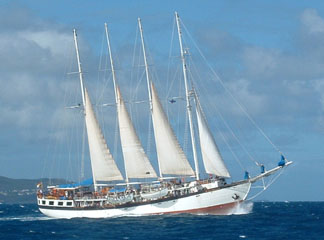 As we sailed down to St. Martin, we crossed paths with the 'windjammer' Polynesie, taking a new load of tourists to St. Barth. Reefed down, she was looking good and moving fast - although she may have had her engine on.
We have mixed feelings about St. Martin. One one hand, it's naturally an even more beautiful island than St. Barth, but then you go ashore. Geez, there's garbage and trash everywhere, and the hubbub of a busy and crowded island with lots of traffic. It's a shock after the tranquility of St. Barth. Even more regrettably, you have to deal with some surly attitudes. In a typical example, we politely paid a West Indian woman some money for our Internet time. She got our change, and deliberately looking away from us, slapped it down on a table about 10 feet away and walked away. It's the all too common West Indian 'cut off your nose to spite your face' attitude toward tourists, which, unfortunately for them, are their economic lifeblood.
St. Martin does have a lot of things going for it: It has a good airport with excellent connections to the States and other islands; it's a great place to pick up a charter boat; it has great anchorages; it's very close to other great islands such as Saba, St. Barth, and Anguilla; in Budget Marine, it has the best chandlery we can remember seeing anywhere; it has some great restaurants on the French side; and it's the home base to some of the greatest boats in the world. But none of these things mean that much to us if too much of the place has trash everywhere and a percentage of the people make it clear they dislike you even while taking your money. We were thrilled to get back to St. Barth.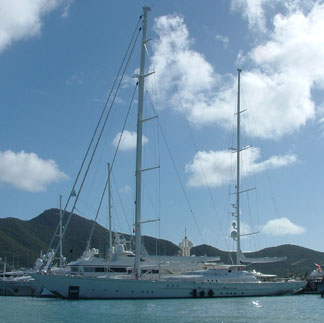 While all the big boats bring the owners and guests to St. Barth to play, many of them are based in St. Martin. Check out this little beauty. Felicita West is a 210-footer designed by Ron Holland and built by Perini Navi. Her 200-ft tall main mast - second highest in the world to Mirabella V's much taller monster - means she won't be able to come through the Panama Canal.
Some readers might think that we like to get back to St. Barth because of all the rich people and big boats. We'll just say that we're thrilled to report that upon our return, we got our interview with Jim Greene of Tango II. Greene, you may recall from an earlier report of ours, is the fellow from the Northeast and St. Barth who has circumnavigated three times - his wife Anna was along twice - with a 43-ft boat with just over nine feet of beam that was designed for racing in protected waters. The boat is wood, and to give you an idea of how old she is, her hull was buried in a hole in a shipyard to prevent the approaching Nazis from finding her. Jim's the kind of guy who took off on a circumnavigation with his new girlfriend with just $142. We hope to have that interview in the next issue of Latitude 38, which will come out on March 2, to prove that couples can circumnavigate on about $1,000 a year. Not $1,000 a month, but $1,000 a year.
Last week we also went to a lunch party at the 'farm' of Antonio, who was often our captain aboard Big O in the Caribbean, starting 18 years ago. The local guests were cooks, carpenters, shopkeepers, landscapers and the like. We can't remember having such a lovely afternoon. As for the place Antonio, his lady Isabelle, and baby Pablo are building, it will be 15 square meters - or about the size of some of the walk-in closets on the megayachts. "What else do you need here?" asks Antonio. Indeed, the house will be like many of the other traditional houses on the island.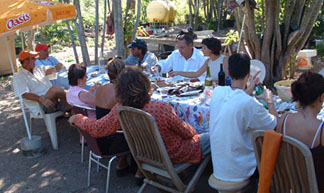 An afternoon party at Antonio's farm in 'the country'. This was as local as you can get. After several rounds of ribs, somebody broke out fist sized chunks of foie gras. It was attacked. But they really went at it when the cheese plate was brought out at the end. It was really something for an American to watch.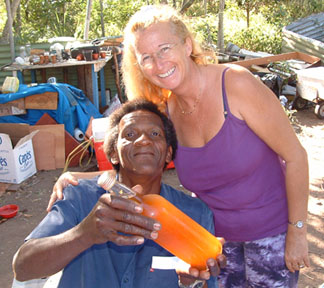 Friends Luc and Rochelle of St. Barth. Luc is a carpenter on the island who is helping Antonio build his house. He was a fountain of information about 'slavery days'. Among other things, Rochelle makes the guava rum as seen in the bottle. It's critical, she told us, that you use sugar from St. Kitts, which is the best to be found. She also explained in no uncertain terms that people like her from Brittany consider themselves about as French as the Irish consider themselves English.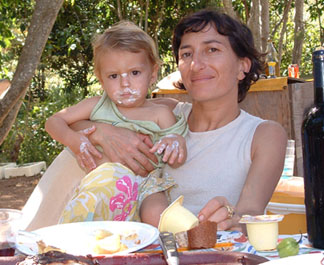 18-month old Pablo and Isabelle at the party at the 'farm'. Isabelle runs La Marina Restaurant on the water in Gustavia, which is where we found Big O 18 years ago. They fly in mussels from Paris for dinner on Thursday night, and the place is packed.
We love to look at all the great yachts that come through. And in St. Barth, the cast of characters changes every single day. The other day the motoryacht Grand Finale was tied up to the quay. If we're not mistaken, she's about a 130-footer from the St. Francis YC. Back home, she's huge. In St. Barth, a motoryacht has to be over 200 feet to be a big deal. As it was, Grand Finale was probably only the fifth biggest motoryacht in the harbor.


Nobody has a sleeker cruising sailboat than Hasso Plattner's R/P 147 Visione. Yes, this is his cruising boat. His new racing boat, a MaxZ86 with a canting keel and canard rudder that's almost identical to Roy Disney's new Pyewacket, will be in St. Martin next month to race against Disney's new boat at the Heineken Regatta. Plattner also has a new Farr 40 and a bunch of other boats. You can do that when you're one of the software titans of the world.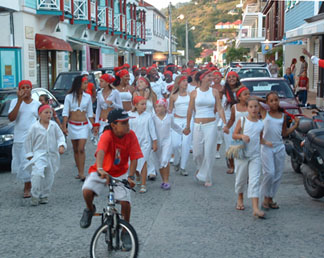 With Carnival just around the corner, every Sunday night the locals get out to make music and practice. St. Barth doesn't have the biggest Carnival celebration in the world, but it may be the cutest.
Photos Latitude/Richard