Profligate's Progress
January 28 - St. Barth, FWI
(Note to readers: This 'Lectronic was written on Wednesday, but due to Telecom France crashing on that day, could not be sent. In any event, it's slightly dated.)
Thanks to our reader mandate - see Monday's 'Lectronic - we're back aboard Profligate in St. Barth, and we're loving it. One reason why is that the biggest thought wandering around in our mind yesterday [Tuesday] was not who was going to win the Democratic primary in New Hampshire, but whether to sail clockwise or counterclockwise around St. Barth. We chose clockwise, thank you, and had the fastest of our four circumnavigations of the island this year.
When we were arriving Monday afternoon from St. Martin by Winair puddle jumper, nobody needed a chart to tell where we were. All we had to do is look down in the water below and see the size of the yachts riding on the hook. It was impossible to miss the biggest of them all, Microsoft co-founder Paul Allen's curiously named Octopus, a spanking new 413 footer. If you look closely, this monster not only has a huge helicopter landing pad on the back of the boat, but another helicopter sitting on the bow. Trust us, in the Med, you are nobody unless there are at least two helicopters on your yacht.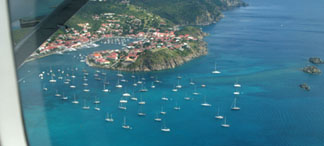 The Gustavia 'little boat' anchorage as seen through airplane windows while dive bombing to land at the little airport squeezed in between a ridge and the sea. Profligate is the boat highest in the photo in the outer anchorage, pretty much by herself. Sorry about the photo quality, as those airplane windows are a little lacking in optical quality.
Power & Motoryacht magazine has reported that Octopus is the largest privately-owned yacht in the world. That is, of course, until Larry Ellison launches his new motoryacht, which is expected to be about 425 feet. You didn't think that the Oracle honcho could build a yacht smaller than his Microsoft rival, did you?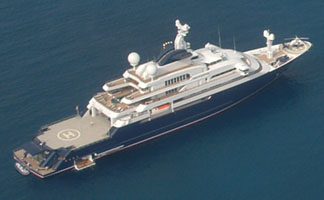 Octopus from the air. Check out the helicopter on the bow. Then imagine how big the chopper is that lands on the big pad aft.
In the mega motoryacht wars, it's important to remember that Allen reportedly owns three of them in excess of 197 feet, and is rumored to have long been paying some or all of the bill on another 354-footer. Yes, in addition to Octopus, Allen has long owned the 201-ft Meduse, which has a recording studio that has reportedly been used by the likes of U2. He also owns the 301-ft Tatoosh, which was briefly owned by Craig McCaw before his cellular phone empire hit the skids. In addition, there was a report in Power & Motoryacht that Allen has been paying the bills on Le Grand Bleu, which was formerly John McCaw's 354-footer. That report may now be out of date, however, as the yacht has more recently been seen in the hands of some Russian friend of Vladimir Putin. In any event, our best sources indicate that Allen at least owns the biggest, 12th biggest, and 65th biggest privately owned yachts in the world.
As for the rest of Ellison's fleet, it consists of the 192-ft Ronin, often moored at Schoonmaker Yacht Harbor in Sausalito, and the 234-ft Katana. In addition, Ellison has his America's Cup campaign fleet. So we'll let you decide whether it's Allen or Ellison who ought to be crowned the king of megayachts.
To give you an idea of what kind of money we're talking about, Katana, which is at least 10 years old, is for sale for $68 million. And the not yet finished 400-ft Sultan is being offered for sale at a mere $200 million.
What, we wonder, was Allen - who has his fingers in scores of businesses - thinking about when he named his largest yacht Octopus? Wasn't that the title of the famous book in the '30s that railed against the abuse of workers by capitalist owners? On the other hand, we suppose that Allen and Gates have been pretty good to their employees. How else could you explain Skat, the 233-footer anchored next to Octopus? She's reportedly owned by Charles Simonyi, the guy who headed up the Excel project at Microsoft. True, his yacht only has one helicopter, but she's still five feet longer than golfer Greg Norman's new Aussie Rules, which is 15 miles away in St. Martin. There's that much money in golf?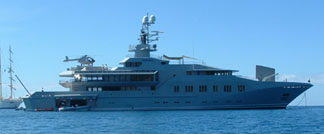 A side view of Skat, the excess funded by the success of Excel. Note the big hatch open up forward. We're guessing that's where they lower in all the royalty checks.
Photos Above Latitude/Richard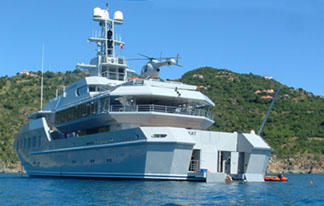 Skat from the back. She's an unusual color, supposedly picked to match the color of the owner's house.
Photo Latitude/Doña de Mallorca
Some women readers might be tempted to say that only men would be involved in such on-the-water wretched excess. But that's not true. Savarona, the private yacht that Octopus edged to be the largest in the world, is a 408-footer built for an 'American divorcée'. Of course, that was back in 1931, which if we recall correctly was the height of the Depression.
It's surprising who can afford these megayachts. For example, there's a new Paraffin that must be 200 feet long. She's owned by the couple who reportedly made all their money by founding the Yankee Candle Company. There's that much money in wax and wicks? Who would have thought.
That's the end of our mega motoryacht reporting from St. Barth. Maybe next week we'll tell you about the mega sailing yachts. Meanwhile, we're slated to take a bunch of new and old friends - including Mike Sheats and Hillaire Bell of the Sausalito-based Sceptre 41 Indigo - out for our fifth circumnavigation of the season of this sweet little island. Wish us fair winds, won't you?
In crime news, the scandal of the island is that the Donna del Sol - no relation to Doña de Mallorca - jewelry store was broken into during lunch, and over $1 million worth of shiny stuff taken. On a more personal note, our beloved Fujifilm 3800 digital camera, a real favorite of ours, has disappeared. Doña suspects theft. We think it was more likely misplaced. Anyway, it only cost $300. But what a great camera its been!