"We Love Them!"
January 26 - St. Barth, FWI
Last week we ran a letter from a reader who said he was sick of the 'Profligate's Progress' reports from the Caribbean. Since then, we've got a lot of mail disagreeing with him:
Joe Boyle - "I've been reading your emails from the Caribbean and I just LOVE 'em! Screw those pussies who only want local racing coverage."
Sylvia Seaberg, Hawkfarm Eyrie - "We absolutely love your warm water pics and spreads! Thanks to your efforts, even though my toes are cold, my heart is warm and toasty as I dream of snorkeling, sarongs, and sailing in sunny weather. Don't pay attention to the reader who is bummed out by your Caribbean news, he needs to grab a Mai-Tai and take another look at the wonderful news you so generously provide to your appreciative readers."
Russ Rieber, Express 27 Hurricane - "The reader that said he was 'sick and tired of all our reports and photos from the Caribbean' is a knuckle head! We love the reports because they are well written, entertaining, and inspiring! Keep up the awesome job!"
Shep, Ranger 28 Abaris - "Regarding the negative comments on the Caribbean pictures, to hell with that dip stick. Keep them coming. Sitting here in the cold weather is lousy and one of the few things that improves my attitude is looking at the great warm weather pictures. Having been around the Virgins and from St. Martin to Grenada, I really like them."
Rob Spakowski, Newport Beach - "I can't believe someone wrote you to say you're spending too much time reporting on your Caribbean cruise. I think it's been great and would love seeing more. I'm enjoying it for the same reason I love reading Changes in Latitudes each month - it's really good first hand information from real cruisers out there doing it. Your updates from the Caribbean are similarly informative and entertaining, and color pics vs. b&w of the magazine makes it even better."
Jim Norman, Catalina 380 Sonrisa, Long Beach - "I love 'Profligate's Progress' reports, and check 'Lectronic Latitude daily for them! Cruising vicariously through your reports is not the same as being there myself, but it is still fun. I appreciate your taking time to share frequently via the Internet so I don't have to wait for the next month's Latitude 38. Enjoy your 25th anniversary cruise, you've earned it!"
Rick Stober - "Keep the reports coming - especially after the last couple of dreary Bay days! Hey you guys heading over to Sint Maarten and Maho Beach, there are unbelievably close 747 landing shots from a great bar."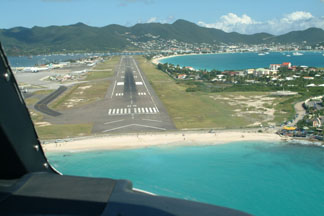 Photo Latitude/Richard
Rick - Here's the runway you're talking about. The Air France 747 lands on Thursday afternoons - bringing the mussels from Paris they'll serve at La Marine in St. Barth that night. As good as the landings are, the takeoffs are even better. You can stand right behind the plane as the pilot gives it everything the plane has to take off from the short runway. In fact, they don't even fly back to France, because they can't take off with a full load of fuel, so they go to the Dominican Republic first and pick up fuel and more passengers. The thrust from the 747's engines have knocked over cars off the little road, and blew people right off the beach and into Maho Bay. How they could ever allow this is beyond us.
Thanks to the above 'mandate', last night we flew back to Profligate and hope to start reporting again on Wednesday. Meanwhile we'll leave you with these shots of the Heineken Regatta from a couple of years ago by Max Ebb. Incredible water, no?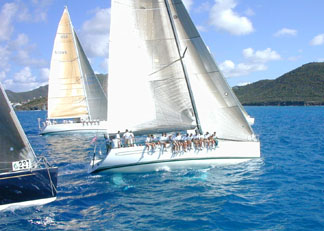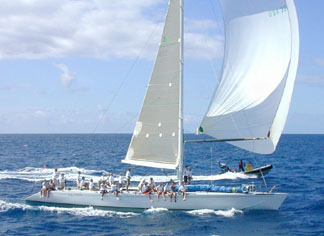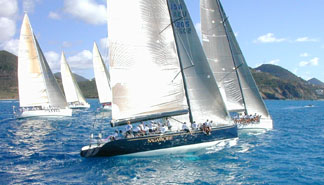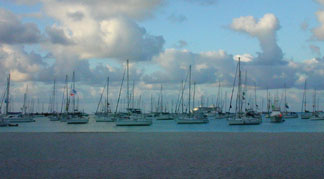 Photos Max Ebb