Getting Ready for the Jules Verne
January 23 - Plymouth, UK
Speaking of the maxi-cat PlayStation, now named Cheyenne, she, Fossett and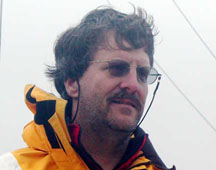 crew were about to start on their Jules Verne Around the World attempt, when the weather went just a hair sour. So navigator Stan Honey (pictured at left), who did so well with his Cal 40 in the TransPac last year, said their start will be delayed.
Also waiting for the right weather is Olivier de Kersauson with his maxi trimaran Geronimo. (What's this connection between American Indians and maxi multihulls?) This will be his seventh attempt at the record, which he's had and lost several times.
Meanwhile, Bruno Peyron, currently holder of the Jules Verne, is sea trialing his new maxi-cat Orange, and says he'll be going for a record attempt starting in the middle of February. It's therefore possible that all three maxi multihulls, almost certainly the three fastest boats in the world, will take off at almost the same time.