5 Continents, 50 Countries, Around the World. By Bicycle and by Sailboat.
January 16 - Skipton, UK
Yorkshire lad Alastair Humphreys is traveling around the world by bicycle for a good cause. What's the sailing tie-in? He explains, "I heard of your illustrious publication while hitching a ride on a yacht from Colombia to Puerto Vallarta.
"I left England 2.5 years ago to cycle around the world raising funds and awareness for Hope and Homes for Children [www.hopeandhomes.org]. I have now ridden 25,000 miles through 42 countries and will shortly be entering the U.S., where I will ride up the West Coast to Alaska.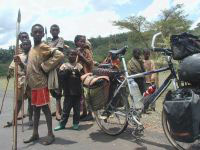 Photo Courtesy www.roundtheworldbybike.com
"Unfortunately for round the world cyclists most of the world is covered in oceans. To try and retain as much purity to my circumnavigation as possible I am attempting to not use an aeroplane and to use only pedal and wind power as much as possible. I managed to get from Africa to South America aboard the ex-Whitbread yacht Maiden in the Cape to Rio race, and skirted round the Darien Gap of Colombia and the Panama Canal aboard Hannah Rose, a Tartan 37.
"After Alaska I need to get somehow from the American Coast to either Asia or Australia. Also, I am hoping while in the U.S. to give as many slide show presentations as possible, which may perhaps interest yacht clubs?"
For more, see www.roundtheworldbybike.com.