Profligate's Progress
January 12 - St. Barth, FWI
Yesterday being Sunday, the day of rest, we got an early start on the fun. The first order of business was getting a couple of photos of Moonshine, John and Lynn Ringseis' new Lagoon 41 catamaran, on which they are about to start doing crewed charters here in the Eastern Caribbean.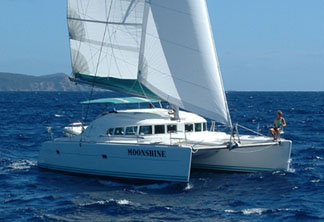 Moonshine on a romp in the Caribbean off St.Barth.
We met John and Lynn a couple of days after arriving in St. Barth, and were surprised to learn they are from Bel Marin Keys in Novato. Having since become good friends, we learned that they've done two tours of duty crewing on charter boats for The Moorings. The first session was in the British Virgins Islands aboard a monohull. It was a lot of fun, but it's very hard work, so like a lot of folks they got burned out. What lured them back two years ago was friends telling them how much easier the job is aboard a catamaran. So they returned for a second session, this time aboard a Moorings 45 cat down island. Although they burned out again after a season of this, they learned that chartering was indeed a lot easier on a cat.
After taking a break from sailing for a year, they decided the really cool way to live life would by sailing in the Caribbean seven months a year, chartering some of the time, then returning to their Bel Marin Keys home for the remaining five months of the year. This, they figured, would be much more interesting than leading a comfortably retired life 12 months a year in Marin. Lynn was actually the big instigator behind the idea. She got her start sailing after hitchhiking around Europe with her boyfriend. At age 22, with no sailing experience, the two of them joined four others on a Gib Sea 33 - what a crowded boat - in Marseilles for a 4,000 mile trip to the Caribbean. "We had a blast!"
A year ago the couple started looking at every cat in the world to find the ideal one for them. After detailed investigations, their choice somewhat surprised them - a new Lagoon 41. They picked her up in La Rochelle, France, and spent the summer cruising the Atlantic coast of France and Spain - where, they assured us, it can be every bit as foggy as the coast of Northern California. Late in the year, joined by a couple of friends, they sailed across the Atlantic to the Caribbean. Although they expect to do most of their chartering in the British Virgins because it's such a natural, they've spent most of their time in St. Barth. "We hate to have to leave this place."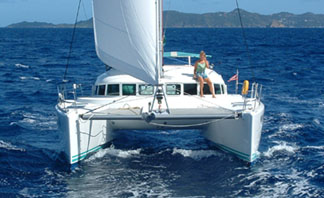 We get ourselves in such ruts that it's hard to remember it's possible to enjoy life in January - such as on a charter cat like Moonshine.
These folks are instantly likable, are very experienced with crewed charters, and know the great cruising grounds and activities - so we would highly recommend them. They can take as many as six guests, but plan on specializing in taking between two and four. For more details, visit their website at www.moonshinecat.com.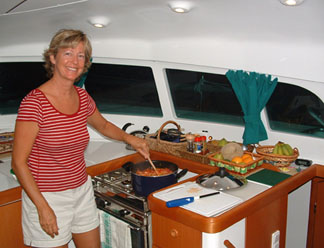 Lynn is a real sweetheart, and is great in the galley. You should taste her Painkiller Pancakes the morning after a wild jump up.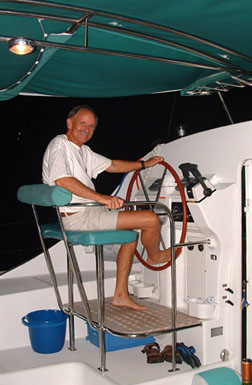 John, at the helm of Moonshine.
Well, that took care of until about 11 a.m, when the Wanderer and Doña de Mallorca found Profligate pointing at 28-mile distant Saba, which looks like a steep pyramid pointing out of the ocean. We'll have more details on this unique island in the print version of Latitude 38. It was a brisk screecher reach to the island, with lots of 13s and 14s on a bouncy sea, followed by a slow sail around the leeward side of the island, then a beat back, initially in the direction of St. Barth. In the early going, we were able to lay the island and there was good wind. Alas, halfway back, the wind dropped to seven knots and we took a big header. When darkness fell at 7 p.m., we were still eight miles to leeward of St. Barth, but decided it was best to drop the sails and motor the rest of the way back. It turned out to be a good call, as 20 minutes later we were hit by the first of a series of nasty squalls in the pitch black.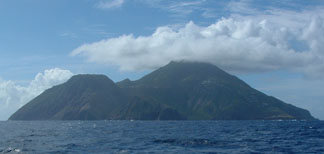 Saba ­ pronounced Say-Bah - juts right out of the ocean and almost always wears a halo.

The old customs house at Saba. Check out the stairs.

Only a couple of miles in diameter, Saba is 3,000 feet tall.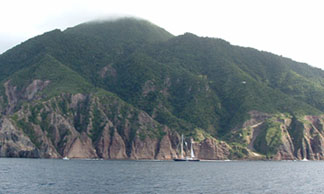 Saba is world renowned for great diving -and a bad anchorage. To give you some reference, the mast of this Perini Navi is nearly 200 feet tall.
In the past we've questioned the usefulness of navigation programs such as Nobeltec. We're changing our minds. Although we didn't need it last night, it would have made things a lot easier - and therefore safer.
Despite the squalls, darkness, and unlit boats, we dropped the hook perfectly in the best spot in the whole damn harbor. Très bon! After sleeping like a rock, we awoke to a dawn as lovely as could be. There's nothing quite like an early morning dive into the warm and clear Caribbean to take the sting out of January.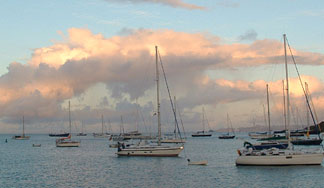 After a night of squalls, it's another beautiful Caribbean morning.
Now all we have to do is find our crew John. Last we heard, he had hopped aboard the 65-ft classic Lone Fox yesterday morning when he learned there were a bunch of models aboard for a fashion shoot. Ah, life in the Sunny Caribbee!
Mystery question of the day: It's been 3.5 months, 4,500 miles, and two emergency haulouts since Profligate last had her bottom painted - and there's been absolutely nothing that has grown on her bottom. Why is that? The same, obviously, can't be said for her dinghy, which was hauled yesterday for a bottom scrub. That leads to question number two. It is better to lift the dinghy and scrub once a week, or put bottom paint on her?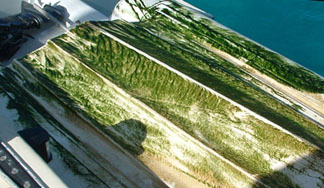 That's one nasty bottom, which wastes gas and prevents planing.
Photos Latitude/Richard
For crewing possibilities on Profligate in the Caribbean this winter, see the end of the January 5 edition of 'Lectronic Latitude.