Profligate's Progress
January 5 - St. Barth, FWI
With the start of the new year, there is much to report on Latitude's 25th anniversary cruise in the Caribbean. The most exciting is that here, in the lee of Fort Oscar, St. Barth, with the French tricolor flying above us, we have something of a California catamaran corner. Just off our port bow is Mark and Irmgard's Livermore-based Catana 581 Aurora. They and their three children arrived here shortly before the new year, having recently completed their third trip across the Atlantic in 13 months. They were ocean virgins when they started. Aboard with them for the holidays are San Francisco Farr 40 sailors Pat and Bernadette Nolan and son Pat Jr. Pat the elder had big news for us. He tells us that Norman Devant of Quantum Sails and he have bought Sail California, the Northern California dealers for J/Boats. And that he and Mark Bernhard have decided to do World Cruising Limited's Around the World Rally which starts in late 2005. As much as Mark wants to do it in a catamaran, at this time multihulls aren't being allowed. We sure hope Pat isn't pulling our leg about these bits of news.

The Nolans, left, and the Bernhards, right, on the town in Gustavia, St. Barth. The kids were thrilled to later get an autograph from P. Diddy, Puff Daddy, or whatever Sean Combs is currently calling himself.
Anchored about 100 yards off our port quarter is John Haste's Perry 52 catamaran Little Wing from San Diego. Many cruisers in Mexico will remember John and his cat from having done the last four Banderas Bay Regattas out of Paradise Marina. Haste had a tough time getting here. First, most of his electronics were damaged during a lightning storm in Nicaragua. Then he was robbed of the replacement electronics while in Cartagena, Colombia. When he gets a little time, he's going to tell us about having to buy them back from the secret police. He's also going to have to fill us in on the status of Suhuey, the very lovely former employee of Club Nautico in Cartagena, who is now aboard Little Wing. We tried asking Suhuey herself, but she doesn't speak English, and our Spanish is as bad as John's. Ah, the intrigue of the Caribbean. Aboard Little Wing for the holidays are John and Marilyn Folvig, and John and Jenn Folvig, who have cruised their San Diego based Perry 72 Elysium extensively in Mexico the last few years. Also aboard is Ha-Ha vet Mark Sciarretta of the San Diego-based Consigliare, who brought along his foredeck crew, Sue.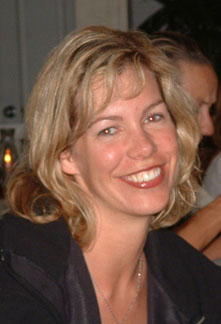 Jenn Folvig of Elysium and Little Wing, looking lovely, despite getting seasick on the ferry from St. Martin to St. Barth, ending a long trip from Chicago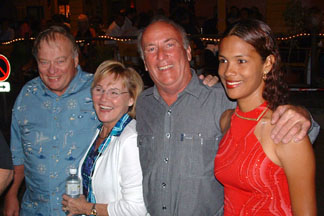 John and Marilyn Folvig of Elysium with Suhuey and John Haste of Little Wing.
Yet another California-based cat in the area is John and Lynn Ringsies' Lagoon 410 Moonshadow. The Bel Marin Keys couple had done two tours of duty running crewed yachts for The Moorings, but will be doing select charters on their own cat, which they bought new and just sailed across the Atlantic.
Off our port bow is Warren Stryker's Bounty II Fifties Girl. We met Warren in the early '70s in Sausalito and became so enamored with his Bounty II, that we bought a sistership on which we started Latitude 38. The Bounty II was the first large production fiberglass sailboat ever built, in Sausalito near Schoonmaker. Warren sailed to the Virgins about 23 years ago and has been there ever since. If we remember correctly, Fifties Girl went down in Hurricane Marilyn. After three months on the bottom, Stryker bought her from the insurance company, raised her, rebuilt the same French diesel engine, and has been sailing her like crazy ever since, including to St. Barth from the Virgins, a very nasty passage, just for the New Year's Eve Race.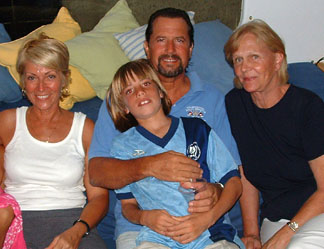 The crew of Fifties Girl, who battled very rough weather to make it to St. Barth for the regatta: Darlene, Warren, Jean-Phillip, and Judy. The 11-year-old Jean-Phillip puked 15 times, and Warren and Darlene couldn't eat for 24 hours, so it was good that Judy came through.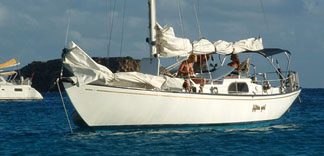 Fifties Girl, at rest at Grand Saline, St. Barth. She's a 45-year old glass boat that spent three months on the bottom - and still kicks ass.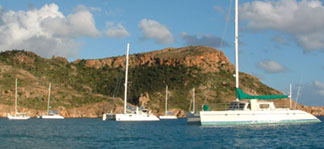 Profligate, Aurora, an unknown boat, and Fifties Girl, all on the hook at beautiful Grand Saline. The water was bluer than blue, warm as a bathtub, and when a particularly good wave threw boogie-boarders John-Phillip and the Wanderer all the way up the beach, they landed at the feet of international cover girl beauty and Wild On Travel host Brook Burke. We've ridden lots of waves that ended well, but none quite that well.
The first Californian to come banging on Profligate's hull when we got here was Pete Passano, who along with Bob van Blaricom built the 37-ft steel Sea Bear in Santa Venetia behind the San Rafael Civic Center. We hadn't seen Pete since '96 in St. Barth, at which time he had sailed the boat about 50,000 miles, including singlehanded around Cape Horn. When we asked him what he'd been up to since, he mentioned he'd been back and forth across the Atlantic nine times, had circumnavigated Newfoundland, had singlehanded to South Georgia Island, then to Cape Town, had hit an iceberg . . . you know, the normal stuff. Did we mention he's 74 years old? Obviously, we'll have more on him in the next issue of Latitude 38.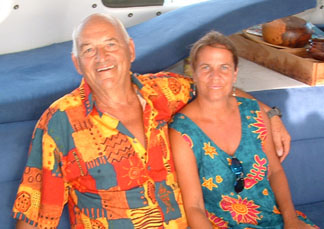 Pete Passano, with Marina, his current crewmember on the much traveled Sea Bear.
It was a wild holiday here in St. Barth, made even wilder by a cold front that came down with much more north than normal in the wind. As a result, there were crosswinds at the already dicey little airport, shutting it down for much of three days before New Year's. This meant that there were lots of billionaires, multimillionaires, movie moguls, actors and actresses, captains of industry and others who couldn't get to their villas and/or yachts as easily as in years past. The Wanderer and Doña de Mallorca, who clearly don't fit any of the categories above, actually made it without too much trouble, having flown out from San Francisco on Christmas Day, arriving on the 26th before the winds went wacko. Unfortunately, our $1,100 Balmar replacement duel output alternator was given a side trip to Jamaica by some baggage handler for American Airlines. Bless American's hearts, they had the bag to us in St. Barth just 18 hours later under the most hectic of conditions. Ever since we arrived, the wind has been quite gusty. In fact, Mark and Irmgard of Aurora tell us they had rougher conditions making the 15 miles from St. Martin to St. Barth than they did in their 2,800-mile trip across the Atlantic!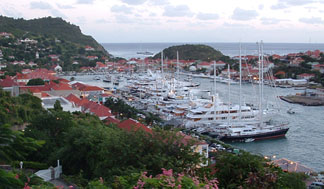 Megayachts in a mini town - Gustavia, St. Barth - getting ready for New Year's. As New Years go, it was a good one, but not a great one.
Private note to Paul Biery: It's a shame you couldn't have hung around for New Year's, when Profligate and you-know-what cat broad-reached together in 18 to 25 knots. It was much fun and the results were surprising
P.S. The Caribbean waters are the bluest of blue, the water is oh-so warm, and the sailing is fantastic!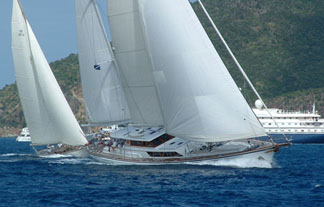 A start in the New Year's Eve Regatta. Mischievous, the second boat, is 67 feet long, which will give you an idea how long the ketch Sariyah might be.
Photos Latitude/Richard