Profligate's Progress
January 6 - Gustavia, St. Barth
"Ze razor," says Luc Poupon, one time holder of the transatlantic sailing record when we asked him what he does now in addition to being the St. Barth sales rep for North Sails and a marine surveyor.
"Je ne comprend pas," we reply, massacring French.
"Ze razor!" he says becoming a little frustrated.
"Eh?"
After about five tries, we finally get it. 'Razor' is how is sounds when a Frenchman in St. Barth tries to say 'weather' in English. Luc is a weather router for racing boats.
The last thing John Haste of the San Diego-based Perry 52 Little Wing, and we of the Sausalito-based Profligate worried about when we decided to embark on our 5,000-mile adventures to the Caribbean is the weather when we got here. After all, the Caribbean weather is always fabulous, right?
Well, we've been coming here for the last 18 years, and thus far we've had the worst two weeks of weather we've ever experienced in the Caribbean. As Tom Reardon, captain of the legendary ketch Ticonderoga explains it, three highs are lined up in a row from the west coast of Africa all the way across the Atlantic to Mexico, with no lows to impede them. As a result, we've been having 20-25 knots of wind, with frequent gusts in the crowded anchorages to 30 and even 40 knots. Do you 2003 Ha-Ha folks remember what it was like in Bahia Santa Maria the first day? That was nothing.
During the first night of gusty winds, we stayed up the whole time watching all the boats swing this way and that. After all, our insurance company wouldn't have been happy had we swung down the length of the brand new 125-ft mega sailing yacht next to us. But with the New Year's holiday over, the anchorages are much less crowded, and the strong winds have become old hat. When we get hit by a 40-knot gust now, we no longer bother to look out the hatch ­ even though the boats in front, beside, and behind us are no more than 100 feet away.
It's hasn't just been windy either. As these winds sweep across the 2,800-mile width of the Atlantic Ocean, they pick up evaporated water during the heat of the day, then dump it as torrential rain at night. We've had some world class tropical downpours in the last couple of days.
The strong and gusty winds have limited our sailing. In fact, we've only gone out three times since we got here two weeks ago. The first was the New Year's Eve Regatta, which was the alleged focal point for Little Wing, Profligate, the Bernhard family with their Catana 581 Aurora, and the Gunboat 62 Tribe rendevouzing at St. Barth on New Year's Eve. What a bust! With winds in the mid to high 20s, Aurora decided to sit it out. We on Profligate were a little shaky, as the cat had come 1,100 hard miles upwind from Panama, and we hadn't had time to properly tune the rig. (We tried to compare rigging tips with the other cat owners, only to find all the boats were set up very, very differently. Tribe's rig was extremely tight, Aurora, also a carbon rig, was very loose, and Little Wing's shrouds didn't even seem hand tight.)
Because it's warmer and therefore thinner, the wind in the Caribbean doesn't seem as strong as on San Francisco Bay. So we on Profligate decided to carry a full main along with our normal small jib. As we and Little Wing crossed the starting line for the 22-mile around the island race-parade, with Tribe to start five minutes later, the gusts came down through the valley at 20-25 knots - and we both took off like bats out of hell. In fact, it seemed to take about half a second to accelerate from 12 to 17 knots. Thinking this was maybe more wind and boat speed than we needed for our first real sail of the season in the Caribbean, we considered dropping out. And after coming out of the lee of the island into the open sea for a mile or so, we indeed decided to bail. Heading off on a broad reach, once again the cat accelerated like crazy. When Little Wing took some green water over her decks, she decided to bail too. It was probably a good idea, as the winds later topped out in the sloppy stuff at 37 knots. Luc Poupon's boat, which had won the race last year, was dismasted.
However, Capt. Paul and the charter group on the M&M 62 cat Tribe stuck it out, more or less embarrassing the rest of us. Alas, after a squall came through, the wind dropped to eight knots, and they finished way off the pace. After dropping out, Little Wing and Profligate did some flatwater reaching in the lee of the island, It was still gusty, but not so dicey. Anyway, when we later spotted Tribe coming about the lee of Ile Fourche, we decided to sail down to meet them for the reach back up to the Pan du Sucre finish line. Talk about making our winter. In 18 to 27 knots of wind on the beam, the humble Profligate hung in with the all carbon M&M wonder cat Tribe. We were shocked. We're not suggesting the much lighter Gunboat 62 might not be able to point much higher, be faster downwind or in lighter air, but in those heavy reaching conditions, with equal sail area, Profligate did herself proud.
Anyway, we've been out sailing twice since, and it's pretty much been all we can do to slow the cat down. After seven winters in the calm waters of Mexico, this 25-knot stuff is something else, and we need to review our reefing techniques. Yes, it blows that hard on San Francisco Bay, but somehow it doesn't seem quite the same. We get a good gust here, and the big cat suddenly seems ultralight and takes off like a rocket. It's taking some getting used to. Tom tells us the wind might drop to the 15 to 18 knots range the day after tomorrow, and maybe there'll even be some sun.
Despite the less than ideal weather, we couldn't be having a more enjoyable time, what with all the folks from California on boats we've been meeting ­ more on them later - all the good friends on the island, and the warm air and water. As for the ambience of St. Barth, it's incomparable as far as we're concerned. And you don't need big bucks to enjoy it. The very friendly Port Captain only charges us $10 a night to anchor out, twice the fee for monohulls. To our mind, it's the best sailing bargain in the world. We'll have more on St. Barth in future 'Lectronics.
A special note to Jonathan Livingstone and Susie Grubler of the Pt. Richmond-based Punk Dolphin. While passing through the Colombie anchorage the other day, we waved to your friends on the mega yacht Ipanema. They waved back and insisted we come aboard for piles of foie gras and to squirt each other with Crystal champagne. Just kidding, they ignored us, too.
Weather update: As soon as we'd written how poor the weather has been, it turned glorious! The sun has been out, and the wind and seas have been settling down, and last night the huge moon was spectacular. What's more, we've got about 20 folks lined up to sail around the island with us this afternoon. We couldn't be enjoying life more than we are right now! Just a reminder that there will be sailing opportunities on Profligate in the Caribbean this winter. See the end of the January 5 'Lectronic for details.
Shots from the New Year's Eve Race-Parade at St. Barth: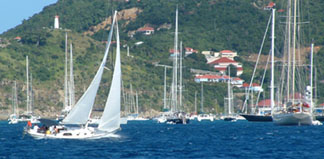 Former Sausalito resident Warren Stryker crosses the finish line at Gustavia, St. Barth, with his 45-year old fiberglass Bounty II Fifties Girl. As reported earlier, this boat and her diesel engine spent three months on the bottom courtesy of Hurricane Marilyn.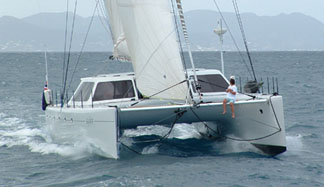 The M&M Gunboat 62 Tribe ripping along on a reach from Ile Fourche to Pan du Sucre. Nonetheless, on this day and this point of sail, Profligate held her own. Notice Tribe's excellent bridgedeck clearance.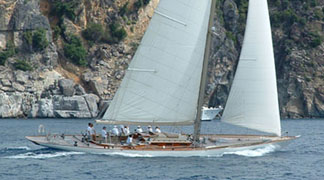 Donald Tofias sails his beautiful 70-ft White Wings toward the finish. He left her sistership in Europe after a fabulous summer of racing over there.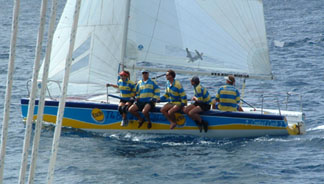 Don't underestimate Caribbean sailors. These guys sailed this Melges 24 around the island in sloppy conditions and wind to 35 knots.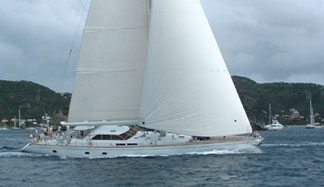 Northern Californian Wayne Meretsky of Moonduster was aboard this 107-ft S&S Zingaro for the New Year's Eve event.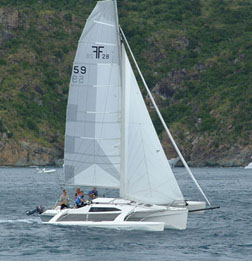 The F-28 trimaran Lone Ranger won the multihull division of the Around the Island Race-Parade. You know where she lives? Aboard the 251-ft converted ocean tug Lone Ranger, which has a range of 38,000 miles. You see stuff like this in the Caribbean.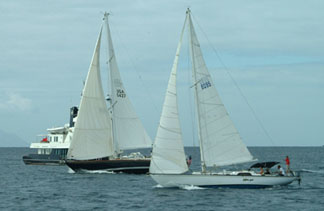 We're not going to say that handicaps favor the local boats and Round the Island vets, but Warren Stryker's 45-ft full keel Fifties Girl rated even with the modern and professionally skippered Hinkley 53 Night Train, a division winner.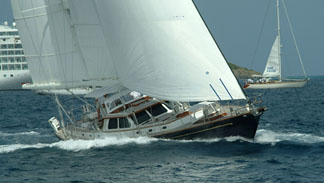 You just can't believe the amount of money people spend on boats that end up in the Caribbean. The talk on the dock was that this Hinkley 70 Blue Muse cost $5.8 million. Much of her was built of carbon to save weight, which was then offset by what we're told are marble countertops.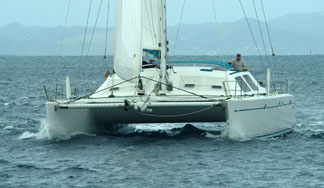 John Haste's San Diego based Perry 52 cat Little Wing in the lee of St. Barth, doing about 12 knots during a lull. Notice the difference in bridgedeck clearance with Tribe. Some day we'll tell you about John having to buy his boat gear back from the Colombian secret police. Haste sailed to the Caribbean to find adventure, and he's gotten it in spades.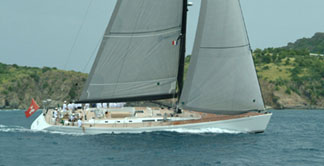 This new South African built R/P 78 took honors in the New Year's Eve Race-Parade, easily besting the fleet - including the Gunboat 62 Tribe. You'll remember in a previous 'Lectronic, we had streaming video of Tribe ripping past a R/P 78 on a close reach, so it's a reminder that you need different horses for different courses.
Photos Latitude/Richard while driving, or Latitude/Doña de Mallorca