Profligate in the Caribbean
December 15 - St. Maarten
What's this, Profligate hauled out again? That's right, three times in three months. Initially we hoped to do a 25th anniversary cruise, not a tour of boatyards. Alas, the fiberglass guy at the boatyard in Vacamonte, Panama, went overboard with the catalyst when mixing a batch of glass to seal up the saildrive compartment. Unbeknownst to the crew, it ended up like looking like cottage cheese and was porous, allowing water to seep in from under the engine bed during the 1,100 miles from Panama to the Eastern Caribbean. We hate any water in the bilges, let alone about 30 gallons of it a day, so after some fun in Antigua and a circumnavigation of St. Barth, off we went to St. Martin for yet another haulout. It's expected Profligate will be back in the water today.
How do we feel about having Profligate in the Caribbean? Ecstatic! Waking up in the morning and throwing ourselves into the blue 85º water is sheer pleasure. And when the Wanderer virtually singlehanded around St. Barth (de Mallorca was crashed out in the salon) life was so very, very sweet, no matter if in the middle of a big squall or reaching in bright sunshine. We intend to circumnavigate that island many times this winter.
What's the greatest sailing time and place in the world? For the Wanderer, it is, beyond a shadow of a doubt, St. Barth during New Year's holidays. The sailing, the beaches, the warm winter weather, the beautiful ladies, and the around the island race/parade featuring some of the greatest yachts in the world - what more could you want? This year it's going to be even better than normal, because our old sparring partner John Haste with the San Diego-based cat Little Wing will be there, with crew from the San Diego-based Perry 72 Elysium.
We know it's very, very late, and there might not be any flights left, but if anybody wants to try to charter a berth or cabin aboard Profligate for the extreme New Year's fun in St. Barth, contact us immediately. Why didn't we announce this earlier? We had to be sure the boat would make it there. Will there be other charter opportunities on her this winter? Yes, for events such as the BVI Spring Regatta and the Heinie Regatta in St. Martin. Like to run your own boat? There's no reason you can't charter a bareboat from St. Martin and make the 15-mile sail to St. Barth for next New Year's. But you'd better get your reservation in now, because the boats go fast - and we don't mean through the water.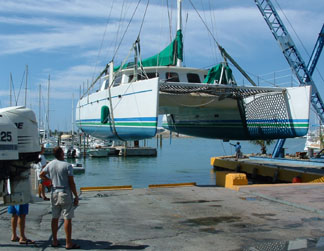 Profligate hauled out on the Dutch side of St. Martin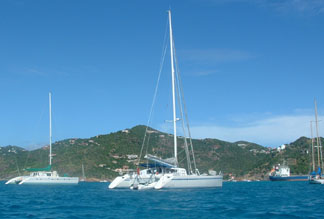 A F/P 65 and Profligate on the hook at Gustavia, St. Barth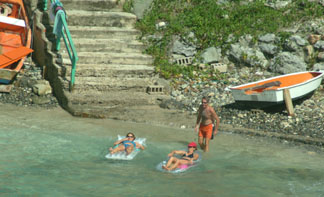 Kicking back on rafts at Petite Anse
Photo Wayne Meretsky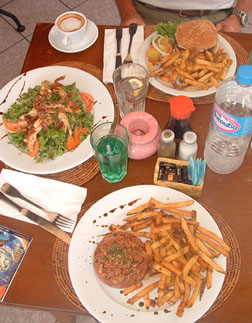 Beef Tartare for lunch
Photos Latitude/Richard except as noted