Caption Contest Quips
December 12 - Sausalito
With the offer of a free T-shirt, we received a deluge of responses to Monday's photo caption contest. Readers were asked to caption this photo of the storm aftermath in the Richardson Bay anchorage: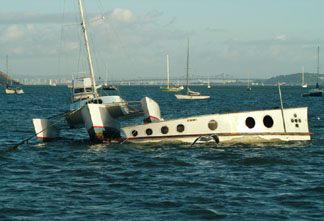 Photo Latitude/Rob
Many references were made to boats playing tag, back scratching, reproducing and performing acts normally attributed to animals.
First some Honorable Mentions:
"An agitated Captain Nemo was arrested today when the Nautilus, coming up for the first time in years, surfaced under a small trimaran. 'They still let people anchor here?' Nemo was overheard saying." (This was the best of the Nemo references, from Dave Kendig.)
From John Dodge: "Paris Hilton showed me this move!"
"This lovely couple will be the proud parents of a cute little dinghy in a few months." (Howard Hammermann)
"We're hoping for twin Catanas come spring!" (Phil Agur)
"Just another San Francisco parking job." ('Green Lion')
"BCDC Submarine Attacks Richardson Bay Liveaboards" (Wayne Stromberg)
"As the Richardson Bay anchorage becomes more crowded, boats have begun to mark their territory more aggressively." (Jason Miller)
But the response that got a laugh out of the majority of the Latitude crew who voted, and therefore the winner of the T-shirt, came from Brian Richards: "SSSHHH. Now everyone be very quiet. It appears the female is about to accept the male's advances. Get your cameras ready as this mating ritual has never before been filmed."