Profligate's Caribbean Report
December 10 - Antigua
"Now in it's 42nd year, I don't think the Nicholson Crewed Charterboat Show in Antigua has gotten any bigger, as it's leveled off at about 140 boats," Dana Nicholson told us. "The big difference is that the boats themselves keep getting bigger."
No kidding. It wasn't that long ago that a 70-footer was a fairly decent-sized sailboat in the show. It's a different story these days, as 70-footers are dwarfed by mega monohulls, such as the 172-ft Perini Navi Atmosphere, and the 138-ft maxi catamaran Douce France. The latter has a beam of over 50 feet and part of the aft deck lowers to water level for a private marina.
Most of these yachts aren't just big, they are immaculate. The finish on some of these huge hulls was so smooth it looked as though it had been done with the bottoms of week old babies! They are floating works of art. Some of these yachts feature incredible luxury. For example, in an accompanying photo you can see Doña de Mallorca pretending to swim in the pool of the ketch Islander. It takes 10 tons of water to fill that pool. Captain Mark Coxen says that although on the fourth level, it doesn't really make the boat top heavy - but when heeled at 15 degrees, lots of water tends to slop over the side. Fortunately, only two or three swimmers have been lost overboard to date.
Islander isn't quite as luxurious as she once was. She used to carry a landing craft on the back deck with a Plymouth Voyager mini-van inside. Using the yacht's large crane, they'd lift the whole business over the side, run the landing craft up the beach, and all the guests would drive away in their own car! How civilized.
Wood boats were in very short supply. The 65-ft West Coast-owned Lone Fox, skippered by Caribbean legend Randy West, was one of them. In the old days, she used to regularly do battle with Santana, the KKMI-based schooner owned by Paul and Chrissy Kaplan. Because of her hull material, Lone Fox was a popular attraction with the charter brokers.
But it's some of the wonderful people in Antigua who bring you back to earth. While walking down the quay, we spotted an elderly West Indian woman, resplendent in a hot pink dress and wearing jogging shoes with untied laces. It could be none other than Lady Baltimore, who for many years had done the washing for Big O when she chartered in the Caribbean. "Bring me your dirty stuff," she said with quiet dignity. "But not on Sunday, for I'm a church-going woman."
It was also wonderful to once again spend time with Jol Byerly, who is even more of a Caribbean legend than Randy West. He's a Caribbean institution of 30 years because of his running the great schooner Lord Jim, racing his various sloops, and providing the daily weather briefing from Antigua. It's unfair, but Jol is most famous for doing Antigua Sailing Weeks with all-women crews, who flustered competition by wearing nothing more than thong bottoms and string sandals. In the Caribbean, you can race like that in even the worst weather.
More to come.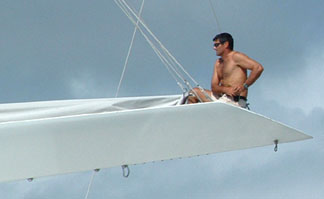 This mizzen boom gives you an idea how big some of the Perini Navis are.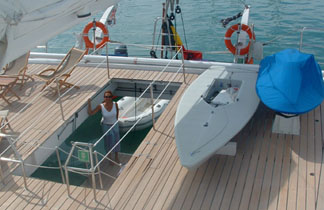 Shouldn't every charter boat be like Douce France and have its own marina?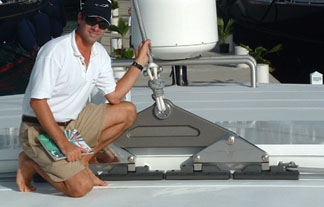 Check out the Lewmar traveler for Lady Barbaretta's mainsheet. The new all-carbon 109-foot cat cost over $15 million to build.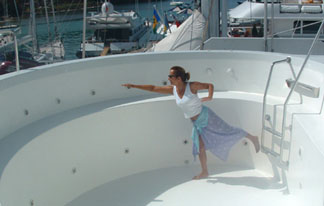 Doña de Mallorca in over her head.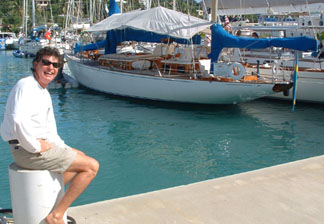 Randy West with Lone Fox in the background.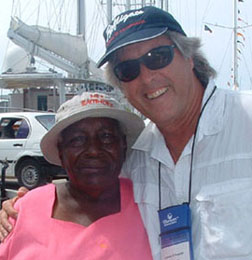 The resplendent Lady Baltimore, Queen of the Wash in Antigua, being pestered by a journalist.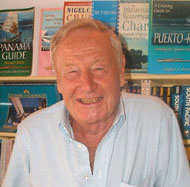 Jol Byerly always has something to smile about.
Photos Latitude/Richard