Profligate's Progress: Mission Accomplished!
December 8 - Antigua
Profligate, Latitude 38's 63-ft catamaran, arrived in Antigua at 0900 on December 6, completing a 29-day, 3,402-mile passage from Cabo San Lucas to the Eastern Caribbean via the Panama Canal. Twenty-four of those days were underway. Strictly a delivery trip, much of it upwind, required 1,397 gallons of diesel, plus or minus 10% to take into account the margin of error when buying fuel from 55-gallon drums in Central America for the 540 total hours of motoring. The fuel stops were short and to the point: Barra for 45 minutes; Acapulco for six hours; Puesto del Sol, Nicaragua for three hours; Panama was scheduled for two days to transit the Canal, but four more days had to be added to haul the boat to install new saildrives sent down from Florida; 24 hours in Cartagena, Colombia; and four hours in Aruba.
Congratulations to the crew: Doña de Mallorca, Wayne Meretsky, Paul Biery, Mike Highfield, Steve Arehart - and Sarah Terry, who did the trip from Cabo to her home in Panama. A new addition to the boat in Cabo was a Spectra watermaker. It was run for 160 hours to create 2,720 gallons of water - resulting in the best smelling Profligate crew ever. It proved the point that you'll use as much water as you can make.
The Wanderer arrived in Antigua the day before Profligate, and snagged accommodations for the night aboard Richard and Grace's Vancouver-based 39-ft Crocodile Rock. The Ha-Ha vets had spent 17 long days sailing to the Caribbean from Virginia. Both Profligate and the Wanderer arrived in the middle of the Antigua Crewed Charterboat Show, home to many of the great yachts of the world. One of the first people the Wanderer bumped into was Mark, who had once filled in as Captain for Big O many years ago. Mark gave a tour of his new command, Islander, a 209-ft sailboat that charters for - sit down - $135,000 a week. The Wanderer was chuffed when Mark, while backing down the giant yacht to the dock between two other $20 million yachts, interrupted his attention to flash the old hands over head in an O sign of Big O. We'll have more on the Charterboat Show in an upcoming issue.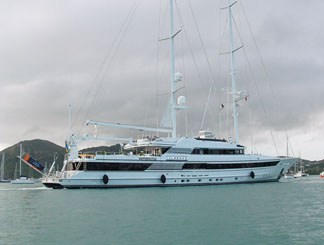 Former Big O captain Mark's new command, Islander.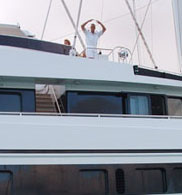 Mark takes a minute to flash old 'Big O' sign.
It's seasonally warm in the Caribbean, with varying amounts of wind, rain, and sun. As always, Sunday night was a big one at Shirely Heights overlooking English and Falmouth Harbors. Over 1,000 people gathered for a cloudy sunset, steel drum music, rock 'n roll, and millions of rum drinks. The Wanderer hadn't been back to Antigua in seven years, and found he missed it greatly. But there's no time for pleasure. We leave immediately for St. Barts, then St. Martin for a quick haul out to repair leaks caused by haulout mistakes in Panama. Then there's the matter of having to rush home to finish the January issue.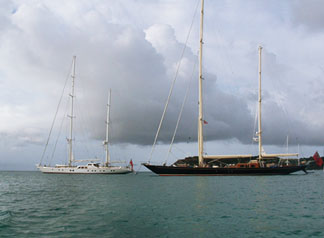 The kind of yachts you'll see floating around in Antigua during early December: Juliet, a 156-footer in front, with the dark hulled Victoria, which must also be over 150 feet, in back. We've never seen so many flawless mega yachts in one place.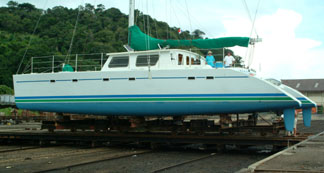 Profligate hauled at Vocamante to have the saildrives replaced.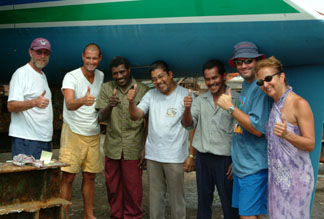 Some of the crew and the boatyard workers at the Vocamante Yard give the thumbs up on the saildrive replacement.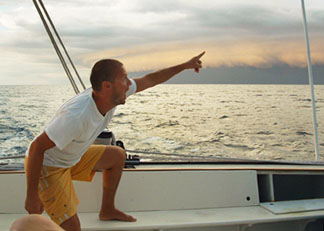 Mike points out an interesting bit of weather along the way.
Photos above Wayne Meretsky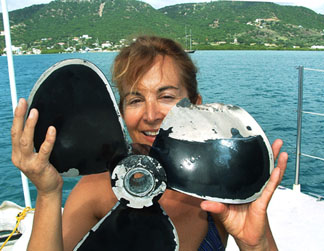 Doña holds up the prop, new in Cabo, that was damaged hitting something off the coast of Mexico. Repaired in Panama, it fell apart again during the 1,100-miles upwind across the Caribbean.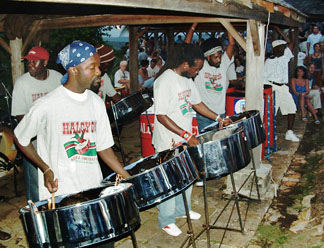 Traditional pan music is still popular in Antigua.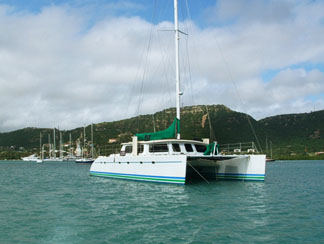 Profligate, resting on the hook in Falmouth Harbor after the long journey.
Photos Latitude/Richard
except as noted