Photos of the Day: Jack Frost
November 21 - San Francisco Bay
Encinal YC's Jack Frost Series got off to a good start on Saturday, November 15, with 49 boats participating. That's almost as many boats as the first race last year (54 boats), but the make-up of the fleet was very different. Last year's three J/Boat one design classes (120s, 35s, 105s) are gone, replaced by the Express 27s and multihulls.
Two-race days were one of the attractions for the Express 27s, who defected from their usual Berkeley Midwinters venue. Pro Will Paxton, sailing Motorcycle Irene with former boss Norman Davant, Rusty Canada, Brian Moore and Matt Noble, won both: the first by 55 seconds and the second by 1:41.
Chris Corlett of Nelson Yachts took two bullets in Division I with the Sydney 32 Sydney, accompanied by a skeleton crew of Bill Colombo, Dominic Marchal and Campbell Rivers.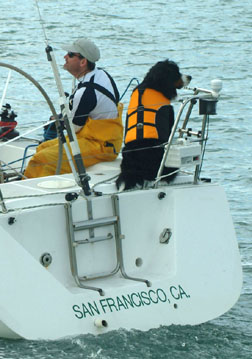 John Wimer's J/120 Desdemona had a shot at taking out Sydney, but suffered a comical and time-consuming DOB (dog overboard) in the first race. See Sightings in the December issue of Latitude 38 for the complete story!
The Melges 24s were the only other class to get in two races that day - both won by Kevin Clark's Smokin'. Clark wasn't there, having loaned longtime Smokin' tactician Tom Rankin the
boat for the series. Rankin was joined by Michael Andrews, brother John Rankin, and Wayne Best.
Jake Cartwright's WylieCat 30 Triumph, with Steve Seal at the helm, won the 'Wylie Class' (Division II, of which five of the eight boats were
different Wylie designs), but the PHRF rating for WylieCat 30s was just dropped six seconds a mile (from 141 to 135), so Triumph will have to work a bit harder in the next Jack Frost , set for January 17.
Bluejacket, Bill O'Connor's Cal 29, topped Division III. White Knuckles, an F-31R trimaran sailed by multihull dealer Gary Helms, won the six-boat Multihull division. Brian Wade's Max, an Antrim 27, encountered, shall we say, minimum competition in that class, and won by default, sailing one of two races.
For more details, results and photos, see Racing Sheet in the December issue of Latitude 38.
Last we checked, results were not yet available at www.encinal.org.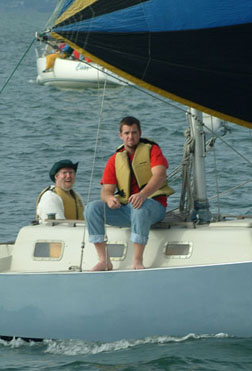 We'll grant the T-shirt, but bare feet? In November? What latitude is this again?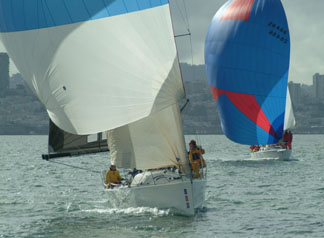 Left: Grand Prix Sailing entered two of their One Design 35s, Sensation and Sensational. Right: Desdemona, a J/120.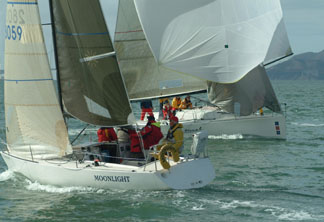 Moonlight, Jim Gibbs' Express 27, crosses paths with Sensational.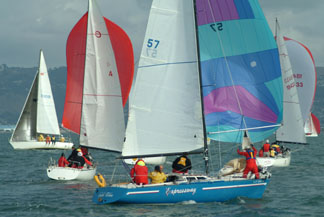 Express 27 fleet fielded 16 boats.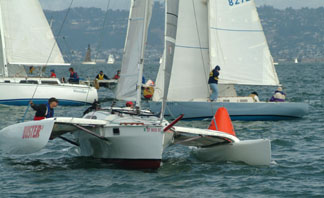 The mix of multihulls and monohulls made for interesting mark roundings.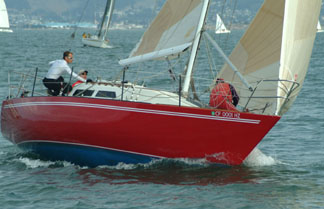 The Wylie 34 Mad Hatter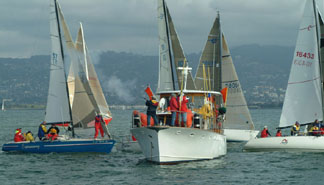 Start of the second race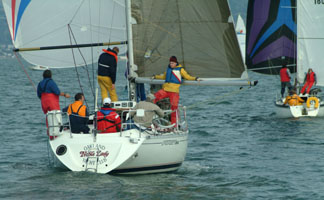 No strain in this pleasant spinnaker run.
Photos Latitude/Rob