Farr's Virbac Knows Jacques!
November 19 - Salvador de Bahia, Brazil
Yesterday morning, the new Farr Open 60 Virbac, skippered by Jean-Pierre Dick and Nicolas Abiven, ghosted across the finish line in the darkness of the Brazilian night to take a convincing victory in the Jacques Vabre, their first ever major ocean yacht race. It wasn't until seven hours later that the Anglo-French team of Alex Thomson and Roland Jourdain crossed the finish line on Sill for second. Third place finisher Ecover, with Mike Golding and former Sausalito habitué Brian Thompson, took third.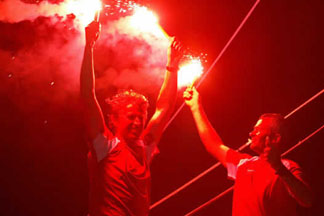 Photo Courtesy www.jacques-vabre.com
"Our experience of inshore regatta racing has aided us a lot in this victory," commented an elated Jean-Pierre Dick on hitting the dock. "We were always reacting to everything happening, and perhaps overdid the sail changes! We changed the gennaker to spinnaker and back a few times today, even on the last mile to the finish. I always race as if it's the last leg of a Tour Voile, always 100% non-stop, reacting to every minute change on the boat."
The victors covered the theoretical transatlantic distance of 4,340 miles in 16 days and 22 hours, an average speed of just under 11 knots. The top trimarans averaged over 17.5 knots for the same event.