Franck Cammas Is the Man in the Jacques Vabre!
November 17 - Salvador de Bahia, Brazil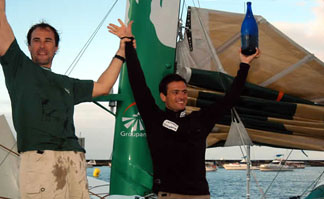 The 4,200-mile Jacques Vabre Race from France to Brazil is, along with the Route du Rhum, the most prestigious - and exciting - race sailed out of France. For the second time in a row, 30-year old Franck Cammas has become the top dog with his 60-ft tri Groupama, covering 4,600 miles in just over 10 days - for a blistering pace of 17.57 knots. He was helped by crew Franck Proffit, who had crewed for Loïck Peyron when the latter won with Fujicolor in 1999.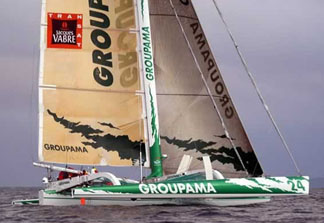 The duo had to be fast, because Belgacom, with Jean-Luc Nélias and Loïck Peyron, finished just over an hour later. Belgacom actually averaged .11 of a knot faster, but sailed a longer course. While the first half of the race and the doldrums had been rough, it was great to the finish. "Like skiing on two inches of fresh powder!"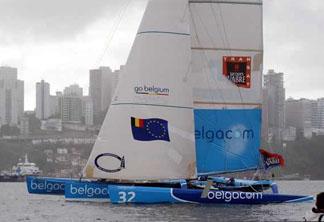 Photos Courtesy www.jacques-vabre.com

Karine Fauconnier

Taking a brilliant third just five hours out of first was skipper Karine Fauconnier, the first lady of the race, with Irishman Damian Foxall aboard Sergio Tacchini. This great finish is surely going to propel the stunning Frenchwoman to even greater glory, as she and her crew bested many of the giants of ocean multihull racing. For example, Ellen MacArthur, sailing with Alain Gautier, finished ninth.

But the day really belongs to Cammas, who has certainly proved his mettle over the years. At age 24, he won the Solitaire de Figaro, which propelled him into the 60-ft multihull ranks. A couple of years later, he cobbled together the parts of various outdated 60-ft tris to beat all the latest and greatest designs in the St. Malo Transatlantic Race. And now two Jacques Vabre victories in a row. And the future looks bright, for his new tri, a 60-footer from brand new molds, is nearing completion.

In another amazing feat, Lalou Roucayrol and Pascal Bidegorry, who would finish sixth, covered an staggering 613 miles in one 24-hour period. That's just 12 miles short of the record for 60-footers. The all time 24-hour sailing record is just under 700 miles, set by 110-ft maxi cat. Is there anybody else who thinks the America's Cup ought to be sailed in 60-ft tris?

Even though the Open 60s started the Jacques Vabre days earlier than the tris, they are still at sea. We'll have a report on Wednesday.

1. Groupama (Franck Cammas - Franck Proffit) 10d 23h 10m 41s
2. Belgacom (Jean-Luc Nélias - Loïck Peyron) 11d 00h 22m 42s
3. Sergio Tacchini (Karine Fauconnier - Damian Foxall) 11d 03h 20m 28s
4. Géant (Michel Desjoyeaux - Hervé Jan) 11d 06h 27m 31s
5. Biscuits La Trinitaine (Marc Guillemot - Yann Guichard) 11d 08h 11m 55s
6. Banque Populaire (Lalou Roucayrol - Pascal Bidégorry) 11d 09h 27m 44s
7. Sodebo (Thomas Coville - Jacques Vincent) 11d 11h 20m 15s
8. Gitana (Lionel Lemonchois - Marc Guessard) 11d 19h 50m 45s
9. Foncia (Alain Gautier - Ellen MacArthur) 11d 20h 38m 06s
10. Sopra Group (Philippe Monnet - Laurent Bourgnon) 11d 20h 55m 50s