Profligate's Progress
November 14 - Guatemala
When traveling from San Diego to Panama, the place a boat is most likely to get nailed by a blow is the Gulf of Tehuantepec in southern Mexico. Fortunately, Profligate made it through just in time, or she would have been delayed in her mad dash to the Canal and hopefully the Eastern Caribbean. As it was, they had about 25 knots for 8 to 10 hours, with peak gusts of 37 knots. Finally getting a good sailing breeze, they put up the main. After bursting to speeds of 16 knots under main alone, and not knowing if the wind was going to build, they dropped the main and continued under jib alone. This was when they were at 15º 44', 93º 50', or about 118 miles from the Mexico/Guatemala border.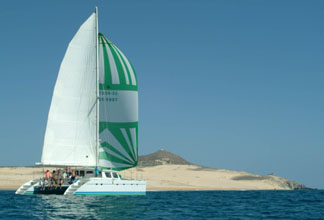 Photo Latitude Archives
This morning at 10 a.m. PST, they report being at 13º 55', 91º 32', off the coast of Guatemala. "It's incredibly hot and the sea is like a lake," reports Doña de Mallorca. They hope to make Puesta del Sol Marina in Nicaragua late tomorrow, quickly clear, take on fuel and propane, and head on out to Panama. There'll be no dilly-dallying around, as the goal is to get to the Eastern Caribbean, and the window across the Caribbean remains open . . . but who knows for how long?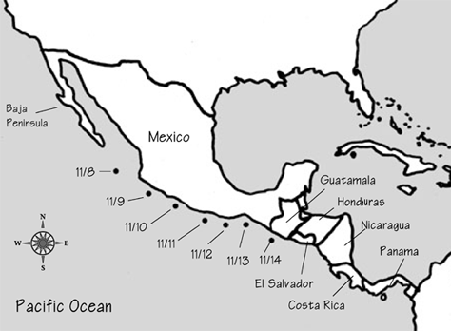 Graphic Latitude/Annie & Chris