Fun with Spinnakers
November 12 - San Francisco Bay
Saturday was a blustery but basically nice day for sailing, setting the scene for these photos from the Berkeley Midwinters. The rain held off until after the race. See the December issue of Latitude 38 and www.berkeleyyc.org for more.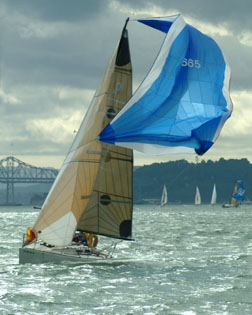 Saturday's top finishers were:
DIV. A (0-84), Racer X, Mumm 30, Gary Redelberger;
BENETEAU FIRST 36.7, Mistral, Andrew Costello;
MELGES 24, Carpe Cerevisian, Dean Daniels;
OLSON 30, Hoot, Andy Macfie;
ULTIMATE 24, Vuja De, Chris Kim;
DIV. B (87-129), Heat Wave, C&C 99, Klaus Kutz;
SF 30s, Ixxis, Olson 911-S, Ed Durbin;
DIV. C (132-168), Triumph, WylieCat 30, Jake Cartwright/Steve Seal;
MOORE 24, Parachairs, Rowan Fennell;
J/24, Casual Contact, Edward Walker;
MERIT 25, Chesapeake, Jim Fair;
NEWPORT 30, Harry, Dick Aronoff;
DIV. D (171-up), Travieso, J/22, Jack Allen.
In Sunday's smaller, separate series, the top finishers were:
DIV. I (0-87), Racer X, Mumm 30, Gary Redelberger;
MELGES 24, See Ya, Adam Simms;
DIV. II (90-135), Family Hour, Olson 30, Bilafer Family;
DIV. III (138-165), Clean Sweep, Olson 25, Tom Nemeth;
DIV. IV (168 only), Half Blind Monkey, J/24, James Zervos;
DIV. V (171-up), Antares, Islander 30 Mk. II, Larry Telford.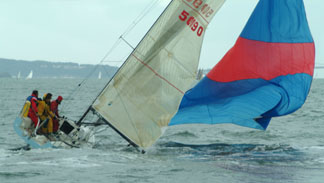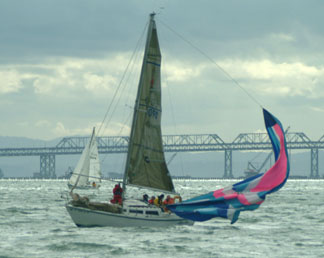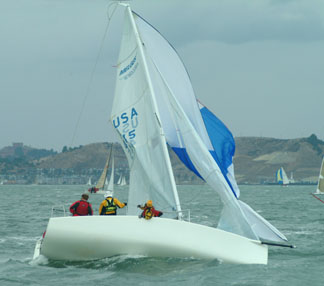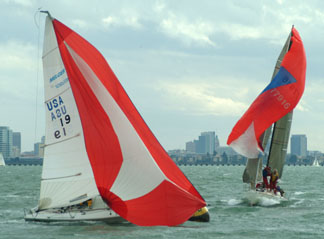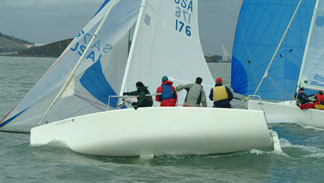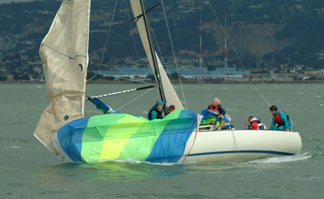 Photos Latitude/Rob