Multihulls Off to a Good Start in Transat Jacques Vabre
November 6 - Atlantic Ocean
Yesterday's Open 60 multihull Transat Jacques Vabre start featured 20 knots from the SSE, fluctuating from the land, with smooth seas. After more than 24 hours of racing the multihulls are already halfway across the Bay of Biscay. The current leader of the fleet is Belgacom, followed about six and seven miles back respectively by Banque Populaire and Groupama. After being in the top three for most of the race, Italian trimaran TIM has slipped to fifth behind Géant.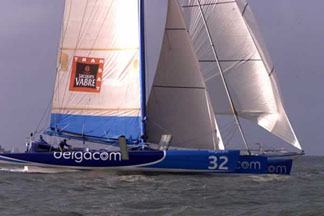 Open 60 multihull leader Belgacom
Photo Courtesy Transat Jacques Vabre
The 14 Open 60s are in their fifth day of racing, to the northeast of the Canary Islands off the Portuguese coast. Despite another rough, uncomfortable night on the race course, the winds are changing and so are the rankings. As the last cold front passes through the fleet, leading boat, Ecover, has now dived south on starboard tack, but staying to the west of rivals Virbac, as British skipper Mike Golding explained: "We're quite happy where we are, but Virbac is obviously a fast boat and a very strong contender. We want to be in the west to get the new winds and better sailing conditions first on the other side of the front. Then the breeze will slowly ease and that begins our long run to the trade winds."
The 50-ft multihull Mollymawk, skippered by British duo Ross Hobson and Andi Newman, has re-entered the race! After hitting a UFO off Ushant on Monday, the trimaran limped to Plymouth, and Ross announced on the satellite phone that they were abandoning the race. However, they hadn't had a chance to send through an official declaration of their abandon, and once they reached port they soon realized that they might be able to repair and restart before yesterday's 60-ft multihull start. The jury gave their authorization for the team to re-enter the race, and Ross and Andi were able to restart overnight.
Storagetek, sailed by Frenchmen Régis Guillemot & Olivier Salnelle, leads the four Open 50 monohulls.
For complete reports, more photos and to follow the action, see www.jacques-vabre.com.