Photos of the Day: Baja Ha-Ha
November 3 - Bahia Santa Maria, BCS
This report on Baja Ha-Ha 10 was transmitted from the committee boat, Profligate, while at sea via her onboard Globalstar phone.
It's now Monday, and all but three of the more than 100 Baja Ha-Ha 10 boats have finished the 240-mile second leg from Turtle Bay to naturally spectacular Bahia Santa Maria. The leg started on Saturday with 10 to 12 knot winds and completely flat seas. The sky was blue, the air and water were warm, and it was just a couple of knots of wind short of being perfect. Seeing 100 boats, most of them flying chutes, strung out along this desolate and uninhabited part of the coast was really something.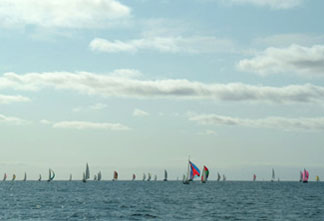 About one-quarter of the Ha-Ha fleet starting from Turtle Bay is captured in this shot.
There were few problems in the fleet other than Profligate catching both her Saildrives and rudder in a fishing net strung with fish heads and having to dodge a series of whales. Also seen were turtles, a flipping manta ray, and lots of fish . . . some of which stayed on the hook.
Although there were light periods, the wind held through an unusually warm night. Sunday's sailing was also excellent, although a few more knots of wind and a few more feet of sea wouldn't have hurt. We haven't received final times yet, but it's believed that the Santa Cruz 52 was first across the line, just before sunset, narrowly edging Profligate and the Swan 65 Casseopia. Also doing very well was the Serendipity 43 Scarlett O'Hara. Already in port was Pat Nolan's powerboat Grand Slam, which had been out catching wahoo which they shared with some of the fleet.
About 0200 on Monday, while the early finishers were catching up on sleep after sumptuous fresh fish meals, the wind predicted by Commanders Weather forecasting filled in, with wind up to the mid-20s and seas to 10 feet or more. Two boats reported gusts of 44 knots, but some folks were skeptical. While a lot of crews got fatigued and beat up a little, there have been no serious problems.
The wind was blowing all the way down the coast, and by this morning it was blowing in the mid-20s at Bahia Santa Maria. Fortunately, the protection is excellent and the holding terrific. About the only beach activities today are climbing the the nearby hills for views of the majestic bay and Mag Bay in the background. It's not a big deal, as most of the crews, having had to resort to shortened sail, are catching up on sleep.
After a lay day Tuesday, the last leg of the Ha-Ha, to Cabo San Lucas, starts on Wednesday. It looks as though there will be as much wind on the third leg as there wasn't on the first leg, but we'll have to wait a couple of days to be sure.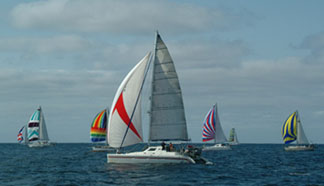 All up and down the second leg course there were groups of boats such as this.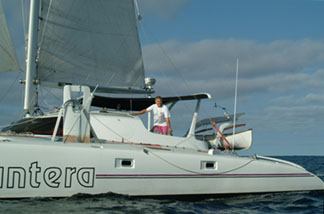 Bob Smith aboard his rocket fast custom 44 cat Pantera from Sidney, BC. A dedicated singlehander, Smith relented to Ha-Ha rules by taking along crew members Ray Theon and Otto Hilm.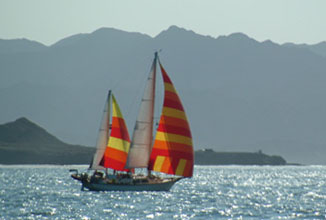 David Guthe's Seattle-based Fuji 45 Mustang looks color coordinated just past Turtle Bay against the backdrop of the Baja mountains.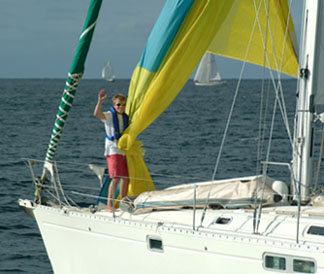 There are lots of kids in this year's Ha-Ha - the one in this photo helps his parents set the chute.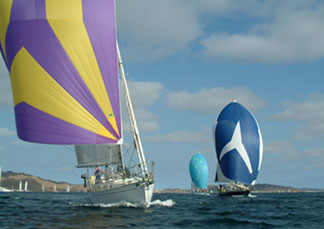 Three boats charge off the starting line.
Photos Latitude/Richard & Andy