Cayard and Trinter Shine in Stars
October 22 - San Francisco
Paul Cayard and crew Phil Trinter won the St. Francis YC-hosted 2003 Keane Star NA's yesterday, sailing a chartered boat against a talented 40-boat fleet. Going into the sixth and final race, Cayard was tied with another local skipper, Howie Shiebler, setting up a winner-take-all situation. Shiebler led Cayard at the first windward mark, but then jibed out into the Bay for more pressure on the downwind leg. Cayard hugged the shore, gaining several hundred yards - more than enough to hold off Shiebler to the finish.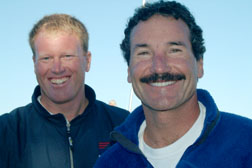 Star Stars Trinter (left) and Cayard
Photo Latitude/Rob
Cayard's 1,(6),4,1,4,2 scores earned him a 12-point victory over runner-up Freddy Loof and Shiebler, who ended up third. Cayard and Trinter are on a roll lately, and the NA win bodes well for their Olympic aspirations. But, as Cayard cautioned, "All these regattas don't really matter for going to Athens. It still all comes down to who does best at the Trials in Miami this March."
Check out www.stfyc.com for more.
1) Paul Cayard/Phil Trinter, San Francisco, 12 points; 2) Frederik Loof/Anders Ekstrom, Sweden, 20; 3) Howie Shiebler/Will Stout, San Francisco, 21; 4) Mark Reynolds/Magnus Liljedahl, San Diego, 28; 5) Eric Doyle/Rodrigo Meireles, San Diego, 30; 6) Flavio Marazzi/Enrico De Maria, Switzerland, 30; 7) Terry Hutchinson/Andrew Scott, Annapolis, 31; 8) George Szabo/Mark Strube, 34; 9) John MacCausland/Bard Nichol, Medford, NJ, 45; 10) Doug & Robert Schofield, Sagamore Beach, MA, 46. (40 boats; 6 races; 1 throwout)