He Did It!
October 20 - San Francisco
Fourteen-year-old Shark Kahn, pictured below, won the Melges 24 Worlds last Friday, beating runner-up Harry Melges by nine points after a nail-biting final race.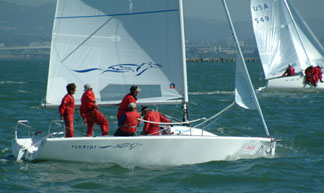 Shark, who is home-tutored and splits his time between Santa Cruz and Honolulu, and crew Mark 'Crusty' Christensen (main), Richard Clarke (tactics), Brian Hutchinson (trimmer), and Brian Lee (bow) put together a dominant 5,3,1,2,3,2,1,(16),3 record against a tough, international 68-boat fleet. Among the victims of the Amazing Shark Attack was Kahn's father Philippe, who finished 19th. The victory bowled over just about everybody except Shark, a nice kid who seemed unaffected by the big win. . .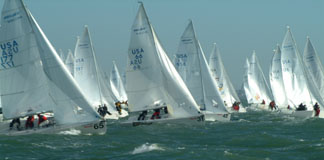 The Star NAs kicked off the day after the Melges regatta ended, with 40 boats competing on the Circle Saturday and the Cityfront Sunday. Howie Shiebler, who owns the local Protector franchise, and crew Will Stout are leading after two races. However, familiar names - Cayard, Reynolds, Hutchinson, Loof, Doyle - are nipping at Shiebler's heels and with two days of racing left, the title is still very much up for grabs.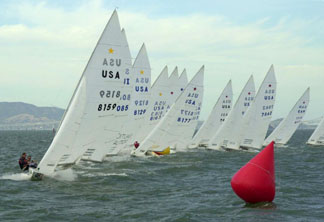 Paul Cayard and crew Phil Trinter (8159) lead the charge around the weather mark. World Champions and multiple Olympic medalists Mark Reynolds and Magnus Liljedahl (8129) aren't far behind.
Audi Melges 24 Worlds (final) - 1) Pegasus 24-1, Shark Kahn, 20 points; 2) Star, Harry Melges, 29; 3) Full Throttle, Brian Porter, 44; 4) Joe Fly, Luca Santella, ITA, 61; 5) P&P Sailing Team, Phillipe Ligot, FRA, 66; 6) Ebrex Logistic, Babbi Egidio, ITA, 78; 7) USA 39, Dave Ullman, 80; 8) Black Seal, Jamie Lea, 95; 9) Unprotected, Robert Greenhalgh, 100; 10) UK 444, Ian Cleaver, Scotland, 109. (68 boats; 9 races; 1 throwout)
Keane Star NAs (after 2 races) - 1) Howie Shiebler/Will Stout, 3 points; 2) Paul Cayard/Phil Trinter, 7; 3) Mark Reynolds/Magnus Liljedahl, 7; 4) Terry Hutchinson/Andrew Scott, 8; 5) Frederik Loof/Anders Ekstrom, 11; 6) Eric Doyle/Rodrigo Meireles, 12; 7) Flavio Marazzi/Enrico De Maria, 15; 8) George Szabo/Mark Strube, 18; 9) John MacCausland/Bard Nichol, 23; 10) Bill Allen/Brad Lichter, 23. (40 boats)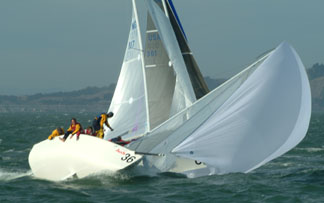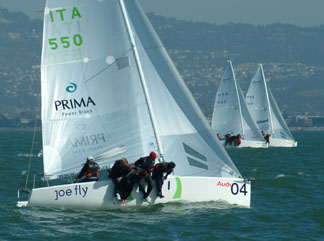 All Melges Photos Latitude/Rob
Action in the Star North Americans: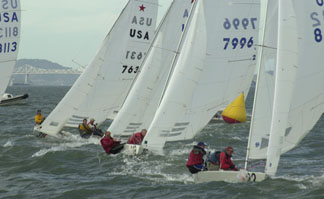 Around the first weather mark. Bow #19 is three-time Star World Champion and '84 Olympic Gold Medalist Bill Buchan.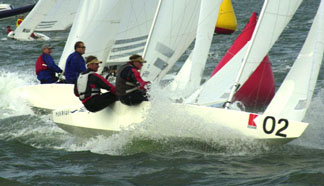 The Berkeley Circle was wet and wild. The Pegasus Racing Team-logo'd #02 is sailed here by Sweden's Frederick Loof (skipper) and Anders Ekstrom.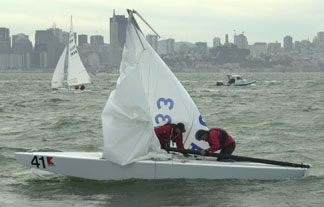 Some Star sailors had a better first day than others. Dale Hoffman and Robert Ferro DNF'd both races after this unfortunate dismasting.
All Star Photos Latitude/JR
See www.stfyc.com for more on both regattas. We'll also have more in the November issue of Latitude 38.