Magic Carpet to Costa Rica and Panama
September 29 - Isla Parida, Panama
The accompanying photo comes from Dave and Angie of the Seattle-based Magic Carpet Ride in Costa Rica. "Since leaving Puntarenas, we've mostly been motoring. We anchored off the ritzy Los Suenos, the new marina in southern Costa Rica. The slips were too pricey for us, but the fuel was reasonably priced, we could fill our water tanks, and the dock staff was wonderful. The anchorage was quite rolly however, as most have been in Costa Rica, because of a southwest swell.
"We spent five rolly days at Bahia Drake, but it was worth it, as it was very isolated and much to our liking. From there we made two day trips to Isla Canos for diving and hiking. We spent several days in Golfito and can report a new marina, King and Bardell, in addition to Banana Bay Marina. While fueling, you can take on water and enjoy a shower. Carlos is the head of the friendly staff. We anchored off Land and Sea, and Tim and Katy, as always, were very helpful. After buying our favorite rum in a duty free shop, we headed to Panama.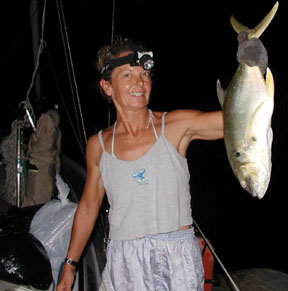 Photo Courtesy Magic Carpet Ride
"We thought Bahia Drake was rolly, but Puerto Armuelles proved we didn't know what rolly was! We got there just about dusk, which is squall time. We had to re-anchor several times, then watched the depth drop to just two feet beneath our keel. After a sleepless night, we headed on to Isla Parida, which seemed like paradise - lots of anchorages and empty except for an occasional fishing village. We traded a bottle of cooking oil, some powdered milk, and some rice for three good sized lobsters, a huge avocado, and some lemons. That brings us to the photo of the Pacific Bumper that Angie caught just before dark. I think all fish you catch tastes wonderful - even if barbecued by flashlight!"