The Moët Cup: A Really Good Show Continues Through Saturday
September 17 - San Francisco
The Moët Cup competition between Oracle BMW Racing and Alinghi on the San Francisco Cityfront continued yesterday with excellent racing in strong breezes under sunny skies. Oracle BMW took both races yesterday, with Larry Ellison beating Ernesto Bertarelli by 24 seconds in the Owner/Driver class, and Gavin Brady besting Jochen Shuemann by 27 seconds in the Pro/Driver Series.
The consensus of yachting journalists from the United States and aboard is that the Moët Cup is turning out to be a much better event than expected. They've been impressed by the condition of the boats, the level of sailing, the great winds, and the spectator-friendly venue. Given that context, it should be clear that we're not shilling for billionaires when we say you really ought to get down to the Cityfront and check it out. Great facilities have been set up on the waterfront between the St. Francis and Golden Gate YCs, and when it gets a little cold or the boats get a ways away, you can move inside heated buildings, buy hot coffee, and watch the action on graphic displays.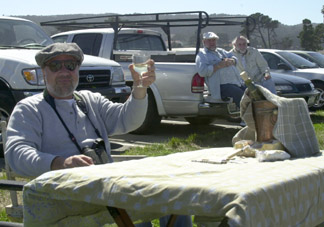 Chris Tanna of Lake Tahoe made himself comfortable watching the races, bringing his own chair and table, plus wine and cheese.
There will be two races a day through Saturday, and with the weather getting warmer, we'd expect particularly big crowds on Friday and Saturday. Although private boats aren't prohibited from the course, it's been extremely crowded on the water, and we actually think you'll enjoy yourselves more from shore. Latitude 38 Managing Editor John Riise has tried it both ways, and recommends the latter.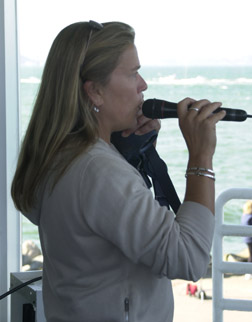 Dawn Riley, a vet of her own America's Cup campaign, provides commentary for the racing.
One of the most interesting comments yesterday came from Ross Halcrow of Oracle BMW, who noted had they tried racing the IACC boat Young America in these conditions, she would have broke and sank. "So it's pretty exciting to be sailing here with Oracle BMW on these great solid boats, and being able to sheet on and sit down there to leeward getting covered in water without worrying about what's going to break next."
For more information on the event, visit www.moetcup.com.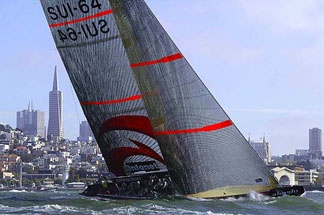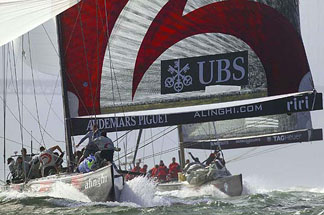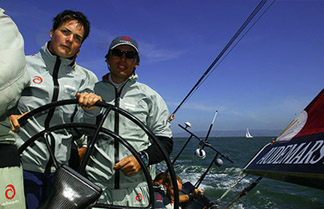 Ellen MacArthur, Queen of the Oceans, driving Alinghi
Three Photos Above Thierry Martinez
Other Photos Latitude/JR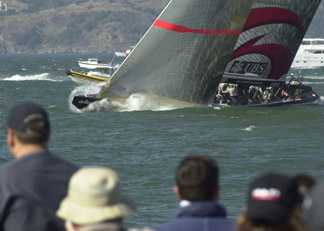 Alinghi turns heads as she tacks close to shore.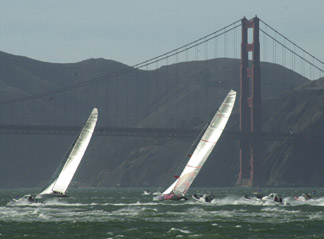 Alinghi and Oracle spring toward the weather mark.