Moët Cup
September 16 - San Francisco
Yesterday was the first day of the Moët Cup match racing on the San Francisco Bay between Alinghi, winners of the America's Cup, and Oracle BMW Racing, runners-up in the Louis Vuitton Cup. God knows we can be skeptical, but the show exceeded our expectations in all respects:

- The racing was terrific. In the first race, owner/driver Larry Ellison of Oracle BMW Racing beat Ernesto Bertarelli of Alinghi in a very exciting race that saw lots of close racing. In the second race, pro driver Jochen Shuemann of Alinghi bested Gavin Brady of Oracle BMW Racing, but at the weather mark the two boats had been side by side trying to luff their way around.

- The IACC boats looked magestic and spectacular! It's one thing to see them on television, but an entirely different thing to see them in person. Some of the tacking duels near Aquatic Park were terrific and the tip of the spit were excellent.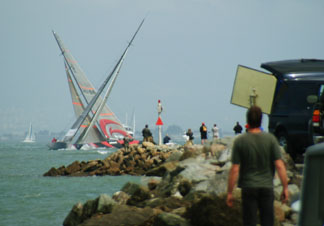 Oh yeah, baby, a front row seat for a IACC tacking duel.

- San Francisco Bay came up with great conditions, with about 14 knots in the first race, and close to 20 knots in the second race. What a terrific venue!

- Most of the racing action - which took place between Treasure Island and near the Blackaller Buoy - was clearly visible from the spectactor area between the St. Francis and Golden Gate YCs. Even when the boats were as far away as Alcatraz, it was easy to follow the action.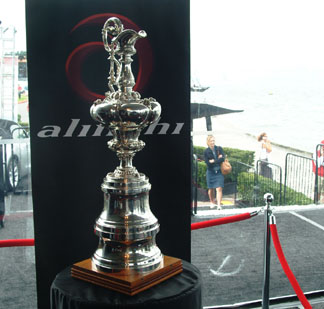 The Cup is there for all to see.
- The spectator facilities on shore have been done well. You know how cold it gets on the Cityfront? Well, they've erected a number of heated temporary structures where you can go inside and warm up - and buy food, drink, and America's Cup clothing - as well as follow the racing through superb graphics displays on flat screens. In addition, Dawn Riley provided ongoing commentary.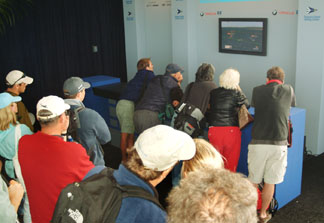 When the boats got a little further away and people got cold, they could follow the action on screens in heated buildings.

- The only shortcoming yesterday was that it was apparently too foggy for Larry Ellison's fireworks show, so who knows, maybe tonight?

The bottom line is that sailor or non-sailor, you should check it out. There are two races a day through Saturday, with the racing starting about 1 p.m.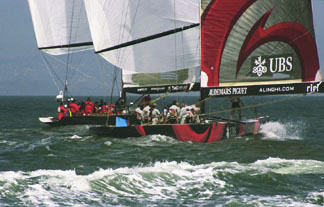 There was close racing downwind also.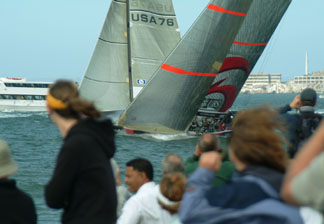 You want 'up close and personal' viewing opportunities of IACC boats in full flight? The Moët Cup is your chance.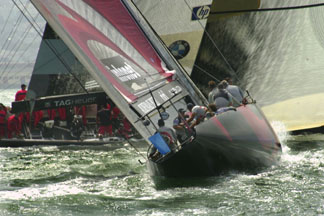 Oracle BMW Racing crosses in front of Alinghi.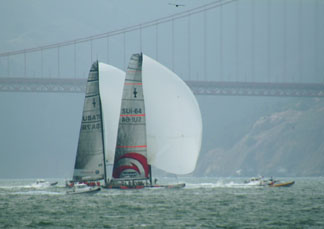 The racing doesn't get much closer than you see at the weather mark.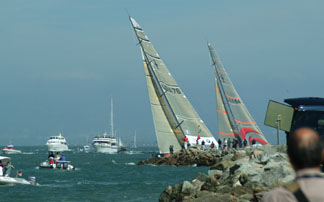 Spectator heaven.

The many flat screens showing the boat's positions and length of separation are terrific.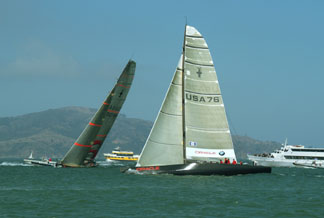 Larry Ellison, at the helm of Oracle BMW Racing, takes the bow of Ernesto Bertarelli on Alinghi.
Photos Latitude/Richard and JR