---
Graphic of the Day

May 30 - Eastern Pacific Ocean

The official hurricane season in Mexico doesn't start until tomorrow, but Adolph couldn't wait. He started to develop on May 25, and quickly built into a Category 4 hurricane with winds up to 125 knots. Fortunately, like most Eastern Pacific hurricanes, he started way down by 15° and then headed well offshore. Adolph is currently weakening in the cooler waters to the north.


Graphic Courtesy
http://weather.unisys.com/hurricane/index.html
---
Getting a Serious Bruising while Cruising

May 30 - Bahia de las Tortugas, Baja California

"We - the Pordes Family aboard the Vallejo-based La Coste 42 Favonius - arrived in Turtle Bay, Baja, on May 27 along with Tom on the DownEaster 32 Havru," reports Michael Pordes. "Both Tom and we were visited by Ernesto, the fuel panga driver. After taking our garbage in return for a cold Pacifico, Ernesto agreed to deliver fuel to us the next day. Ernesto is part of the same family as the late Gordo, whose children run the fuel concession in Turtle Bay as well as the Restaurant Maria on the beach.

"Most Baja cruisers are familiar with the Turtle Bay fuel drill. You give Ernesto the cash for the amount of fuel you want at the rate of about 50 U.S. cents a liter; he goes to the fuel pier and pumps it into 55 gallon drums; then he comes alongside your boat (fully fendered); and using a fuel transfer pump and a hose, fills your tanks or jerry cans pretty quickly. The other option is to set a bow anchor and try to connect a stern line to the fuel pier. If you can accomplish this, the hose is lowered down and you take on fuel. It is a few cents cheaper per gallon that way, and if you are a 50-foot Hatteras sportfisher taking on 1,000 gallons of diesel, it is the only way to go.

"When the Shannon 50 Heartstrings from Newport Beach arrived on Monday morning, they declined Ernesto's services and decided they'd try to take on fuel directly from the pier. It was blowing about 15 knots from the northwest, and Mike the skipper had a difficult time getting his stern around. A crewmember named Ian tossed a line to the pier, but it rose up and got caught in the rapidly spinning Fourwinds wind generator, causing a blade to fly off and hit the crewmember in the face, slicing him longways, necessitating that he be med-evac'ed out to Santa Ana. This morning Mike told us that Ian is doing fine and will undergo surgery this afternoon to repair a long laceration to his face.

"After the medical ordeal was handled, Heartstrings once again tried to come to the fuel pier. This time they needed an assist from Ernesto's powerful panga to get the stern around and a line to the pier. Anyway, Ian survived, and hopefully a plastic surgeon will be able to sew him so the scar doesn't show up too badly. The moral is, I suppose, don't be cheap about a few cents per gallon - take on fuel the easiest way possible. And if you're going to be heaving a line, turn off the wind generator!"


Filling up at the Turtle Bay fuel dock


Panga driver Ernesto

Photos Latitude/Richard
---


Stumped No More
May 30 - Key West, FL

"Could the 'racy photos' [see yesterday's and Friday's 'Lectronic Latitude] be of Fantasy Fest, held the last weekend of October in Key West?" writes Jared DeWitt. "If so, saying those pictures are racy - compared to what actually happens - is like saying a Watkins 27 is a racy little boat compared to PlayStation."
"I think the mystery 'racy photos' are from Fantasy Fest in Key West," writes Dave Gendell of Spin Sheet sailing magazine in Annapolis, and John Palmer of the Bethel Island-based Centurian thinks so, also. And they're right. Erik Simonson thinks the photos were from "the Captain Neptune Party at this year's Big Daddy Regatta." He's wrong.
---

A Tale of Two Marinas
May 30 - St. Barts, French West Indies, and Honolulu, Hawaii
See the cute little stone structures in the shape of little Caribbean homes? They actually house the water and electrical connections for the boats that tie stern-to at the government quay at Gustavia, St. Barts. Classy, isn't it?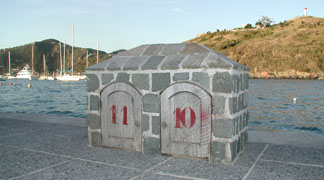 Now look at the other photo, which is of one of the pilings at the state run Ala Wai Yacht Harbor in Honolulu. Not very safe or classy.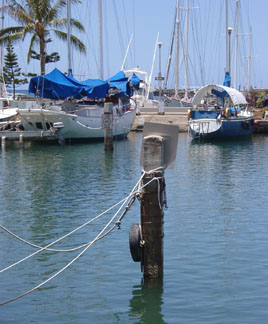 Hawaii's Governor Ben Cayetano has announced that he plans to privatize the Ala Wai, which has really angered some tenants who don't want to see their berth fees raised over $4 a foot. Unless Cayetano is willing to import some French bureaucrats who love boats and know how to run a harbor, we think he indeed ought to privatize the Ala Wai.
Photos Latitude/Richard
---


YOTREPS
May 30 - The Pacific Ocean and Cyberspace
Who is out making passages in the Pacific and what kind of weather are they having? Check out YOTREPS - 'yacht reports' - at http://www.bitwrangler.com/yotreps/
---


Weather Updates
May 30 - Pacific Ocean
San Francisco Bay Weather
To see what the winds are like on the Bay and just outside the Gate right now, check out http://sfports.wr.usgs.gov/wind/.
California Coast Weather
Looking for current as well as recent wind and sea readings from 17 buoys and stations between Pt. Arena and the Mexican border? Here's the place - which has further links to weather buoys and stations all over the U.S.: www.ndbc.noaa.gov/stuff/southwest/swstmap.shtml.
Pacific Sea State
Seas are normal in the Pacific. But you might check out the Pacific Ocean sea states at: http://www.mpc.ncep.noaa.gov/RSSA/PacRegSSA.html.
For another view, see http://www.oceanweather.com/data/global.html.
---
Top
/ Index of Stories / Subscriptions / Classifieds / Home
©2001 Latitude 38 Publishing Co., Inc.