---
---

Photo of the Day

September 12 - Cat Harbor


(Click on the photo to enlarge it.)
Most of these goodies, including the two anchors, are in about 120 feet of water at the mouth of Cat Harbor. Tony can show you where.
Photo 'Lectronic / Richard
© 2007 Latitude 38 Publishing Co., Inc.

Today's Photo of the Day, by Rachel Edwards, is actually a request for stories of the most stuff hauled up from the bottom in one raising of an anchor. When we tried to leave Cat Harbor recently with Profligate, we thought it would take about three minutes to get the anchor up. It ended up taking about three hours, and required the assistance of Tony of the Cat Harbor harbor patrol. It took so long because somehow our Fortress FX 125, which has a 56-inch shank and is the biggest Fortress makes, had managed to snag a lot of tangled debris on the bottom. This included a small Fortress anchor, a very, very, very large Navy type anchor not visible in this photo, a cinder block, two sizes of polypro line, four sizes of dacron line, two sizes of chain, a large U-shaped steel bar, plus a lot of barnacles. The strain was so great that our little Lewmar windlass got a hernia! Anyway, if you have any good anchor raising tales, we'd like to hear about them so shoot us an email.

- latitude / rs
---
Go Cal!
September 12 - Alameda
More than 25 vintage Cal boats assembled at the Encinal YC last weekend to celebrate the second annual Caltopia - a celebration of the boats built by one of the great West Coast collaborations: Jack Jensen and Bill Lapworth. From humble beginnings in 1956 until their demise (along with scores of other American boatbuilders) at the hands of the 10% Luxury Tax in the mid-80s, dozens of designs and hundreds of boats rolled out the doors. Representatives of most showed up at EYC for two days of music, barbecue, a fun regatta, seminars, demonstrations and the best part - just talking and checking out everybody's boats.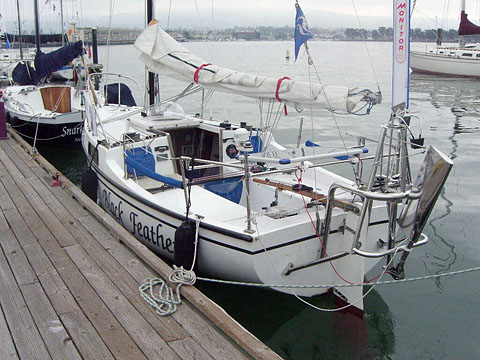 Black Feathers is getting ready for the Singlehanded TransPac next year.
© 2007 James Williams
Among the attendees were 3 Cal 40s (the most famous Jensen/Lapworth collaboration), 10 Cal 39s (including Mike Serpan's Sea Otter, which cruised the South Seas for four years), and perhaps the most unique boat in attendance, the Cal 20 Black Feathers, which has been extensively modified for the 2008 Singlehanded Transpac.
Plans are already afoot for Caltopia 2008. Keep an eye out at www.calboats.org.
- james williams
---
Long Beach To Cabo Race Fleet Shaping Up
September 12 - Long Beach YC
The fastest boats in the Long Beach YC's November 2-9 Long Beach to Cabo Race will be shooting for the course record of 3 days, 3 hours that was set in '95 by Steve Fossett - who is currently missing after his small plane disappeared after taking off in Nevada - with his ORMA 60 trimaran Lakota. Because the winds are generally light off the coast of Baja in early November, it could be a tough elapsed-time record to beat, but you never know. In any event, the current entries are:
Magnitude 80 / Andrews 80 / Doug Baker / Long Beach
Peligroso / Kiernan 68 / Mike Campbell & Dale Williams / Long Beach
Medicine Man / Andrews 63 / Bob 'Let's Go To Tahiti' Lane / Long Beach
Holua / Santa Cruz 70 / Brack Duker / Marina del Rey
OEX / Santa Cruz 70 / Peter Tong / Long Beach
Relentless / SC 52 / Rick Brizendine & Bill Durant / Long Beach
Pacific High / Columbia 30M / Steve Washburn / Alamitos Bay
Valkyrie / DK46 / Andy Rasdal / San Diego YC
Ruahatu / Concordia 47 / Ricardo Brockmann / Acapulco YC
Ocelot / Kernan/Wylie 44 / Kevin Flanigan / Portland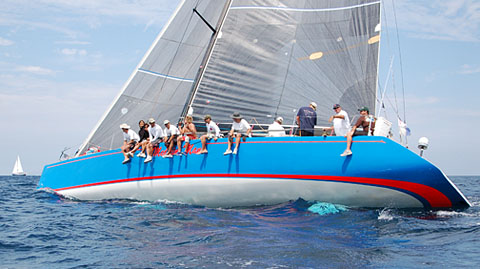 Medicine Man as seen sailing upwind, something owner Bob Lane hopes they won't have to do any of on the way to Cabo.
Photo 'Lectronic / Richard
© 2007 Latitude 38 Publishing Co., Inc.
Although the official entry deadline for the race has passed, if you give the yacht club a call you still might be able to get in. With the combined Long Beach Race and Ha-Ha fleets expected to be off southern Baja at about the same time, it's going to be a lot of fun out there. For more on the race, go to www.lbyc.org.
- latitude / rs
---
The Northwest Passage Under Sail
September 12 - Nuussauq, Greenland
If this doesn't just take the cake. French sailors Sebastien Roubinet, Eric André, Boris Teisserenc and Anne-Lise Vacher-Morazzani arrived in Nuussuaq, Greenland on Sunday after a nearly four month transit of the fabled Northwest Passage. While it's always impressive when a sailboat makes the trip in one season - a feat that seems to be much more achievable, thanks to global warming - Babouche's passage is one for the record books because it was done entirely under sail.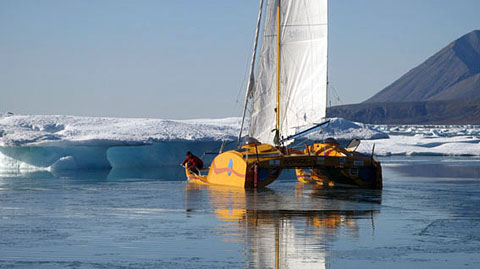 The ultralight cat Babouche nosed her way through the Arctic ice pack to establish a new world record: the first all-sail transit of the Northwest Passage.
© 2007 Sebastien Roubinet
The 24-ft hybrid catamaran was designed specifically for this voyage, and features such innovations as retractable rudder blades with skates mounted under them, skis mounted under the amas, flexible bows to mount on the ice and positive floatation, which was probably quite comforting when Babouche was dismasted along the way. Babouche's crew hope their record-setting passage will bring attention to the "richness of the Arctic, its high weakness and thus the necessity to preserve it." For more on their adventure, check out their website at www.babouche-expe.eu.
- latitude / ld
---
Crowhurst Documentary Airs in Bay Area
September 12 - Bay Area
In the realm of nautical lore, there are plenty of curious tales about seagoing misadventures. But certainly one of the most bizarre is the story of British singlehander Donald Crowhurst's ill-fated attempt to be the first to circumnavigate the planet nonstop during the 1968 Golden Globe Race - precursor to all around-the-world races such as the BOC Challenge, the Whitbread and the Vendée Globe.
What's notable about Crowhurst is not that he finished first, nor even that he finished at all, but that his inability to meet his own expectations of success led him into a delusional state where he filed false position reports for weeks, sailed aimlessly through the South Atlantic and ultimately took his own life.
The acclaimed 2006 documentary Deep Water airs this week in the Bay Area, giving riveting insights into Crowhurst's mindset and the sad chronology of his undoing. Among other sources, the British filmmakers have cleverly woven the singlehander's own tape recordings and 16mm film clips into their documentary. (Crowhurst's plywood Piver Victress trimaran Teignmouth Electron was eventually found intact, sailing along under her mizzen.)
The 93-minute film airs tonight at the Rafael Film Center in San Rafael, the Clay Theater in San Francisco, the Oaks Theatre in Berkeley, and Camera 7 in Campbell.
- latitude / at
---
Soft Deadline Over, Hard Deadline Approaching
September 12 - Ha-Ha Land
"As of Monday, the 'soft deadline' for the Ha-Ha, we'd received a total of 164 entries, which is up from 146 at the same time last year," reports Ha-Ha Honcho Lauren Spindler. "Between the 'soft deadline' and the 'hard deadline' last year, we received another 37 entries so, before it's over, I expect we'll have another 180+ entries again this year. If you still want to Ha-Ha, you've got to move very fast by sending $20 to Baja Ha-Ha, 401-F Miller, PMB 140, Mill Valley, 94941."
For more info on the Ha-Ha, or to see the complete entry list, visit www.baja-haha.com. The most recent entries are:
145) Solstice / Sceptre 41 / John Forbes / San Francisco
146) Triple Stars / Island Packet 380 / Robert Anderson / Sausalito
147) Dart / Peterson 34 / John Crutcher / Sausalito
148) Someday Isle / Passport 37 / Tom Mishler / San Diego
149) Surf Scooter / Island Packet 35 / Poul Kjaer / Discovery Bay
150) Jambo Duex / Beneteau 473 / Jon Riksford / San Diego
151) Blind Luck / Cross 50 trimaran / Jim Stevens / Kihei, HI
152) Namu II / Corinthian Cal 39 / Otis Kelley / Stockton
153) Pitufa / Piver 30 Nimble tri / Walter S. Ludlow / San Diego
154) Mandalay / Ta Chou 55 ketch / Anthony Diliberti / Seattle
155) Mirage / Ganley Steel 34 / Mike Wirth / San Francisco
156) Sea Angel / Catalina 42 MkII / Mel Hamp / 4 Winds & 7 Seas
157) Mystical Traveler / Beneteau 423 / Lewis H. Guthrie / San Diego
158) Symphony / Hans Christian 38 MkII / Michael Bagwell / Vancouver
159) Loomings / Hunter 40 / James Rummonds / La Selva Beach
160) Two Burner / Catalina 36 / Phil Patterson / San Diego
161) Lanikai / Cal 39 / John Hart / San Diego
162) Water Spirit / Pearson 36 cutter / Richard Mogford / San Francisco
163) Nefertiti / Tayana 55 / Adam Cohen / San Francisco
164) Concretia / Hartog 55 / William McClatchy / Alameda
- latitude / rs