---
---

Photo of the Day: Something Old, Something New

September 10 - Sardinia


(Click on the photo to enlarge it.)
© 2007 Carlo Borlenghi

The Maxi Yacht Rolex Cup wrapped up a splendid week of racing off Porto Cervo, Sardinia, yesterday. Forty-one boats in five divisions took part, ranging in size from 60 feet (in two 'Mini-Maxi' classes) to big boys like the 90-ft Rambler, 100-ft Alfa Romeo and Wild Oats, and 126-ft Hetairos. Our Photo of the Day illustrates about 70 years of big boat racing design captured on the race course. That's Ranger at the top, John Williams' 135-ft replica of the J-Class yacht of the same name that won the 1937 America's Cup. In the foreground is Ghost, Arne Glimcher's two-year-old Brenta 122. For reasons we don't quite understand, they raced together in 'Cruising' Division. According to provisional results posted this morning, Ranger won the class, while Ghost finished third. Check out all the action and results at www.yccsmaxi.com.

- latitude / jr
---
Search for Steve Continues
September 10 - Nevada

The search for adventurer Steve Fossett continues over Nevada. The record setting sailor, balloonist and pilot went missing a week ago after a 'routine' flight to scout areas for an attempted land speed record (in a rocket car) later this year. His failure to return resulted in a huge and ongoing search of, so far, about 17,000 of square miles of desert adjacent to Barron Hilton's 'Flying M Ranch' near Minden, from which he departed last Monday morning. Up to 20 aircraft and scores of volunteers have since been scouring the mostly bleak terrain every day for any sign of the 63-year-old Fossett or the Citabria Super Decathalon single-engine aircraft he was flying. So far, they have found six wrecks (three known, three unknown, one dating back to 1964), but no sign of Fossett.
As with singlehanded sailor/technologist Jim Gray, who disappeared during a singlehanded sail to the Farallones earlier this year, the search for Fossett has expanded to the internet, where even you might be able to help find him. Log onto www.stevefossett.com for instructions on how to search various grids on Google Earth using Amazon.com's 'Mechanical Turk' tool.
Fossett made a fortune in commodities trading. For the last 15-20 years, he has relentlessly pursued 'personal best' goals, many of which have resulted in world records in sailing, flying, soaring and ballooning. He didn't do it for the glory or the press (he actually shunned that for the most part), but in the best traditions of George Mallory: "because it was there." With his 125-ft catamaran PlayStation/Cheyenne, he at one time set all the big sailing records, including the Trans-Atlantic, 24-hour run and round-the-world. (All have since been broken, although he still holds several other sailing records.) He holds many aviation records, including becoming the first to fly nonstop, unrefueled around the world, and the first nonstop balloon flight around the world.
- latitude / jr
---
Hurricane Update
September 10 - Puerto Escondido, Mexico
Connie McWilliam of the well-known 'hurricane hole' Puerto Escondido sent us a note reporting the damage done there by recent hurricane activity.

"Moon Me is badly damaged - she could be fixed with a lot of work. Boardroom, La Petite and Erikazona might be total losses - they broke loose and sunk. Backstreet could be repairable - she broke loose, turned over and sunk. Rumline broke loose hitting Last Mango, which might be salvagable. Western Sea's starboard ama received minor damage from the prop of an overturned panga. Delfin Solo broke loose when the line to their mooring ball chafed through but they didn't receive any damage."
- latitude / ld
---
A Trio at Tiburon
September 10 - Tiburon
Tiburon YC was a busy place this weekend as it hosted the Joan Storer Regatta (all-women crew, save for one lucky guy), the Melges Sportboat Regatta, and #7 & #8 of the H.O. Lind Series. The race committee did their best starting and finishing all the regattas - there was some confusion but, with good teamwork, all was cacciatore - and a good time was had by all.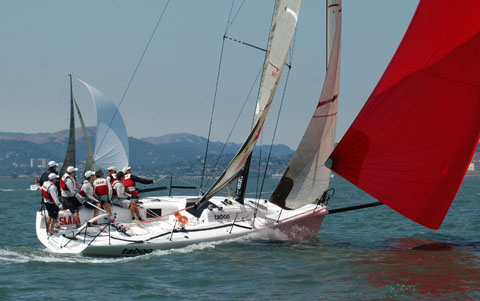 Stephen Pugh's Melges 32 Taboo tries to nose ahead of Caleb Everett's Stewball in the Melges Sportboat Regatta, a tune-up for next weekend's Big Boat Series.
Photo Latitude / Lindsay
© 2007 Latitude 38 Publishing Co., Inc.
Winds were light to medium with varying puffs, as the lands' topography in and around the TYC race course can cause it to be fluky. For the Joan Storer, Mariellen Stern and Susan Hoehler took first in Division 1 on their J/105 Joyride, and Evie Ashcroft snagged the top spot in Division 2 aboard her Folkboat Galante. For the Melges Regatta, Phillippe Kahn's Pegasus won the Melges 32 honors and Kevin Clark on Smokin' beat out the other Melges 24s. Go to www.tyc.org for full results and for the results of the H.O. Lind, which were still TBA at this writing.
The after-party, which was rich with good food, got really interesting when videos of the Melges race was shown. Velocitek tracking units had been installed on some of the Melgii and rarely do you get to see a Bay race from that point of view.
- latitude / lc
---
A Special Visit for Special Visitors
September 10 - Sausalito
Hans Bernwall, President of Scanmar International and "King of Windvanes," took time out of his busy schedule yesterday to drop by Schoonmaker Point Marina in Sausalito and pay a visit to some special Monitor customers. Motoe and Yumiko Komatsu sailed their Mirabelle 375 My Way from their homeport of Hakodate, Hokkaido, Japan nonstop to the Bay, arriving September 2, after 48 days at sea.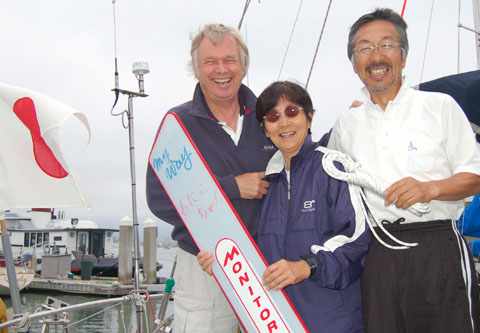 Scanmar's President Hans Bernwall surprised Yumiko and Motoe Komatsu of the Hokkaido-based My Way by hand-delivering replacement control lines for their Monitor windvane.
Photo Latitude / LaDonna
© 2007 Latitude 38 Publishing Co., Inc.
The Komatsus report they've been treated with nothing but respect and admiration from everyone they've met here in America - from the Coast Guard to Customs to the waitress at the local breakfast joint - but they were still surprised to find Hans knocking on their hull yesterday morning. They were even more surprised when he handed them the replacement control lines they just happened to need for their Monitor and showed them how to fix the problem causing the chafe.
While this kind of personalized service may seem extraordinary - quite frankly, it is - it's also not at all uncommon for vendors in the marine industry to pay special attention to their customers. We've heard countless stories of companies bending over backwards to help clients in need and we salute them.
- latitude / ld
---
Ah, Actually. . . There is No Cold Beer
September 10 - Palmyra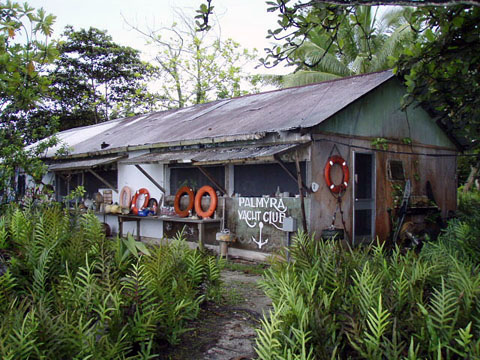 © 2007 Craig Anderson
When SoCal sailor Craig Anderson sent in this curious photo a few weeks ago of the Palmyra YC, we ran it with what we assumed would be an uncontroversial caption: "You won't find starched white tablecloths and fine crystal wine glasses at the Palmyra YC. But the beers are cold and the vibes are friendly." Turns out this is one YC that does not serve beer!
As Dr. Allen Dekelboum points out: "The Palmyra YC does not have any beer for consumption, only what you might have with you. We didn't bring any. There is no bar or bartender. It is a lending library and facility for lectures and movies."
Dekelboum, past commodore of the Tiburon YC, spent three weeks there last summer on a research trip with the California Academy of Sciences (CAS). He also commented on the notion that swimming at Palmyra is potentially hazardous: "We did most of our diving in the lagoons and saw some white tips and black tips, but no threatening species. On the first dive outside the reef, we were passed by an 8- to 10-ft tiger shark that was just cruising by, but never threatening. There were about 15 divers going out every day, but none were ever bothered by any sharks. Many of the scientists also did snorkeling without shark confrontations.
"The Nature Conservancy has provided a wonderful facility for research with an outstanding laboratory, comfortable two-person cabins, excellent food and a very safe and well-equipped diving program. A charter plane comes in every two weeks, unless delayed by weather or mechanical problems."
However, cruisers, arriving unannounced should not expect any sort of reprovisioning opportunities. As Anderson clarified, "No food, fuel, nor water is available to cruisers, even though it rains 150 inches/yr. Palmyra is run as a serious science base, where cruisers are tolerated, but not openly welcomed. I believe we were only the seventh private boat to visit Palmyra in 2007."
- latitude / at