---
---

Henriette Grazes San Carlos

September 7 - San Carlos, Mexico


(Click on the photo to enlarge it.)
This NASA satellite image hints at Felix's awesome power.
© 2007 MODIS Rapid Response Project at NASA/GSFC

"We had absolutely no damage at all," reports Dario Sezzi, harbormaster of Marina Real in San Carlos. The eye of Hurricane Henriette passed south of this sailors' haven on the mainland side of the Sea of Cortez Wednesday evening, with maximum sustained winds of 75 mph.

"I just learned from a friend that Pantera did just fine sitting on a trailer," says cruiser Bob Smith, who had left his one-off 44-ft cat stored on the hard at San Carlos while he returned home to Canada.

Soon after the eye of Henriette crossed close to Cabo San Lucas Tuesday, the storm blasted La Paz with strong winds and heavy rain. But staffers at Marina Palmira say that their facility and neighboring operations had virtually no damage.


A bad weather week in Central America: Henriette seen at upper left and Felix seen at lower right.
© 2007 NASA/AP

Meanwhile, on the eastern side of the Central American land mass, Hurricane Felix walloped the Mosquito Coast of Nicaragua and Honduras Tuesday with punishing winds up to 160 mph and torrents of rain. In addition to wind damage, flooding and mudslides caused widespread destruction with an associated death toll estimated to be more than 100.

- latitude / at
---
Steve Fossett Still Missing
September 7 - Minden, Nevada
Searchers are still searching for world-reknowned adventurer Steve Fossett, who went missing on Monday during a routine flight in a light plane. But there's still hope that Fossett will be found alive. "He's a survivalist," noted a Nevada State Police spokesman.
For those who might doubt such optimism, just look at Doris Anderson. The 76-year-old woman was presumed dead three days after becoming lost during a hunting trip in northeast Oregon's Wallowa Mountains. Yesterday, 13 days after going missing, Doris was found alive and in stable condition.
- latitude / ld
---
Latitude 38 T-Shirts and More for Sale Online
September 7 - Mill Valley
Our chandlery pages have been updated with lots of fun T-shirts, hats and more for you stylish sailors to wear.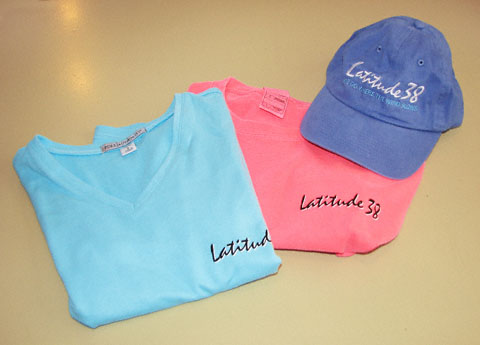 The T-shirts actually come in so many colors we couldn't fit them in the photo.
Photo Latitude / Annie
© 2007 Latitude 38 Publishing Co., Inc.
Check them out at www.latitude38.com/chandlery/chandlerycover.html.
---
Should There Be an Asterisk for Global Warming-Assisted Passages?
September 7 - Nome, Alaska
"I got a phone call today from my friend Doug Finley, who crewed aboard the Minnesota-based Bowman 57 Cloud Nine," writes John Hill of Ariel. "They just finished sailing from Greenland to Nome, Alaska, via the fabled Northwest Passage, having averaged six knots. Global warming seems to have helped them."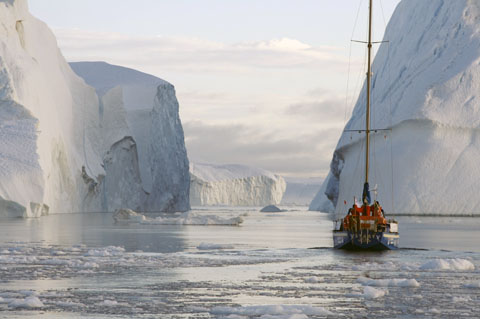 The young crew of the Polish yacht Stary also found the Northwest Passage relatively ice free when they transited it last summer in a little over a month. Did global warming help them too?
All Photos Courtesy Stary
© 2007 Latitude 38 Publishing Co., Inc.
Readers may recall that Cloud Nine was thwarted in a 2005 attempt at the 2,000 mile Northwest Passage, that time crewed by Bob van Blaricom of Tiburon, Carl Seipel of Mill Valley, and Doug Finley and Chris Parkman of San Rafael. We hope to have more details about Cloud Nine's journey in the October issue of Latitude.
- latitude / ld
---
Lovin' Labor Day Livin'
September 7 - The Bay and Delta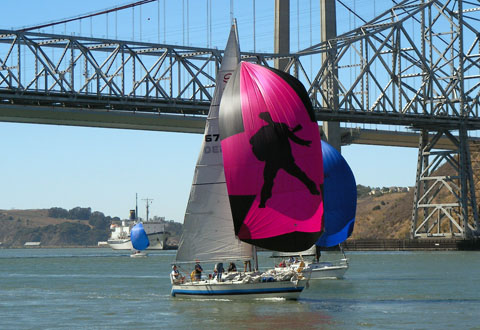 The Santana 35 Spirit of Elvis keeps the chute full in light wind.
© 2007 David Berke
While many Bay sailors took advantage of the long Labor Day weekend to 'go the distance' to Half Moon Bay or Drake's Bay, 87 boats turned out in ideal sunbathing conditions for the Jazz Cup. Co-hosts South Beach YC and the Benicia YC put on a fine event in which spinnaker, non-spinnaker, sportboat, multi-hull and one-design fleets alike made their way up the Delta.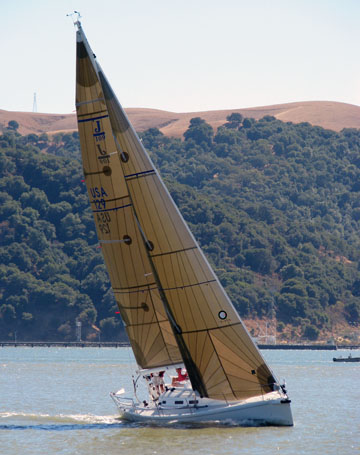 Liga Hoy's Crazy Diamond took overall honors.
Photo Courtesy South Beach YC
© 2007 Latitude 38 Publishing Co., Inc.
Light SSW winds prevailed along with very hot temperatures. Needless to say, the no-host bar, live band, free snacks and a BBQ dinner were as well received as the lovely weather. The race was a pursuit with J/109 Crazy Diamond correcting out into First; there were a total of 87 boats participating in 10 classes. Most notable was the first ever windsurfer to race the Cup — Brian McDonald, rating 99 and scoring 69 points.
Speaking of Half Moon Bay, just check out how crowded the anchorage was over the weekend.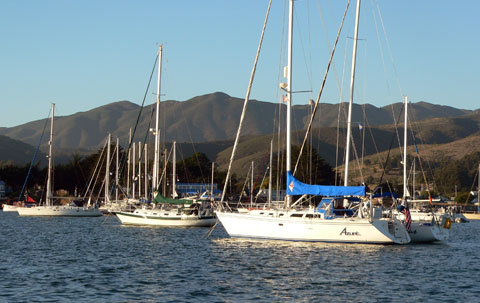 There was hardly a square (inch) to spare in Half Moon Bay last weekend.
Photo Latitude / LaDonna
© 2007 Latitude 38 Publishing Co., Inc.
Wayne Meretsky of the Alameda-based S&S 47 Moonduster counted 128 masts and Sightings Editor LaDonna Bubak can verify that there was "a buttload of Bay boats" anchored out. Parties lasted well into the night but most sailors were respectful of the old fogeys who went to bed early.
- latitude / lc & ld
---
Ha-Ha Honcho And Grand Poobah Squabble Over Entries
September 7 - Ha-Ha Land
"My dad, the Grand Poobah of the Ha-Ha, kills me," writes Lauren Spindler, Honcho of the Ha-Ha. "Yesterday he gives me the old, 'You know, it's just five days to the deadline for signing up for the Ha-Ha, and I think we should extend it for a week because Ha-Ha folks have never been particularly punctual.'
"I laughed, but he kept going.'For example, last night we were having a beach BBQ on Catalina with Richard Bernard of the Cardiff-based Valiant 40 Surf Ride, who has done the Ha-Ha two or three times already, and he's raving to Ed and Corinna Gould of the Half Moon Bay-based Valiant 42 A Capella, #11 in this year's Ha-Ha list, about what a great time they are going to have, about all the wonderful people they are going to meet, and so forth. So we asked Bernard if he was signed up yet. He said he wasn't, but that he'd probably get around to it soon. If you stick to your September 10 deadline, he's probably going to miss out, because you know how those surfer guys are, even the ones as mature as me.'
"'Dad,' I responded, 'I know exactly what you're trying to do. You know full well that in the week after last year's deadline we got 50 paid entries from your so-called 'non-punctual friends'. If you were to add the boats we're probably going to get in the next five days - before the real September 10th deadline - plus the 144 we have already, plus a potential 50 in the following week, the total might go over my limit of 200 boats. I'm not going to have that. Sometimes you're just like a kid, always trying to push my limits.'
"Then he got really dramatic: 'I've never told you this before, Lauren, but I believe I was put on earth for just two reasons. First, to be a good father to you and your brother Nick, and secondly, to help people have as much fun and enlightenment as they can in life
through sailing. So anything you do to limit the number of entries will only diminish me as a person.'"
"Folks, as the Honcho of the Ha-Ha, I'm the one who has to make all the major decisions, and I can only take so much of my dad's impassioned but loopy arguments, so please sign up for the Ha-Ha by the official deadline. Well, all right, at least by the end of next week. If you still haven't got a packet, please send $20 to Baja Ha-Ha, 401-F Miller, PMB 140, Mill Valley, 94941 immediately, then get your stuff back in pronto. By the way, if you haven't checked out what a great fleet there is going to be this year, visit www.baja-haha.com. It's terrific. I'm also pleased to note how many of boats will be doing their second or third Ha-Ha's."
The most recent entries are:
139) Airwego / McIntosh 47 / Mike Miller / Tacoma, WA
140) Brendon / Shannon 38 PH / Stephen Pepper / San Diego
141) Flying Fox / Corsair 31 Ultimate / Duncan Hincks / Incline Village
142) Pépe / Morgan 382 / Jeff Sparrow / San Francisco
143) J World / J/120 / Wayne Zittel / San Francisco
144) Elainium / Andrews/Perry 72 / Peter Simon / San Diego