---
---

A Sold Out Regatta?

August 29 - Newport & Catalina


(Click on the photo to enlarge it.)
Mike Campbell & Dale Williams on their Kernan 70 Peligroso lead the fleet - including eventual overall winner Chubasco - on the way to Ship Rock in the second race.
© 2007 Latitude 38 Publishing Co., Inc.

Today's Photos of the Day come from last weekend's Newport Harbor and Balboa YC's three-day Long Point Race. The event featured a race to Catalina, a race up and down the face of the island, and a race back to Newport. The accompanying photos were taken during Saturday's race between Long Point and Ship Rock when it blew up to 18 knots. At least one sled reported hitting 18 knots. Fine stuff and a nice spectacle for all the boats at moorings and/or anchor at White's and Isthmus Cove.


Ship Rock is one of the more interesting rounding marks in Southern California Racing. Here you see Chayah rounding the mark ahead of Grand Illusion.
© 2007 Latitude 38 Publishing Co., Inc.

Overall honors went to Don Haskell's 67-ft S&S yawl Chubasco, which had three bullets. It's hard to complain when a spectacular World World II era yacht, which is maintained to world class standards, comes out on top. As we recall, Chubasco won this event before. Second overall was naval architect Alan Andrew's Andrews 38 Doubletime, with 2-3-2. Third overall was the Kinslay/Redman 1D-48 Chayah, with 3-2-7. But as the old saying goes, the only losers in this event were those who didn't participate.


The crew of the SC 70 Grand Illusion, owned by Edward McDowell, models their racing uniform of shorts and a T-shirt.
Photos Latitude / Richard
© 2007 Latitude 38 Publishing Co., Inc.

Why limit the fleet to 40 boats? Because the event is just as much about having fun ashore, and there are only facilities for 325 meals, which is what the management figures will be the total of crew and friends on 40 boats. If you're from Northern California, you can't imagine the scene, for example, at White's on Saturday night. Everyone dining on Maine lobster and clam steamers at picnic tables surrounding a big grass 'dance floor' with a live band playing old time rock 'n roll. But best of all, there was a near full moon and, even late into the night, the temperature called for nothing more than shorts and a T-shirt. If you have a Northern California boat and want to get an invite for next year, track down Craig Fletcher at the Big Boat Series and twist his arm.

- latitude / rs
---
New Yacht and Crew for Flo & Jasper
August 29 - Las Vegas, NV
Anyone who did the '03 Baja Ha-Ha will probably remember Flo and Jasper - she was then just 25 and he was 35. As we've previously noted here and in the pages of Latitude 38, they set off with relatively little sailing experience in the humble, gas-powered Columbia 34 Flocerfida, and ended up cruising her all the way to New Zealand.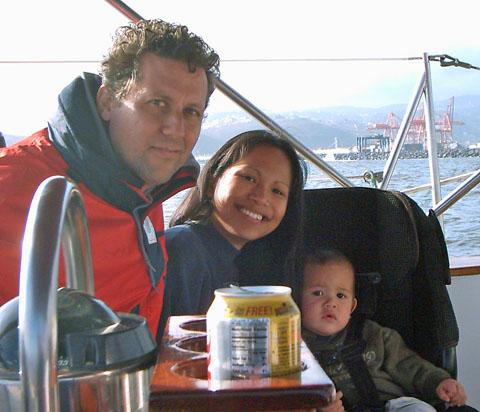 Flo and Jasper initiate their new crew while en route to Avalon.
© 2007 Jasper Benincasa
The last time we reported on Jasper and Flo, they'd sold the boat and moved back to Las Vegas where they hoped to make enough cash in real estate to buy another boat and continue cruising. Now, two years later, that game plan is coming to fruition: "We just bought a CSY 44," reports Jasper, "and are keeping her in Ensenada while we prep her for another Ha-Ha and Puddle Jump in '09."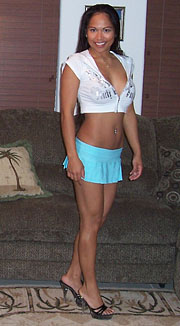 Four months after giving birth, Flo shows that she's still got the fine figure that made her a standout on the dance floor during the '03 Ha-Ha.
© 2007 Jasper Benincasa
Their experience says a lot for setting goals and sticking to them. "Dreams are for dreamers," says Flo, "goals are for doers." And, as you can see, they've also added a new crewman!
- latitude / at
---
All Crew List Forms Now Online
August 29 - Cyberspace
In addition the Mexico-Only Crew List, we've now added all of our Crew List forms for Cruising, Racing, Daysailing, Co-Chartering and Boat-Swapping to our website. All can be found here.
Advantages of putting our crew lists online: immediacy - as soon as you submit the online form, you become part of the online list instantly; and detail - by clicking on your name, potential crew or skippers can read detailed information on your desires, skills and other offerings. And, best of all, it's as free as the wind!
---
Gross Out
August 29 - San Francisco Marina
Brad Gross, who spent six years working for the City of San Francisco setting up the $40 million renovation of the San Francisco Marina, has been lured away by Orange County to be Director of the Harbor Department at Dana Point. "They made me an offer I couldn't refuse," Gross told Latitude. But he truly has mixed emotions because, after a very long and hard battle, the renovations on the west and east basins are much closer to fruition. Gross says that in a best case scenario, work will start on the west basin in 18 months, but at any event should be done within five years. The renovation of the east basin should take about five more. It seems like forever, but that's how long it takes with public marinas.
- latitude / rs
---
Ronstan Bridge to Bridge
August 29 - San Francisco
To be perfectly honest, we weren't there (some of us do have to work, you know). But the reports and photos from those who watched skiffs and boardheads zoom past on their way from the Golden Gate to Bay Bridge last Friday afternoon for the Ronstan Bridge to Bridge are mighty impressive.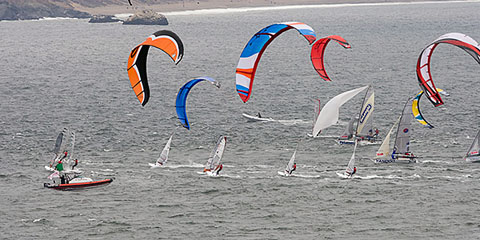 Photographer Abner Kingman had a birdseye view to catch the start of the Ronstan Bridge to Bridge just outside of the Golden Gate Bridge on Friday evening.
© 2007 Abner Kingman / www.kingmanphotography.com
After setting off 200 yards west the Golden Gate at 5:35 p.m., local kite guru Chip Wasson was the first to reach the Bay Bridge finish line, completing the five-mile course in just 16 minutes, 30 seconds. A whole three seconds later, fellow kiter Anthony Chavez crossed the finish. Thirty seconds later - what must have felt like an eternity by B2B standards - was the first 18-ft skiff: Howie Hamlin, Mike Martin and Paul Allen on Pegasus. (The trio also won the Ronstan International 18-ft Skiff regatta last week.) The first windsurfer to finish was Steve Sylvester, at 5:53:25.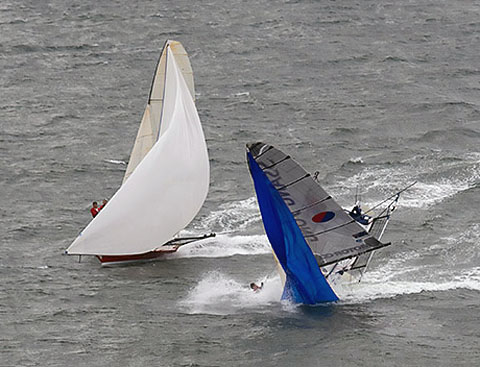 Caught in the act - Yandoo pitchpoles and its crew takes flight while a SkiffSailing.org boat flies by.
© 2007 Abner Kingman / www.kingmanphotography.com
By the way, each of the 27 'vessels' that finished the race had something to be proud of. Even the slowest competitor, a windsurfer this year, ran the course in 32 minutes, 5 seconds. Full results and more photos can be found at www.stfyc.com.
- latitude / ss
---
Use Common Sense at Ayala Cove
August 29 - Angel Island
Awhile back, we received an email from Edwin and Margaret Hoogerbeets of the Brisbane-based Bavaria 38 Cipriana, wondering about the rules for using the Ayala Cove moorings at Angel Island. They recounted a strange encounter with a powerboater who thought he knew the rules.
"We arrived late on a Friday and all the moorings were taken. We asked various boaters if it was okay to moor across the rows but no one seemed to know. We decided to give it a try and, to be considerate of those who might want to leave before us, we chose the moorings closest to shore. After picking up a bow mooring, a small powerboat zipped in behind us and grabbed the one we were backing towards.
"We figured he was going to do the same thing we were - moor sideways - but, to my surprise, he backed up toward shore and dropped a Danforth anchor. We told him that we'd been aiming for that buoy first but he replied that he was there now and wasn't moving! Since we didn't know the rules, we couldn't argue, but it seemed wrong to us.
"We ended up moving and mooring sideways with the help of some very nice boaters. But the questions remain. Can you moor across rows? Is it really okay to use an anchor? We thought they put in the moorings so anchors wouldn't chew up the bottom. What should we have done?"
In light of the upcoming holiday weekend, we thought it would be appropriate to remind boaters of the rules at Ayala Cove:
• There is no anchoring of any kind allowed in Ayala Cove EVER, so the powerboater was definitely in the wrong. If anyone sees that kind of behavior, they should report the offender to park rangers immediately.
• Boats should be oriented with the bow to the northeast (facing the Richmond Bridge). Cross mooring is discouraged.
• Two boats are allowed to raft together. Any more than that could put strain on the moorings. If the moorings are full, ask someone who's set if you can raft to them - it's a great way to make new friends if you're both considerate of each others' privacy.
• Boats should stop at the docks to pay their $20 fee before taking a mooring. Remember that park staff may visit boats to check to see if they've paid, and unpaid boats can be fined. A new program giving wrist bands to boaters who've paid their fees helps dock staff identify them so they won't be bothered if they go to the restrooms, cafe or for a walk around the island.
If you follow these rules, basic common sense and have consideration for others, everyone can have a great time at one of the coolest destinations in the Bay.
- latitude / ld
---