---
---

Soon-To-Be Cruisers Profiled in Latitude

August 27 - Baja Ha-Ha Land


(Click on the photo to enlarge it.)
"A cruise to Mexico? Sure, we're game," say Sophie and Maddie.
© 2007 Meridian

As you read this, the September edition of Latitude 38 has gone to press and will be out on the street this Friday - just in time for the long Labor Day weekend.

Within it you'll find the first of three installments of 'micro-bios' on Baja Ha-Ha '07 entrants, such as the Powers family of Napa. They'll be sailing aboard the Tayana 48 Meridian, a cutter-rigged sloop designed by Bob Perry and launched just last spring.

When asked on their entry forms what's the most interesting thing about them or their entry, they responded: "We're not very interesting people, but we do have two adorable daughters that we should be able to sell or trade." (Lest the P.C. Police get their knickers in a twist, let us clarify that THEY ARE KIDDING!)

John and Nancy (aka Dad and Mom) are planning to sail with daughters Maddie, 8, and Sophie, 6, on a multi-year cruise through Mexico and across the Pacific to New Zealand.

If you're thinking of doing Baja Ha-Ha 14, remember that the deadline to sign up is September 10. There is a new 200-boat limit this year and spots are filling up fast.

To get your entry pack, send $20 to Baja Ha-Ha, 401-F Miller, PMB 140, Mill Valley, 94941. For more info on the Ha-Ha, or to see the complete entry list, visit www.baja-haha.com. The most recent entries are:

121) Fifty-One Fifty / Santa Cruz 50 / Mike Warns / Oxnard
122) Alsumar / 1934 S&S Yawl / Ted Davis / San Diego
123) Isis / Santa Cruz 52 / Brendan Busch / Kailua, HI
124) Jammin / Catalina 42 Mk II / David Peoples / Portland, OR
125) Captain George Thomas / C&C 30 / Bill Thomas / Vallejo
126) Volare / Beneteau Oceanis 400 / Henry Salerno / Long Beach
127) La Bonbonniere / Rawson 30 / Keith P. Davis / Vallejo

- latitude / at & ld
---
Motion to Recuse Opposed
August 27 - San Francisco & Lake County
Here's the latest update in the provocative case against sailor Bismark Dinius, concerning the tragic death of Lynn Thornton recently at Clearlake: California's Attorney General, Jerry Brown, has officially stated his opposition to a motion filed by Dinius' attorney to recuse Lake County's District Attorney Jon Hopkins from prosecuting the case - which many feel is ridicuous.
According to an opinion filed on August 21, to recuse an entire DA's office, "the defendant is required through affidavits to demonstrate that there is such emotional involvement on the part of that office that it is unlikely he can receive a fair trial," which Brown feels the defense failed to do.
The opinion goes on to explain that "emotional involvement" usually refers to when "a member of that office or a family member is a defendant or the victim of a serious crime," and that "the Lake County Sheriff's officers who investigated this case would be just as much a part of the 'prosecutorial team' were the Attorney General to prosecute this case."
The opinion is not surprising, however, as Dinius' attorney, Victor Haltom, did not provide declarations from "witnesses who are competent to testify to the facts set forth in the affidavit," as required by Penal Code section 1424.
We'll continue to report on this bizarre and tragic case of what we think is misplaced justice as information comes in.
- latitude / ld
---
Latitude 38 T-Shirts and More for Sale Online
August 27 - Mill Valley
Our chandlery pages have been updated with lots of fun T-shirts, hats and more for you stylish sailors to wear.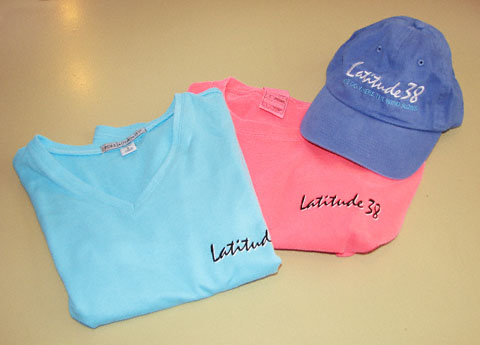 The T-shirts actually come in so many colors we couldn't fit them in the photo.
Photo Latitude / Annie
© 2007 Latitude 38 Publishing Co., Inc.
Check them out at www.latitude38.com/chandlery/chandlerycover.html.
---
All Crew List Forms Now Online
August 27 - Cyberspace
As most of you know, we tried putting our Crew List forms exclusively online for the first time with the Mexico-Only forms just last month. We now wonder why we hesitated so long. The lists for both people wanting to crew and skippers needing crew are growing by the day, with numbers running well ahead of those in previous years. The Dow Jones should be so lucky.
So we're calling the experiment a success, and have now added all of our other Crew List forms for Cruising, Racing, Daysailing, Co-Chartering and Boat-Swapping. All can be found by clicking the 'Crew List' link at our website www.latitude38.com.
We remind you that, as soon as you fill out the form and hit 'submit', your listing goes live on the online Crew List. We hardly have to enumerate the advantages of this system over having to wait for the list to appear in the print version of Latitude. But to illustrate the immediacy, we only added the forms last night (Sunday) and are announcing them for the first time here — yet when we checked this morning, there were already people signed up!
- latitude / jr
---
Highs & Lows of Cruising
August 27 - Palmerston Island
The last time we caught up with Eric and Gisela Gosch of the San Diego-based Island Packet 420 Far Niente was when we paddled together during an outrigger canoe race at the July 7 Tahiti Tourisme Cup.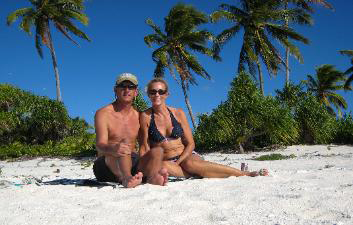 "After cruising nearly 4,500 miles, this beautiful day on an Aitutaki motu was the first time we actually relaxed on a white sand beach in the South Pacific."
© 2007 Far Niente
Since then, while we've been chained to our desks, they've had a host of South Pacific adventures - some good, some not so good. On their worst day, a sloppy wave found its way through a hatch and doused their nav computer and inverter.
From French Polynesia they island-hopped through the Cook Islands, including stops at Aitutaki, which many cruisers shun due to it's narrow, 6-ft deep (max.) channel, and Palmerston, a remote atoll accessible only by boat in which all 67 inhabitants are descendants of one man, William Marsters, who laid his claim to the atoll in 1863.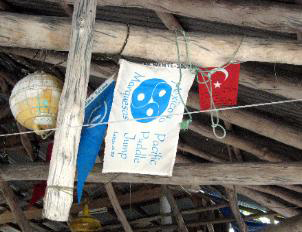 Far Niente's official Puddle Jump burgee now hangs proudly at the Palmerston Islands YC.
© 2007 Far Niente
Captain Bligh and the Bounty were the first Europeans to discover the 12-square-mile island of Aitutaki April 11, 1789. Only 17 days later, the infamous mutiny occurred while en route to Tonga.
- latitude / at
---
Return of the Pods, People
August 27 - San Francisco Bay

Eric Lang, who sails his Columbia 43 Xanadu out of San Rafael YC, sent this report and question:
"I was sailing in the San Rafael YC Summer Series club race on Saturday near Pt. San Pablo and The Brothers. While rounding channel marker 18, I saw what appeared to be a pod of dolphins surfacing. The dolphins appeared to be the most common and well-known bottlenose dolphin, but they were four feet long and slightly darker than what I have typically seen. I have been sailing the Bay for a long time, and this is the first time I have ever seen dolphins in the Bay waters. Is this an unusual and fortunate sighting, or do dolphins frequently visit the Bay?"
Outings this summer on Latitude's photoboat have yielded the occasional sighting of a lone porpoise or two but never large pods, and they're always closer to the Gate. Have you seen dolphins on the Bay recently? Email LaDonna with your reports.
- latitude / ld
---