---
---

Photos of the Day: Sweet Surf in Raiatea

August 24 - Raiatea, French Polynesia


(Click on the photo to enlarge it.)
"Dude! Nice ride!" Raiatea's little secret.
© 2007 Michael Sullivan

It has often occurred to us that the folks who get the most pleasure out of the cruising lifestyle are those who are 'all-around watersports types'. That is, in addition to their love of sailing, they also enjoy water-oriented pastimes like surfing, windsurfing, diving, kiteboarding, fishing or kayaking.

A case is point is young Kurt Talke, seen here catching a sweet ride on a thick wave off Raiatea, French Polynesia. Kurt caught a ride to that tropical paradise a few months ago aboard Mark Rogers Berkeley-based Island Packet 45 Southern Star. Mark's best friend's dad, Michael Sullivan was also along for the ride, as was young Andy Jenkins.


Mark, Michael, Andy and Kurt strike a pose a few days before heading out from Puerto Vallarta.
Photo Latitude / Andy
©2007 Latitude 38 Publishing Co., Inc.

Mark's wife Molly and three-year-old daughter Kendall will join him for the cruise to New Zealand where they expect to stay for a couple of years before pushing on to the skipper's birthplace, South Africa.

- latitude / at
---
Joan is Coming to Town
August 24 - Tiburon
So, sistahs, it's time for a little heart-to-heart. Way back in January, you checked out the Northern California Sailing Calendar, read the list of events for women skippers and crews planned for 2007, and exclaimed to yourself, "Wow! There are tons of opportunities for women on the Bay. I simply must get involved in these races and seminars tailor made just for me!" Here we are, now nearly finished with summer, and your dreams of women's sailing grandeur have slipped through your fingers along with the rest of the year.
But fret not, another chance to redeem yourself is just around the corner. The Joan Storer Regatta, Tiburon Yacht Club's race for women, has been rescheduled from its original date in August and is now slated for September 9. That means you still have time to organize your boat, put together a crew, and sign up for the race that attracts women with an array of skills, from novice to nearly pro. The best part about it: although each boat is allowed one male crew member, he may not touch the helm. So it's your ship and your day! For more information, contact Susie Woodrum at (415) 332-5970 or Susan Hoehler at (415) 435-2068. A PDF entry form is online at www.tyc.org; sailing instructions will be sent via e-mail. Oh, and to top it all off, included in your "cheap as chips" entry fee of $15, the yacht club will have hearty hors d'oeuvres and a no host bar after the race. It doesn't get much better.
- latitude / ss
---
Last Chance to Get Your Name in Latitude
August 24 - Cyberspace
If you're heading down the coast this fall and would like an extra hand for the trip, your solution is just a click away in the form of the Mexico-Only Crew List. You can check out the Crew Looking for Boats list or, to increase your chances of finding the perfect crew, add your name to the Skippers Looking for Crew list. When you fill your crew spots, simply remove your name from the list.
But if you'd like your name printed in the Crew List article in the September issue of Latitude (due to hit the stands on the 31st), you need to get online and fill out a form today. The forms, and all the instructions you need, can be found at www.latitude38.com/crewlist/Crew.html.
Other advantages of doing it this way: immediacy - as soon as you submit the online form, you become part of the online list instantly; and detail - by clicking on your name, potential crew or skippers can read detailed information on your desires, skills and other offerings. And, best of all, it's as free as the wind!
---
Dodgers on the Bay
August 24 - San Francisco Bay
Just saw your 'Lectronic ditty on dodgers and thought of good ol' Pete Sutter. Pete played a big role in the dodgers' popularity in Northern California. Back in the late `60s, when there were few if any dodgers around San Francisco Bay - on boats anyway - Pete decided his sail loft in Sausalito's Industrial Center Building could make them. But what should they look like? Pete didn't quite know.
The best I can recall, this is what Pete told about how he settled on his design: One day while driving his beat-up old Ford (Pete was never one for new or shiny cars), he spied a Mercedes 230SL tooling up US 101. It was a convertible and the top was up.
"That's it!" he said to his rear-view mirror. He fell in behind the Mercedes. To Pete, the Benz's top had the right porportions: its three plastic windows were in the right places and nicely shaped. He could easily visualize it reversed and mounted over the companionway of, say, a 30-ft boat. To really capture the esthetics though, he had to have the top's measurements, so he stayed right behind the Mercedes and followed it off 101 onto the road to Tiburon and Belvedere.
The Mercedes driver apparently got nervous being followed like that, for somewhere on the approach to Belvedere he abruptly pulled over and jumped out of the car. Pete did too, emerging from his old wreck with measuring tape in-hand. "What do you want??" the Benz driver reportedly demanded. "Didn't mean to alarm you, sir," Pete said, "I just want to measure your top."
And that's how most of the dodgers we see on the Bay today came to look like the soft tops from old Mercedes Benz roadsters, mounted backwards.
- brooks townes
---
I Am Curious (Yellow)
August 24 - Bahia Santa Maria, Mexico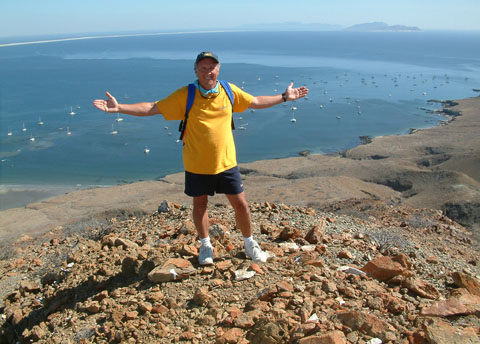 Assistant Poobah Andy Turpin is curious.
Photo 'Lectronic / Richard
©2007 Latitude 38 Publishing Co., Inc.
While putting together the September 1 issue of Latitude, we came across this photo of the '02 Baja Ha-Ha, in which Assistant Poobah Andy Turpin is standing on a hilltop overlooking Bahia Santa Maria, with Mag Bay in the background. All the boats in the photo were members of the '02 Ha-Ha fleet. It's been five years since the photo was taken, so we're curious, what have all you participants been up to since then? Andy, for example, bought a Mariner 40 ketch, which he's in the process of selling because he's just bought a Cross 42 MKII trimaran. He's also getting ready to start his 12th Ha-Ha on October 29. Email your responses to Andy.

We're also curious if anyone remembers the movie I Am Curious (Yellow), and what it was most known for.
- latitude / rs
---
Too Many Sailboats?
August 24 - La Cruz, Mexico
We've received a couple of interesting messages in the last couple of days from Christian Mancebo of the soon-to-open and much-needed 400-berth Marina La Cruz, which is located at La Cruz de Huantcaxtle, about seven miles from Puerto Vallarta. Thanks to the new marina, the town is booming and the area is about to become the third major boating center in Banderas Bay.
The first message was, "We are having a great number of clients as a result of ads in Latitude 38, but all of them are sailboats. Now we need to attract some powerboats." Reading between the lines, if you're a sailor looking for a berth in Banderas Bay, the best flatwater sailing area in Mexico, we'd email Christian right now.
His most recent message is that from here on out, the marina is to be known as Marina Riviera Nayarit. So if you got a Ha-Ha pack with Marina La Cruz as a sponsor, be advised that it and Marina Riviera Nayarit are one and the same.
- latitude / rs
---