---
---

Photos of the Day: Every Island Needs a Yacht Club

August 22 - Palmyra Island


(Click on the photo to enlarge it.)
© 2007 Craig Anderson

You won't find starched white tablecloths and fine crystal wine glasses at the Palmyra YC. But the beers are cold and the vibes are friendly.

Southern California sailor Craig Anderson stopped by to say hello a few weeks ago while helping deliver the custom 65-ft sloop Van Diemen III from Hawaii to Fiji. Although it was nice to have a short respite on terra firma, Anderson and his shipmates soon learned that swimming in the lagoon is discouraged due to the prevalence of sharks. "Subsistence anglers from the Nature Conservancy's research station have three minutes to reel in their catch off the outer reef before it's ripped off the line by sharks," reports Anderson. "So I guess you could say the ecosystem is in good shape here."

The hull lines of Van Diemen III, by the way, are an updated version of Herreshoff's famous Ticonderoga. But this new boat is a sloop rather than a schooner, her hull is cold-molded, she carries an 80-ft carbon fiber mast and boom plus a bulb keel - and she has a bath tub!

- latitude / at
---
Doing it Aussie Style
August 22 - San Francisco
Erik Simonson was one of several photographers working in the field this week trying to capture the impressive 18-ft Skiff Class, aka Aussie 18s, as they do their thing along the Cityfront during St. Francis YC's International 18 Skiff regatta.
Unfortunately we're tied up in the office this week putting the finishing touches on the September issue of Latitude 38, which hits the streets on August 31. But if you get a chance, do as we say, not as we do, and head over to Crissy Field to sneak a peak at these cool sailing machines and the talented guys who try to keep them upright. Racing continues through Saturday, with a break on Friday afternoon at 5 p.m. for the 18s to join kiteboarders and windsurfers for Ronstan Bridge to Bridge Challenge. For more info and updated results, go to www.stfyc.com.
- latitude / ss
---
Calling All Baja-bound Boat Owners
August 22 - Cyberspace
If you're heading down the coast this fall and would like an extra hand for the trip, your solution is just a click away in the form of the Mexico-Only Crew List. You can check out the Crew Looking for Boats list or, to increase your chances of finding the perfect crew, add your name to the Skippers Looking for Crew list. When you fill your crew spots, simply remove your name from the list.
But if you'd like your name printed in the Crew List article in the September issue of Latitude (due to hit the stands on the 31st), you need to get online and fill out a form today. The forms, and all the instructions you need, can be found at www.latitude38.com/crewlist/Crew.html.
Other advantages of doing it this way: immediacy - as soon as you submit the online form, you become part of the online list instantly; and detail - by clicking on your name, potential crew or skippers can read detailed information on your desires, skills and other offerings. And, best of all, it's as free as the wind!
---
Ode to Dodgers
August 22 - San Francisco Bay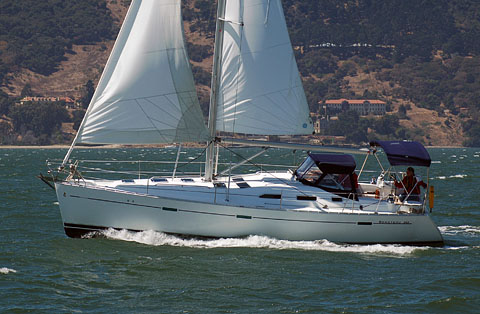 Dodgers and biminis offer more sun protection than any strength sunblock. And they're less greasy.
© 2007 Latitude 38 Publishing Co., Inc.
A few 'Lectronic Latitudes ago, we noted all the shortened sailplans on boats sailing the Bay these past few weekends. It's been a honkin' summer for sure. Today we celebrate another aspect of daysailing in lots of breeze: dodgers.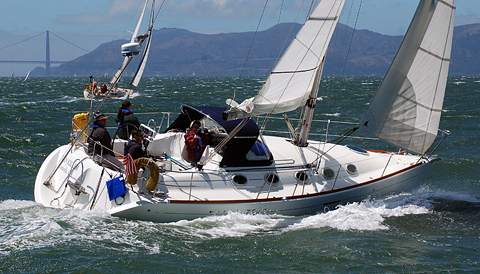 Pain Killer's crew enjoys both protected and 'unprotected' sailing.
© 2007 Latitude 38 Publishing Co., Inc.
Dodgers are wonderful things. They keep you dry, out of the wind and away from the harmful rays of the sun. They open up entire new possibilities for getting friends and family out sailing. They are natural gathering places both at the dock and out on the water.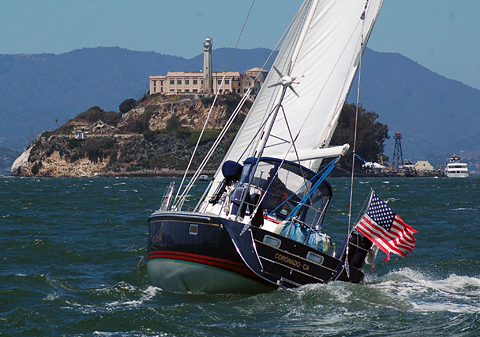 Seasilk's cockpit features wraparound dodgers.
All Photos Latitude / JR
© 2007 Latitude 38 Publishing Co., Inc.
There used to be a stigma about dodgers. Is that still around? You know, the 'tarnish on the purity of sailing' thing. We hope not. While some people will always enjoy the more elemental spray-in-the-face aspect of the sport, we'll take hunkering down with friends behind a nice big dodger almost every time.
- latitude / jr
---
Can You Restore and Cruise at the Same Time?
August 22 - Ala Wai Yacht Harbor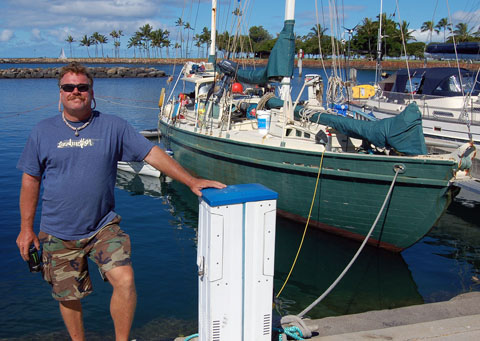 Kerry Locke and his project Viking.
Photo 'Lectronic / Richard
© 2007 Latitude 38 Publishing Co., Inc.
On the left of the accompanying photo is Kerry Locke who, "in the day," attended Sonoma Valley High and had a custom car shop in the same area. Then, 20 years ago, the tropical breezes called to him, so he moved to Kona on the Big Island. He worked for a long time as a cook, then had stints as a diver, welder and and most recently a carpenter/shipwright. On the right of the photo is the green-hulled Viking, a 52-ft canoe-stern William Garden design that was built in Everett, Washington, in '52 by Richard Myers. She displaces 66,000 pounds, much of it being Port Orford cedar planks, oak ribs and mahogany beams. Locke purchased Viking out of the Ko Olina Marina on Oahu for $17,000 on unusual terms - just $500 down and $500 a month. Sort of like a used car. "She doesn't have any systems," Locke admits, "but she sails." Or at least she will be able to sail when a missing spreader is replaced. Locke plans to sail to the South Pacific next March, using his many skills to restore the boat as he cruises. While the boat has an excellent pedigree, she is more than 55 years old, so it's not going to be easy or inexpensive. Nonetheless, we wish him all the success with his endeavor and will look forward to updates.
- latitude / rs
---
Newsflash! Boats Burning in the Delta
August 22 - California Delta
Just as we were about to upload this issue of 'Lectronic to our servers, we were alerted that 10 small boats anchored off Mandeville Island in the Delta (near Antioch) were burning uncontrollably. All 10 boats were moored together in an apparent raft-up and were unoccupied, other than one man who made it to safety. Officials say the boats will be left to burn because they're in an area without services.
- latitude / ld
---