---
---

Hurricane Dean Targets the Yucatan

August 20 - Yucatan, Mexico


(Click on the photo to enlarge it.)
Forecasters expect Dean to become a Category 5 hurricane by this afternoon.
Image Courtesy NOAA
© 2007 Latitude 38 Publishing Co., Inc.

You want to see something really scary? Check out the latest satellite image of hurricane Dean. This monster is ramping up in intensity as it bears down on Belize and the Yucatan peninsula, and is expected to make landfall in about 12 hours as a Category 5 hurricane (winds in excess of 155 mph). If Dean doesn't change course, it could pummel its way across the Yucatan, move into the Gulf of Mexico and hit mainland Mexico by Wednesday.


Dean's projected path of destruction.
Image Courtesy NOAA
© 2007 Latitude 38 Publishing Co., Inc.

So far Dean has claimed nine lives in the Caribbean. There have been no reported casualties in Jamaica, where the then-Cat 4 hurricane scored a near-direct hit this weekend with 145 mph winds, but reports indicate the island has been devastated.

- latitude / ld
---
Joyon Takes IDEC Out for a Record-breaking Spin
August 20 - The English Channel
French multihull multi-record holder Francis Joyon smashed another record over the weekend, this one across the English Channel. It was his first record attempt on the brand new Irens-Cabaret designed 100-ft trimaran IDEC, which is featured in the current issue of Latitude 38. Having set sail from Cowes under full main and staysail in an 18-knot northwesterly breeze, Joyon reached St. Malo in just 6 hours, 23 minutes and 36 seconds, covering the 138 miles at an average of 21.58 knots, knocking more than an hour and a half off the existing record. At the finish, Joyon admitted it wasn't all peaches and cream during the quick passage, mostly because he'd pushed so hard to get the boat ready the previous day. But Joyon was nonetheless pleased, explaining: "This first record has validated the boat, all the work we've done. All in all, many positive things!"
- latitude / ss
---
Mexico-Only Crew List Online
August 20 - Cyberspace
In case you missed it in the current August issue, the Mexico-Only Crew List has undergone some big changes. First and foremost, the forms are no longer in the magazine. They are now exclusively online - and are thereby easier to access and submit than ever before (assuming you are the least bit computer literate, of course). The other big change is that the actual Crew List - the names and contacts of people wanting to crew on boats headed south, or boat owners needing crew for Mexico this year - will run both online and in the September print issue due to hit the streets on the 1st. It will NOT run in October, as it has in the past.
So the big message is, if you want to be included in the Crew List in the September issue, you need to get online and fill out a form. The forms, and all the instructions you need, can be found at www.latitude38.com/crewlist/Crew.html.
Other advantages of doing it this way: immediacy - as soon as you submit the online form, you become part of the online list instantly; and detail - by clicking on your name, potential crew or skippers can read detailed information on your desires, skills and other offerings. And, best of all, it's as free as the wind!
- latitude / jr
---
'Tis the Season
August 20 - Sausalito
Fall is nipping at our heels, bringing with it the annual influx of southbound cruisers. We caught up with two of what will undoubtedly end up being dozens of cruisers to stop in the Bay on their way to warmer waters.
Bill Hall harbor-hopped his Hylas 42 Scot Free IV down from Vancouver with friends last week, and reported surprisingly calm seas. "We had to run our engine most of the way," he said. Bill and his wife Susan, who will join the boat in San Diego, are #109 on the official Baja Ha-Ha entry list and plan to cruise the Sea of Cortez for a couple seasons before heading back to Vancouver.
David Beasley, another Canadian but from a little farther inland, singlehanded his Manitoba-based Catalina 36 MkII Beasmaster from BC non-stop to the Bay. David, a retired "rocket scientist," is no stranger to sailing solo. In 2005, he sailed Beasmaster from BC to French Polynesia and back. "I don't have any deadlines," he noted, "so I'm just going to keep going until I get tired of sailing around."
Keep an eye out on your docks for transient sailors and offer them a cup of tea or a ride to the store in exchange for some stories. Believe us, you'll get the better end of the deal!
- latitude / ld
---
A Beautiful Day in the Neighborhood
August 20 – San Francisco Bay
We don't think we were the only ones humming Mr. Rogers's television show theme song this weekend. It was, indeed, a beautiful couple of days in the neighborhood: moderate breeze, no fog, and plenty of sun. It doesn't get any better. If you were lucky enough to be on the Bay this weekend, you were probably: a) racing on the Berkeley Circle; b) doing one of several Bay tour races; c) participating in a national championship; or d) just out messing about on a boat. In any case, you made the right decision to get out there!
On the racing scene, the second half of San Francisco YC's Summer Keelboat Regatta had a bigger showing of bigger boats, compared to last weekend's small affair for the little guys. Expeditous (Express 37), Aquavit (J/105) and Mister Magoo (J/120) were crowned division victors after five races of tight one design racing. (And we mean tight. Both the Express 37 and J/120 classes were determined by tie breakers!)
With an additional day of racing on Friday, the series also served as the "nationals" for eight local 1D-35s. (For the record, most fleets whose nationals are on the Bay these days attract only local boats - a pity for a world-class venue like this.) The 2007 1D-35 championship title went to the young guns on Andy Costello's Double Trouble, who recovered from a disastrous first day to win by seven points over Gary Fanger's Sweet Sensation. All Summer Keel results are online at www.sfyc.org.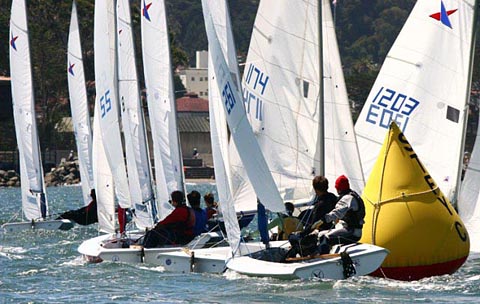 Speaking of tight racing, the "little guys" at the Vanguard 15 Nationals on the Cityfront had their own battles to fight. The top three finishers were separated by just one point after 12 races. Top honors went to Nick Adamson and Jago MacLeod. Complete results at www.stfyc.com.
© 2007 Chris Ray / www.crayivp.com
Unfortunately, most other race results were not online as we went to "press" with this issue of 'Lectronic. Try www.yra.org and www.richmondyc.org later today for results from their weekend races.
- latitude / ss
---
Kostecki Calls It Quits
August 20 - Stockholm
Marin-based sailor John Kostecki, the much heralded skipper of 2008-09 Volvo Ocean Race entry Ericsson Racing Team, has announced his resignation - a significant blow to what promised to be a well-organized campaign with many of the sailing world's top players. Word coming from the Ericsson headquarters today is that Kostecki has resigned for family reasons. "I realize what it takes to win the Volvo Ocean Race and feel that this is the best decision for the team, me and my family," he explained. Apparently Kostecki's decision was unexpected. "Of course there is some disappointment amongst the team members," said the team's press release, "but everybody is happy for John, wishes him the best of luck in his new family situation and wants to continue their job with ERT." The process of appointing a new skipper for the first of the team's two-boat campaign is now underway. Ericsson's second boat is slated to be crewed entirely by Scandinavian sailors.
- latitude / ss
---