---
---

Singlar Cuts Some Mexico Rates

August 17 - Puerto Escondido, Mexico


(Click on the photo to enlarge it.)
The Singlar building in Puerto Escondido, backed by the beautiful Sierra Gigantica mountains.
Photo 'Lectronic / Richard
© 2007 Latitude 38 Publishing Co., Inc.

Connie McWilliam of Puerto Escondido reports that Singlar, which operates 11 relatively small marinas and relatively large marine facilities, mostly in the Sea of Cortez and Mazatlan, has announced a significant cut in their rates for daily and weekly mooring for the upcoming season. The monthly rates remain the same. What's not been made clear is if this only applies to Puerto Escondido, where they just have 170 or so moorings, or also the other facilities in places such as La Paz, Santa Rosalia and Mazatlan, where they actually have slips. Almost all of their facilities are brand new.

In any event, last year the daily rate for 40-ft boats was 6 pesos/ft, while this year it's going to be 4.29 pesos/ft — or about $16.34 a day. The weekly rate has been dropped from 3.57 pesos/ft to 2.67 pesos/ft — or about $71. The monthly rate would be about $228. This is all based on an exchange rate of 10.5 pesos to the dollar.

Haulouts — Singlar has installed Travel-Lifts at many places in Mexico — will be 71 pesos/ft each way for boats 31 to 45 feet, and slightly higher for larger boats. Fuel will be whatever the going rate is plus 22%, which will encourage folks will smaller boats to jerry jug. A 10.5% IVA tax must be added to all prices.

The report says "the showers and swimming pool are open," which adds to the mystery, because not all of the facilities have pools. We hope to have more precise information for you in the near future.

- latitude / rs
---
Hurricane Dean Hammers
August 17 - Eastern Caribbean
Although no loss of life has been reported, the Eastern Caribbean islands of Martinique, Dominica and St. Lucia took a beating this morning, as Hurricane Dean roared across them with sustained winds of 87 mph, gusts over 100 and storm surge of 16 feet.
Now en route to the Gulf of Mexico, that storm is expected to intensify over the weekend due to the Central Caribbean's warm waters. Some forecasters are predicting it will strengthen to a Category 4 (sustained winds between 131 and 155 mph), or possibly even into a Category 5 (> 155 mph) by the time it hits Mexico's Yucatan - or elsewhere along the Gulf Coast - on Monday. Tropical Storm Warnings are currently posted for Haiti and the Dominican Republic, with Jamaica next in line.
- latitude / at
---
Latitude 38 T-Shirts and More for Sale Online
August 17 - Mill Valley
Our chandlery pages have been updated with lots of fun T-shirts, hats and more for you stylish sailors to wear.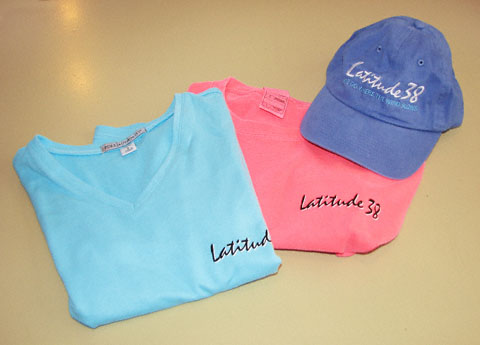 The T-shirts actually come in so many colors we couldn't fit them in the photo.
Photo Latitude / Annie
© 2007 Latitude 38 Publishing Co., Inc.
Check them out at www.latitude38.com/chandlery/chandlerycover.html.
- latitude / cw
---
The Time to Plan is Now
August 17 - Mill Valley
The downwind ocean race calendar for the next 12 months is packed tighter than a maxi boat's Code Zero in a Moore 24 sail bag. Depending on your departure location, destination and schedule, there's a race for just about any West Coast sailor. With summer coming to an end and the amount of daylight hours noticeably diminishing, 'tis the season to start planning your cold weather avoidance plan for the coming year. Here's a quick rundown on your choices, listed by destination:
Mexico: The leadoff hitter in the Southern California to South of the Border category this year is Long Beach YC's race to Cabo, scheduled for November 2-9. The good news is that LBYC has extended the discounted $800 entry deadline to September 1. The bad news is that the race's expected arrival in Cabo clashes perfectly with the arrival of the big Baja Ha-Ha fleet, which lands in town on November 8. The various parties are working to make sure every boat is accommodated in Cabo, and there should be room for all when the time comes. For the moment, the LB-Cabo entry list is light on numbers (eight), but big on waterline (the average boat length is 63 feet). Go to www.lbyc.org for to reserve your spot.

Doug Baker's maxi sled Magnitude 80, seen here at the start of 2007 TransPac, is signed up for at least three distance ocean races in the next year.
© 2007 Rick Roberts / www.underthesunphotos.com
After the New Year, San Diego YC goes south for its race to Puerto Vallarta February 18-March 1. The formal Notice of Race has yet to be published, but four boats are already registered. Sign up for the race mailing list for all the latest developments at www.sdyc.org/pv. The PV race will be followed a month later by Balboa YC's own Cabo race, March 28-April 4. As of today, 30 boats say they plan to be on the start line off Corona Del Mar. All the info is on www.balboayachtclub.com. Wrapping it all up, you can probably count on the 61st Newport to Ensenada Race at the end of April, though exact dates have yet to be announced. It's always a great party, even if the wind doesn't bother to show. Stay tuned to www.nosa.org for details.
Hawaii: We're on the downhill slide toward an even-numbered year, which means two of our all-time favorite ocean races are around the corner. 2008 marks the 30th year for the Singlehanded TransPac, a 2120-mile rite of passage for solo sailors that departs Corinthian YC on July 12 and arrives in Hanalei Bay, Kauai two weeks later. Racing singlehanded to Hawaii requires tremendous planning, including a 400-mile qualifying passage, so if you're serious about doing it, get started now. All the info is at www.sfbaysss.org. We're delighted to report that the other SF-HI race, the Pacific Cup, is experiencing a resurgence the likes of which hasn't been seen for years. As of this morning, 64 boats had signed up for the self-professed "fun race to Hawaii." There's talk among several fleets, from the Cal 40s to the Express 27s, about shooting for one-design classes this time around, which would be terrific. Limited berthing in Kaneohe means only 70 boats can do the race, so sign up today at www.pacificcup.org.
Your third Hawaiian option is the Vic Maui. Run by our neighbors to the north at the Royal Vancouver YC and their Lahaina YC counterparts, the 2008 Vic Maui expects to send boats across the Pacific on two start dates, June 21 for "cruising" racers and June 23 for the serious racers. Notice of Race and details at www.vicmaui.org.
South Pacific: After being shelved for the last 13 years, the TransPacific YC's race to Tahiti is back for 2008. Billed as a pleasurable race to a distant land, at the moment it's intended for boats over 50 feet. At this early stage, two have signed up, Mag 80 and Medicine Man. For more info, email entries to chairman Mike Nash.
With so many races and so few vacation days, we don't envy you. (And you thought choosing from 31 flavors was difficult!) For the record, event organizers are starting to realize that they may have a problem on their hands with a flooded market. In a perfect world, there'd be enough boats to support every race. But let's be honest, the economy isn't exactly stable at the moment and budgets may be a little tighter than we'd all like. For example, while it's great to see the oldie-but-goody Tahiti race back, we'd hate to see it steal the thunder of the Hawaii races. We'll have to wait and see which races the market chooses to support, and cross our fingers that at least some of these great races survive.
But here's the bottom line: Ocean racing is once again alive and thriving, and for that we can be grateful. And no matter how you head south - by race boat or cruiser, one hull or several - or where you end up - Mexico, Hawaii or the South Pacific - don't put it off. Life is short and there are many of thousands of ocean miles waiting to be sailed.
- latitude / ss
---
Paid Entries Top 120 Mark
August 17 – Baja Ha-Ha Land
"As of yesterday, the paid entries for this fall's Baja Ha-Ha Cruisers' Rally from San Diego to Cabo San Lucas topped the 120 mark, an increase of 35 boats over the same date last year," reports Ha-Ha Honcho Lauren Spindler. "I want to remind everyone that the deadline to sign up is September 10, and I've made the executive decision to not accept any more than 200 paid entries, so please don't procrastinate. Last year we had a total of 184 paid entries, 164 of which actually crossed the starting line. I'm expecting the same or a few more this year."
To get your entry pack, send $20 to Baja Ha-Ha, 401-F Miller, PMB 140, Mill Valley, 94941. For more info on the Ha-Ha, or to see the complete entry list, visit www.baja-haha.com. The most recent entries are:
112) Hiatus / CT 47 / Kent Sisk / Portland, OR
113) Delight / Hunter 36 / Albert Miller / Sacramento
114) Beyond Reason / Hans Christian 43 / Bill Novak / Alameda
115) New Moon / Hunter 410 / Gerald Elder / Albuquerque, NM
116) Wingstar / Fraser 51 / Chris Nugier / Sonora
117) Perfect / Beneteau 461 / Bob Woltring / San Francisco
118) Sagittaire / Brewer 47 PH / Michael Quiriconi / Seattle
119) Distant Drum / Beneteau Idylle 51 / Harry Hazzard / San Diego
120) Notre Reve / Cal 35 / Tony Denardo / Santa Barbara
- latitude / rs
---
San Diego Welcomes for Ha-Ha'ers
August 17 - San Diego
As in years past, the San Diego Harbor Police and the staff of their associated Mooring Office are offering a warm welcome to Baja Ha-Ha rally participants. Beginning October 1, a special anchorage at Glorietta Bay will be designated exclusively for official Ha-Ha entries (through November 1). And when skippers stop by the Police Dock on the north side of Shelter Island to pick up their special mooring permit, they will also receive a 'welcome packet' which includes a chart of the Bay, info on local activities and a variety of worthwhile discount coupons for local businesses.
As always, slip availability is tight in San Diego, but the Mooring Office (619-686-6227) will attempt to keep track of berthing options at all local marinas. Be aware also, that 30 transient slips are available on a first-come-first-served basis adjacent to the Police Docks for as little as $10.50/day with a 10-day maximum stay.
The Baja Ha-Ha Pre-Halloween Kickoff Party (1 p.m.) will be hosted by Cabrillo Isle Marina on Harbor Island, directly across a land bridge from the airport and adjacent to the Sheraton Hotel.
- latitude / at
---