---
---

Vehicle in Neutral, Foot off the Brake . . .

August 15 - Toba Inlet, BC


(Click on the photo to enlarge it.)
© 2007 Yves Tuset

Elizabeth Meyer, who gained note back in the 1980s for the magnificent restoration of the J-Class sloop Endeavour, is still enjoying the sailing life. These days it's aboard the 1916 Lawley and Sons 47-ft gaff yawl Seminole with significant other Michael McCaffrey. (They bought the boat for $1 at a foreclosure sale in Oceanside six years ago and have since done a complete restoration.) The couple are currently cruising the Pacific Northwest where, as you see here, they discovered 'Mother Nature's boat wash' at Toba Inlet, British Columbia.

- latitude / jr
---
New Fastnet Record
August 15 - Plymouth, UK
We're chuffed - as the Brits would say - that Mike Slade's new 100-ft canting keel Farr design ICAP Leopard 3 crushed the course record in the just completed classic Rolex Fastnet Race. After all, we at Latitude were first to break the news of the new boat, having been given the info while helping to crew the old R/P 92 Leopard of London on her way to elapsed-time honors in the Around St. Barth Race with Chris 'the hardest working skipper in sailing' Sherlock in command. The great new record couldn't happen to a nicer owner and skipper.
Indeed Leopard's course time of just 1 day 20 hours 18 minutes and 53 seconds cuts an impressive 8 hours 50 minutes off the existing monohull record set in 1999 by Ross Field's 80-ft maxi RF Yachting. The second boat across the finish line - George David's 90-ft R/P Rambler, helmed by Ken Read (and currently part of the training platform for Read's Team Puma, preparing for next year's Volvo Ocean Race bid) - actually claims bragging rights as the first boat around the Fastnet Rock, albeit by a hair. Rambler's three-second lead around rock - something Read attributes more to luck than anything else - changed to a 45-minute deficit, however, by the time Rambler crossed the finish.
A new course record wasn't the only big news from this year's race. At the pre-race weather briefing on Sunday, race officials discussed the forecasted winds in excess of 50 knots and issued a 25-hour postponement - a first in the history of the race, and no doubt a wise precaution in light of the disastrous 1979 Fastnet Race. On Monday, 277 boats crossed the starting line, but by the following morning, 90 boats had retired. As of 10 a.m. BST today, nearly 200 had called it quits.
According to The Daily Sail website, most of the boats retired because of the impending forecast rather than actual damage. There were reports, however, of dismastings, blown-out sails and bruised bodies from the large fleet that had pulled into Plymouth rather than continue on. Although winds have rarely reached above 35 knots on the course, many sailors have complained of unusually large seas and unmanageable conditions.
Check the results from what's left of the fleet as they arrive into Plymouth at http://fastnet.rorc.org.
- latitude / rs & ss
---
Mexico-Only Crew List Online
August 15 - Cyberspace
In case you missed it in the current August issue, the Mexico-Only Crew List has undergone some big changes. First and foremost, the forms are no longer in the magazine. They are now exclusively online - and are thereby easier to access and submit than ever before (assuming you are the least bit computer literate, of course). The other big change is that the actual Crew List - the names and contacts of people wanting to crew on boats headed south, or boat owners needing crew for Mexico this year - will run both online and in the next (September) print issue. It will NOT run in October, as it has in the past.
So the big message is, if you want to be included in the Crew List in the September issue, you need to get online and fill out a form. The forms, and all the instructions you need, can be found at www.latitude38.com/crewlist/Crew.html.
Other advantages of doing it this way: immediacy - as soon as you submit the online form, you become part of the online list instantly; and detail - by clicking on your name, potential crew or skippers can read detailed information on your desires, skills and other offerings. And, best of all, it's as free as the wind!
- latitude / jr
---
Channel 7 Exposes Lake Co Fiasco
August 15 - San Francisco
We're delighted to report that investigative reporter Dan Noyes of ABC Channel 7 I-Team has been doing a great job of exposing the pathetic showing of law enforcement in Lake County with regard to the boating accident a little more than a year ago that claimed the life of Lynn Thornton. The first two of Noyes' special reports appeared on Monday and Tuesday, and there will be another on Friday. Both the streaming video and transcription of the audio are available at http://abclocal.go.com/kgo/story?section=i_team&id=5569012 and Noyes is keeping a blog about the story at http://iteamblog.abc7news.com/2007/08/lynns-story-and.html. We must caution you not to watch either of these segments if you want your faith in officers of the law and district attorneys not to be shaken to the core. The performances of the Lake County Sheriffs Department and Lake County District Attorney Jon Hopkins are that overwhelmingly dreadful.
You might remember that the D.A. claims that the sailboat was hit because she wasn't showing any running lights. Noyes managed to come up with nine witnesses who said the sailboat's running lights had, in fact, been on. The witnesses included a retired police officer and the owner of a nearby marina, both of whom watched as the boats collided. Although both volunteered their testimony to the Lake County officials, they were told as early as 8 a.m. the morning after the accident that it wasn't needed! Their testimony was only included in the findings after Noyes got involved, but even then it was completely ignored.
But watch and see if you don't agree with our opinion that D.A. Hopkins is either an imbecile or staging one of the lamest whitewashes ever. See the deer-in-the-headlights look on Hopkins' face as he tries to explain why he can't prove that the 45 to 55 mph that Deputy Perdock had been traveling in his powerboat on that black night wasn't a "safe speed."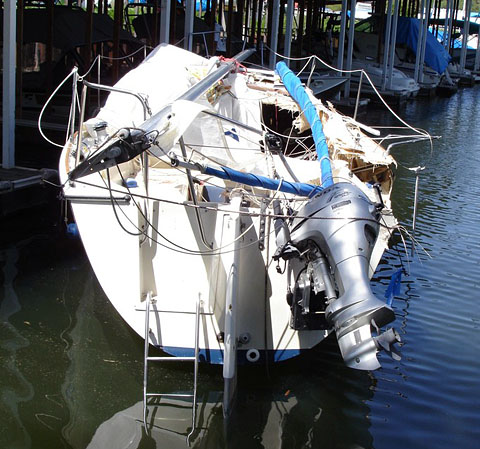 The O'Day 28 Beats Workin' II shows the damage caused when Lake County Deputy Sheriff Russell Perdock slammed into her at an estimated 45 to 55 mph on a moonless night on Clear Lake. Perdock says the man sitting at the helm of the drifting sailboat was the cause of the accident. The Lake Countuy D.A. agrees. We don't.
Photo courtesy of Channel 7 I-Team
© 2007 Latitude 38 Publishing Co., Inc.
Once you've seen the segments, tell us if you don't agree with our opinion that Perdock is the one who should be charged with felony manslaughter, but also our opinion that Perdock and Hopkins ought to both be behind bars for failure to carry out their duties.
You'll also remember that Perdock's blood test showed that he hadn't been drinking. Noyes' discovered that according to the paperwork, his blood wasn't taken for more than 24 hours after the accident! It's claimed that this was a clerical error, but witnesses say they were with Perdock at the time the D.A. says the test was given, and no such thing happened at that time.
A couple of people have asked us if we feel slighted that Latitude's extensive coverage of the incident wasn't mentioned in Noyes's report. Not at all. After all, this isn't a competition, but rather two separate news entities that have seen what appears to be a gross injustice and want to see something done about it. In addition, Noyes had the courtesy to call us before the first segment aired to let us know he'd been alerted to the story by a Latitude reader who had previously worked for Channel 7. If Noyes and the more powerful voice of Channel 7 can be the catalyst that results in justice being done, and win a bunch of awards in the process, we'd be thrilled, knowing we'd done our part and they had done theirs. The one and only issue here is righting a wrong.
- latitude / rs
---
Disney Rips Hawaiian Government
August 15 – Honolulu, HI
Speaking as a man who loves Hawaii and has a home there, Disney blasted the state of Hawaii in an August 13 letter to The Honolulu Advertiser - just as he did two years before - for the state's poor management of the Ala Wai Yacht Harbor. As longtime Latitude readers know, we couldn't agree with him more. The Ala Wai is a complete disaster, with huge amounts of income being lost because the slips fees are far below market and because so many of them have been condemned. Just a glance at the accompanying photo of the Ala Wai Yacht Harbor, "the queen of Hawaii's marinas," will show you all you need to know about the state's monumentally incompetent style of marina managment.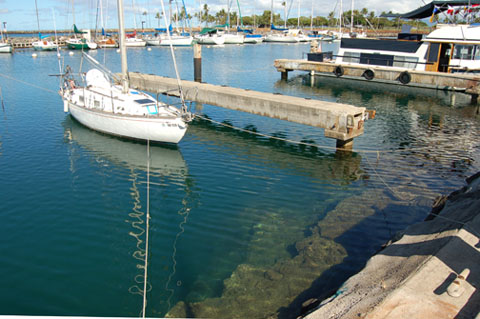 This photo of the dismal conditions of the Ala Wai Yacht Harbor was taken last month.
Photo 'Lectronic / Richard
© 2007 Latitude 38 Publishing Co., Inc.
We're not talking about an out of context shot, but rather one that typifies what's been going on there for years. The victims? Mariners, the many thousands of people who are denied boat access to the ocean, but above all, the taxpayers of Hawaii. We'll have a complete text of Disney's letter in the September edition.
- latitude / rs
---
Tough Weekend for Insurance Companies
August 15 - Southern California
As we reported in Monday's 'Lectronic, the Hatteras 65 Grunt caught fire on Saturday night and sank at her mooring at Catalina's Cherry Cove in the wee hours of Sunday morning. Only hours before, the operator of the relatively new 65-ft powerboat Crescendo somehow managed to ram her into the southeast breakwater at Newport Harbor. She eventually sank in 135-ft of water, but at least nobody was hurt. It's just a wild guess on our part, but we figure the insurance companies are going to have to pay out a total of about $4 million dollars. It will take a lot of premiums to cover that.
And yes, we know about the 40-ft sailboat that burned off Capitola 10 days ago. We'll have that story on Friday, as our Fire Editor needs a break.
- latitude / rs
---