---
---

Intruder Captured on Bruadair

August 10 - Bocas del Toro, Panama


(Click on the photo to enlarge it.)
It's no wonder this kid, caught while boarding Bruadair, looks terrified - there were several cruisers circling in their dinghies as everyone waited for the police.
Photo Courtesy Bruadair
© 2007 Latitude 38 Publishing Co., Inc.

Today's Photo of the Day is of a young intruder caught aboard the Hans Christian 33T Bruadair currently at anchor in Bocas del Toro, Panama. Owners Damon and David were enjoying an evening aboard on August 3 when, around 8 p.m., the $80 wireless motion sensor they installed in their dinghy to help prevent theft started chiming. Damon leapt into the cockpit only to come face to face with a startled 12-year-old boy. "Because of our high gunnels, our cabin lights aren't visible from down low on the water, say from a dugout canoe, so the boat may appear to be unoccupied," Damon said.

Damon and David made as much commotion as possible - calling a Mayday, setting off the DSC feature on their VHF and hollering to high heaven - while the kid retreated to their dinghy and watched helplessly as his "getaway driver" (his older brother, as it turns out) paddled away. Other boaters raced out to Bruadair, surrounding the dinghy to prevent the kid from swimming away, and waited for the local police to show up.

Crime, especially in the form of dinghy theft, can happen anywhere so Damon and David highly recommend the system they installed on Bruadair: the Reporter Wireless Alert System from Radio Shack, which includes a weatherproof battery powered motion sensor and the chiming base unit. For added auditory effectiveness, they also installed a "very loud" 5 piezo alarm buzzer. "These aren't robust or even marine units," Damon said, "but even if I have to replace it every year, it's a small price to pay."

- latitude / ld
---
So That's What That Symbol Means!
August 10 - San Francisco
Have you ever been looking at a nautical chart and thought, "Hmm. I wonder what the heck that squiggly little line means?" If you're like most experienced sailors, many chart symbols are fairly obvious. But you sometimes come across graphical patterns that are downright puzzling, especially since charts generally do not have comprehensive 'keys' clarifying the symbols used.
The solution is to whip out an indispensable little book called Chart #1 which illustrates and defines virtually every symbol and graphical element used on U.S. government charts.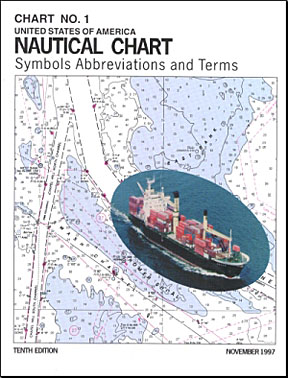 It's smart to keep a copy of Chart #1 in your chart table.
Image Courtesy NOAA
© 2007 Latitude 38 Publishing Co., Inc.
We share this with you because we'd been sailing for well over 20 years before we ever stumbled across Chart #1 and its wealth of useful info. You can pick up a copy for under $10 at most chandleries and nautical bookstores (online or brick-and-mortar), and it's also now available as a free (85 MB) PDF download via: http://chartmaker.ncd.noaa.gov/mcd/chart1/chart1hr.htm.
Even if you've memorized every single symbol listed in Chart #1, we encourage you to peruse the NOAA site, as it is chock full of fascinating info and resources, from sonar scans of shipwrecks to U.S. historical charts.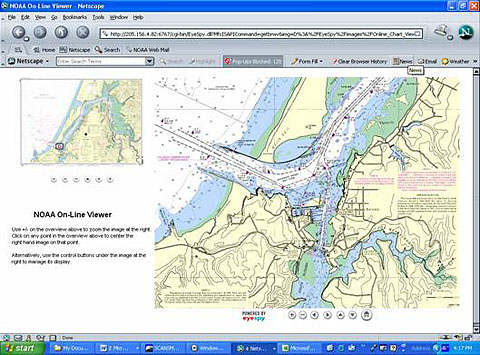 NOAA's online Chart Viewer is a useful tool for trip planning - and it's also fun to use.
Image Courtesy NOAA
© 2007 Latitude 38 Publishing Co., Inc.
Note also that you can view any U.S. coastal and Great Lakes chart online - zooming in and out as you wish - via NOAA's Online Chart Viewer at http://ocsdata.ncd.noaa.gov/OnLineViewer/. Paper charts and other NOAA products can be ordered directly from the site.
- latitude / at
---
Ha-Ha Preview & Poluck Tomorrow
August 10 - Two Harbors, Catalina
One last reminder that the Ha-Ha Preview & Potluck will be held at Two Harbors on Catalina tomorrow starting at 5 p.m. We'll have the BBQ going, will be showing a new slide show of past Ha-Ha's, and will answer all your questions. The folks from West Marine will also be there, handing out some little goodies. It's not going to be a huge event because a lot of folks - like Boren - are in places like Bakersfield or Port San Luis, but if you can make it, that would be great. It would also help in our planning if you tell us via email that you're planning to attend. Gracias.
---
Don't Believe Everything You Read
August 10 - Sydney, Australia
Rumors that Emirates Team New Zealand skipper Dean Barker was planning to sign on with Larry Ellison, Russell Coutts and BMW Oracle for the next America's Cup in 2009 are now said to be false. According to Scuttlebutt, Barker announced that, contrary to "reliable sources", he has had no meetings with Oracle, and has signed a "letter of intent" to stay with ETNZ. "I would like to stay with the team that has worked so hard since 2003 to restore some pride in New Zealand sailing and regain the New Zealand public's confidence."
- latitude / ld
---
Mystery Boat's Final Resting Place
August 10 – Marshall Islands
Along with a boatload of memories from their recent South Pacific cruise, Sam and Sally Peterson of the Downeast 32 Moana brought back this curious photo. "While exploring the outer islands of the Marshalls," they explain, "we found this interesting shipwreck at Maloelap Atoll in the Marshall Islands. It's approximately 26 feet long, but is very small for its length with a beam of less than six feet and a draft of two to three feet. Although there was no name on the boat, we could see screw holes where there may have been a board with the vessel's name. The hailing port of San Francisco was clearly painted on both sides. A large, distinctive five-pointed red star covered the narrow transom. The boat appeared to have been on the beach for quite some time and is missing all hardware."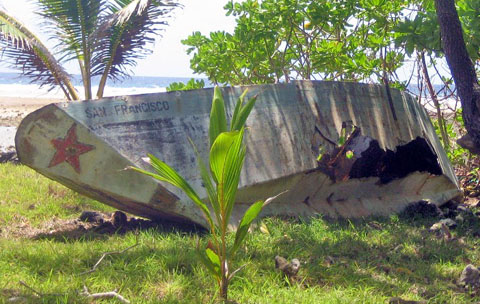 Do you have any info on this wreck at Maloelap Atoll in the Marshalls?
Photo Courtesy Moana
© 2007 Latitude 38 Publishing Co., Inc.
- latitude / at
---
Celestial Fireworks Expected Saturday Night
August 10 - North America
Ever hear a story about some ancient explorer dazzling the locals by announcing the imminent arrival of a predictable celestial phenomenon? You could pull off that stunt yourself this Saturday night as the annual Perseides Meteor Shower is expected to be highly visible in a virtually moonless sky.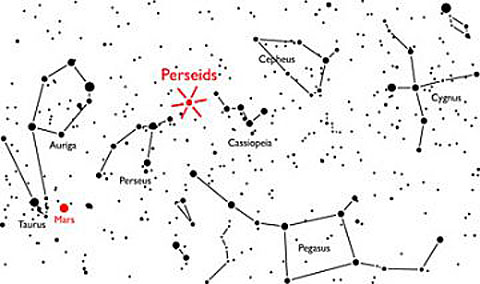 Illustration Courtesy ESA-G. Barentse / www.physorg.com
© 2007 Latitude 38 Publishing Co., Inc.
Best observed between midnight and dawn (technically early Sunday morning), you can expect to see a proliferation of shooting stars coming from the general direction of the constellation Perseus (not far from Cassiopeia - the big 'W'). But you won't need a star chart to find them - just get away from ambient lights and look up! What you will really be seeing are dust particles kicked off by the comet Swift-Tuttle, which are burning up as they enter the Earth's atmosphere. An added bonus for astrological aficionados is that Mars will be visible as a bright red dot in the east after midnight.
- latitude / at
---