---
---

Proof That It Really Is Open To The Sea

August 8 - Puerto Los Cabos


(Click on the photo to enlarge it.)
It's true. Puerto Los Cabos has finally opened to the sea.
© 2007 Mike Miller

For those of you who can't believe Wednesday's 'Lectronic report that the folks at the new Puerto Los Cabos Marina at San Jose del Cabo have finally broken out to the open ocean, here's photographic proof from Mike Miller, formerly of the Vanguard 33 Uhuru. The second photo shows a number of the smaller berths are already in place - as they have been for over a year. Ninety berths will be available in this year's Phase One. If you're one of the many with a 180-ft megayacht, you'll have to wait until Phase Two, which will probably take another year. Ultimately there will be 430 slips in the project, which is just part of a complex that includes a number of hotels, residences, condos and golf courses.


Dozens of smaller slips have already been put in place but the megayachts will have to wait till next year.
© 2007 Mike Miller

The 'Big Dig' for what Marina Manager Jim Elfers says will be the "biggest marina in Mexico" involved removing over 650,000 cubic meters of dirt, sand and rock, plus the dredging of an additional 25,000 cubic meters. In addition to removing stuff, 400,000 tons of granite, some capstones of which weigh 60 tons had to be brought in. All that involved a "continual convoy" of dump trucks that went on six days a week for eight months. For further information, email Elfers.

- latitude / rs
---
Marina La Cruz Down with the Ha-Ha
August 8 - La Cruz, Banderas Bay
Speaking of new marinas in Mexico, the Ha-Ha has a new sponsor in Marina La Cruz on Banderas Bay. The folks there are working feverishly to open the much-needed 368-berth - two of them 400 feet long! - marina by November. While much of the proposed development surrounding the facility - shops, condos, restaurants - won't be open until later, you may not want to hesitate to get your name in. After all, Banderas Bay has the most ideal sailing conditions in all of Mexico, and this is likely to be the last large marina to be built on the bay for many, many years.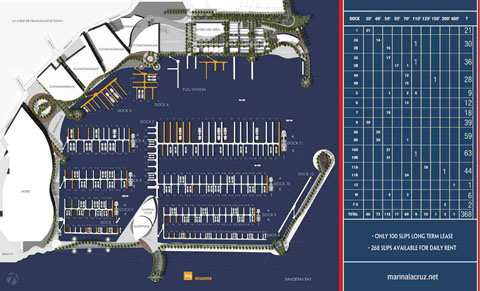 Marina La Cruz may be your last - and best - chance to snag a slip on Banderas Bay.
Diagram Courtesy Marina La Cruz
© 2007 Latitude 38 Publishing Co., Inc.
For those of you who have decided you want to retire to a condo on B. Bay and keep a daysailor in the marina, this - along with Paradise Resort and Marina Vallarta - are the only games in town, and the latter two are already pretty much packed to the gills. Email for further info on La Cruz Marina.
- latitude / rs
---
Advertisement: Charter a 'West Coast Cat' in the Caribbean
August 8 - British Virgin Islands
Three of the four Leopard 45 catamarans in our fleet are owned by Northern Californians. These cats were designed and built specifically for four-couple - or big family - charters in the BVIs, as they have four cabins with heads/showers en suite and the most spacious salons and cockpits in their class. Prices range from just $540/week/person in the low season to $820/week/person in the high season. Come find out what your sailing neighbors already know - that sailing a cat in the Caribbean with your friends and family is a blast. We also have a large fleet of monohulls. Having been in business since 1974, we like to think we can answer all your charter questions. So please call us at (888) 615-4006, visit our Web site at www.sailinthebvi.com, or email us.
---
U.S. Windsurfing Nationals Kick Off
August 8 - San Francisco Bay
The 2007 U.S. Windsurfing Nationals and North American Championships, hosted by St. Francis YC, kicked off yesterday under perfect Bay conditions. Sailors from all over the world competed head to head over three races in winds from 15 to 22 knots. The 60 racers, ranging in age from 14 to 60, were more than capable of handling the day's strong flood.
The racers are competing in three divisions, course racing windward-leeward courses, downwind slalom and long distance. Seth Besse (#1) led the Formula Gold fleet with three bullets, followed by Ben Bamer (#22) in second, and Steve Sylvester (#S3) in third. Racing will continue until Saturday and organizers encourage the general public to come down to Crissy Field for the show. For results, surf on over to http://2007uswnats.blogspot.com.
- alina abuzyarova
---
Stan Honey to Speak at Corinthian YC
August 8 - Tiburon
Navigator extraordinaire Stan Honey will be speaking tomorrow at Corinthian YC as part of the club's Speaker Series. Stan's talk will focus on navigating ABN AMRO One to victory in the Volvo Ocean Race last year but we'd bet that his recent navigation of Pyewacket in the TransPac will come up. The presentation starts at 7 p.m. with an optional buffet dinner preceding it at 6 p.m. Just $10 if you aren't hungry, $12.50 if you are. Go to www.cyc.org for more info and to make reservations.
- latitude / ld
---
Getting The Important Stuff Done For The Ha-Ha
August 8 - Port San Luis
"We sent in our entry fee for the Ha-Ha, filled out the forms, and found willing crew," writes Richard Boren of the Bakersfield/Port San Luis-based Pearson 365 ketch Third Day. "So now we can attend to the important job of getting our 29-year-old boat ready. Our 'to-do' list is long and contains all the standard items - autopilot installation, windlass installation, fresh bottom paint, replacing a few thru-hulls, and so forth. But today we completed what will no doubt be the most appreciated addition by the crew - our new Adler Barbour SuperCold Machine. There was only one acceptable way to test the new unit's function. I am happy to report that the result was ice cold, and would have brought a tear to the eye of any sailor whose cool beer supply was dependant upon melting ice."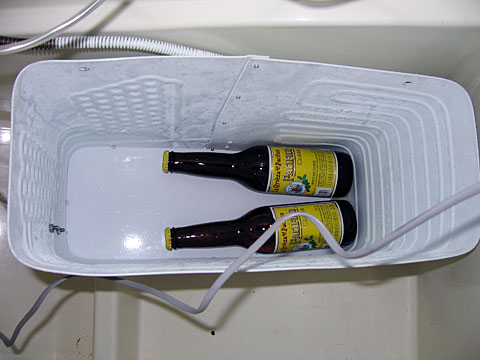 Richard Boren installed a new reefer system - and stocked it with cerveza - to prevent a mutiny.
© 2007 Richard Boren
The number of entries for the Ha-Ha, by the way, just blew by the 100 mark and is now up to 107. This is a staggering 44% more paid entries than at the same time last year. "I think that people are just sending their paid entries in earlier than last year," says Ha-Ha Honcho Lauren Spindler, "as this year's requests for entry packets has actually dropped slightly behind that of last year. The bottom line is that I expect there will be about 180 paid entries - about the same as last year - which was a record."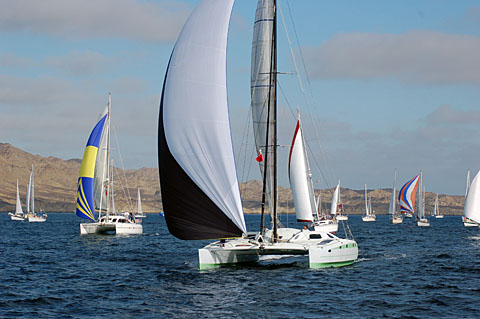 Are you ready to Ha-Ha?
Photo Latitude / Richard
© 2007 Latitude 38 Publishing Co., Inc.
Lest anyone forget, the Ha-Ha Preview & Potluck will be held at Two Harbors on Catalina starting at 5 p.m. this Saturday. We'll have the BBQ going, will be showing a new slide show of past Ha-Ha's, and will answer all your questions. The folks from West Marine will also be there, handing out some little goodies. It's not going to be a huge event because a lot of folks - like Boren - are in places like Bakersfield or Port San Luis, but if you can make it, that would be great. It would also help in our planning if you tell us via email that you're planning to attend. Gracias.
- latitude / rs
---