---
---

Photo of the Day: End of an Era for McNish

August 6 - Channel Islands Harbor


(Click on the photo to enlarge it.)
Elusive II at the 30th and final McNish Classic.
© 2007 Land Speed Productions

Today's Photo of the Day is Don Greene's Ventura-based 40-ft sloop Elusive II crossing the finish line on its way to winning the Strathmore Cup for overall honors at the McNish Classic Yacht Race on Saturday. Although there was hardly a whisper of breeze during the 17-mile race for classic wooden yachts - just 5 to 8-knots at the start and a mere 3 knots at the finish - this year's running of the McNish Classic was memorable for much more.


Dick McNish
© 2007 Land Speed Productions

After 30 years, two names, several changes in "ownership" and countless entries ranging in size from 17 to 82 feet - all built before 1952 - founder Dick McNish has decided to retire and close up shop for good. Started in 1977 as the Corinthian Classic Yacht Race, a race where old wooden boats could be competitive in an age of composite engineering, this isn't McNish's first attempt to escape regatta management. In the early '90s, he handed control over to the Pacific Corinthian YC, who renamed the event to honor its founder (something McNish never really approved of). McNish also didn't think much of how the PCYC ran the event, and after several years he came out of retirement and reclaimed the race.

Apparently, McNish's second retirement is the real deal, however, and the McNish Classic will itself become a symbol of a past era. "Dick is 80 and the race is 30. Those are both round numbers and a good note to end it on," explains Louise Noeth, who has helped McNish run the event for most of its three decades. "He's not some nursing home kind of guy, but he's tired and he just wants to sail his boat." McNish himself expressed surprise and gratitude that the race has had such a good run. "It's wonderful that our old boat race lasted this long. This year's race was a challenging one with the wind conditions, and we had to work harder than usual, but it was good to see old friends."



McNish's own classic yacht, Cheerio II, during its owner's last namesake race.
© 2007 Land Speed Productions

While the day was bittersweet for everyone who came from around the West Coast to the McNish Classic's swan song, it was a sweet victory for Elusive II's Greene. "Last year our steering failed at the start. We rigged a foot-operated emergency tiller, passed the winner Silvan twice, but still lost the race by seconds," he said after winning his weight in Mumm Champagne. "This year, we really worked hard and the light winds were perfect for Kettenburgs. We're so proud of our old girl. We ran a different kind of race from the rest of the fleet, using our local knowledge to come up with an educated tactic that paid off in four cases of great-tasting bubbly." Greene also credited his crew of JT Smith, Howard Ash, Steve Phillips and Rand Huffman for the win. C.F. Koehler of San Diego earned best elapsed time honors on his 59-ft Sally, a 1928 10-meter sloop. Koehler completed the course in 3 hours 5 minutes and 56 seconds for an average speed of 5.48 knots. Of the 30 boats entered, 29 started and 23 finished. McNish's own Cheerio II finished third among the yawls.

30th McNish Classic Yacht Race Trophy Finishers:
Schooners: Rose of Sharon, Byron Chamberlain, Newport Beach
Ketches: Splinter, Dan Chepley, Ventura
Yawls: Pacifica, Doug Jones, San Diego
Sloops: Elusive II, Dan Greene, Ventura
Bristol Boat (best shipshape): Rose of Sharon
Last to Finish: Distant Star, Chris Rundle, Channel Islands

- latitude / ss
---
CG Rescues Four Off Pt. Arena
August 6 - Point Arena
The Coast Guard reports they rescued four men off the 42-ft sailboat Cherokee Rose early yesterday morning off Point Arena. Cherokee Rose was heading north to Seattle from San Francisco when she started taking on water in 10 to 15-ft seas about 15 miles southwest of Point Arena. The crew called the Coasties around 1:30 a.m. to report they were abandoning ship at which point a 47-ft lifeboat and HH65 helo were deployed. The liferaft was spotted around 4 a.m. after the crew shot off a flare. All four men were reported to be in good condition though no explanation for the sinking was given.
- latitude / ld
---
Mexico-Only Crew List Goes Digital
August 6 - Cyberspace
Our new free online Mexico-Only Crew List forms made their debut on August 1. We already have some potential crew members signed up. Are you a boat owner planning to cruise Mexico or sail in the Baja Ha-Ha this season? You can still have the honor of being the first to sign up on the 'Skippers Looking for Crew' list.
Skippers and crew can read the instructions, fill out the forms, and view the lists at www.latitude38.com/crewlist/Crew.html.
---
The Last Few Miles Were the Hardest
August 6 - King Harbor (Redondo Beach)
Close to 120 boats showed up for last weekend's 35th running of the 81-mile Santa Barbara to King Harbor Race, and they were treated to the variety of conditions that characterizes the course - light air start, windier reach to the gap between Santa Cruz and Anacapa Islands, zephyrs on the back side of Anacapa, stronger winds along the shore to Pt. Dume, and then, once the sun sets, very light - if any wind - to the finish. It's a race in which positions can change many times, making it interesting.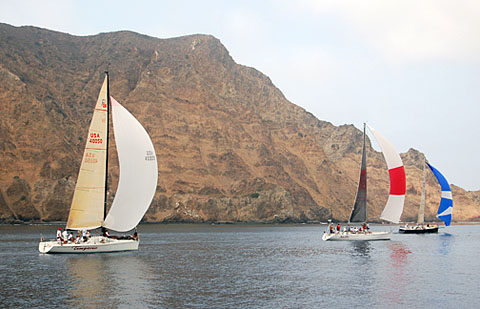 Ray Goodwin's Farr 40 Temptress tries to catch up with John Carroll's Dencho 51 Arana and Gil McGuire's J-133 Tenacity in the light winds behind Anacapa Island.
Photo Latitude / Richard
© 2007 Latitude 38 Publishing Co., Inc.
Because it was another light air year, only Bill Gibb's -155 rated Afterburner was able to finish - at 7:45 p.m. - before the wind shut down, and therefore the big cat corrected out first in class and fleet. Peter Tong's second-for-him Santa Cruz 70 OEX was the first monohull in about two hours later, but was beat on corrected time by the Parker Compton Yabsley sled Taxi Dancer.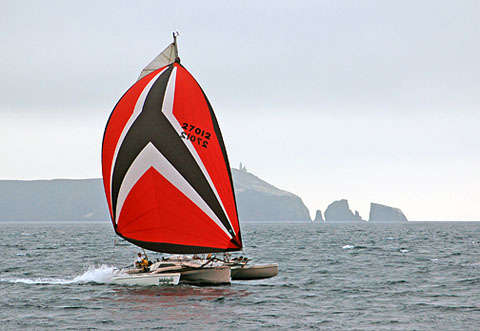 Colin Gregg's F-31 trimaran Indefatigable is seen making a mad dash from Anacapa Island for what he hoped would be stronger wind on the beach. He got it. Despite being far from the leaders as far down the course as Pt. Dume, Goodman and crew managed to work enough magic in the light air of Santa Monica Bay to correct out second in class and fleet. Well done!
Photo 'Lectronic / Richard
© 2007 Latitude 38 Publishing Co., Inc.
For the slower boats that decided to stick it out, it was a very long night on the quiet waters of Santa Monica Bay. For example, most of the 30 or so boats in the PHRF A, B and C classes spent the entire night on the bay, with the die-hards not finishing until after noon the following day. One of the Northern California boats that stuck it out until the following morning was Dean Daniels' new-to-him Hobie 33 Sleeping Dragon. He's expecting more wind when he and his two crew triple-hand in next summer's Pacific Cup to Hawaii.
- latitude / rs
---
The Unexpected Rewards of Ocean Crossing
August 6 - San Francisco
Like all prudent sailors, Sam and Sally Peterson made thorough preparations before setting sail from the Marshall Islands in mid-June, bound for the West Coast. There was one contingency they hadn't considered though: 16 days into that 42-day, 5,000-mile passage, Sally discovered that she was pregnant!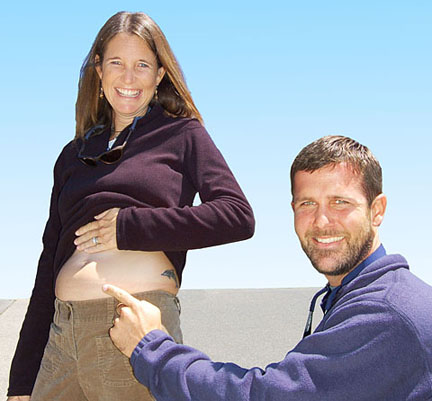 During a recent visit to Latitude's World Headquarters, Sally revealed the favorite souvenir from her three years of cruising.
Photo Latitude / Andy
© 2007 Latitude 38 Publishing Co., Inc.
They'd bought their Downeast 32 Moana as a fixer-upper and, after countless hours of upgrades, set off on a six-month Mexico cruise, beginning with the 2004 Baja Ha-Ha. Only "30ish" at the time, Sam and Sally were among the youngest owners that year.
Once into the cruising life, they soon decided to head for the South Pacific, rather than back to the rat race. During the three years since, they've island-hopped to New Zealand, then north to Fiji, Kiribati (see Sally's article in June's Latitude), and up through the Marshalls. Although Sam and Sally's cruising days have come to an end for the time being, we'd bet they'll be crossing oceans again eventually. Their recent experiences, however, certainly make a strong argument for getting out there sooner rather than later.
- latitude / at
---
Ha-Ha Preview & Potluck This Weekend
August 6 - Two Harbors, Catalina
The Ha-Ha folks want to invite anyone who will be doing the Ha-Ha in the future - or who has done one in the past - to a Ha-Ha Preview and Potluck, starting at 5 p.m. at the bandstand at Two Harbors, Catalina, this coming Saturday. While the number of paid entries for this fall's event topped 100 last week and is still growing, nobody should expect a huge get-together because most of the skippers and crew are spread out all over the western states. Nonetheless, we'll get the BBQ going, put on a slide show, answer questions, and generally give everyone who can make it a chance to meet and greet.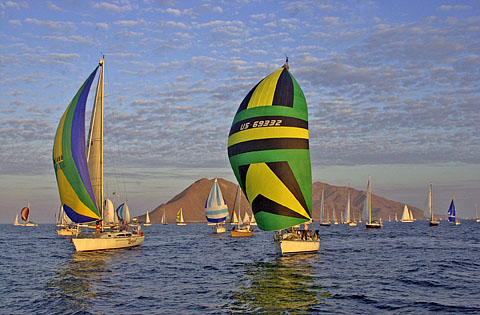 If you're planning on doing - or ever have done - a Ha-Ha, drop into Two Harbors on Saturday for the Baja Ha-Ha Preview & Potluck.
Photo Latitude / Richard
© 2007 Latitude 38 Publishing Co., Inc.
If you're planning to attend, it would be a big help to us if you'd let us know by email so we can get an idea of how many people to expect. Gracias.
- latitude / rs
---