---
---

Photo of the Day: Tahiti on the Mind

August 3 - Papeete, Tahiti


(Click on the photo to enlarge it.)
The tightly choreographed moves of dozens of elaborately costumed dancers thrilled crowds at the Heiva Festival.
Photo Latitude / Andy
© 2007 Latitude 38 Publishing Co., Inc.

For most cruising sailors passing east-to-west through the South Pacific this season, the arrival of August means it's time to push on to the Cook Islands, Tonga and New Zealand. It also signals the end of the month-long Heiva Festival, held throughout the Tahitian Islands, which celebrate traditional dance, music and sport. Cruising sailors lucky enough to have passed through Papeete during July might have caught a big dance show such as this one, where more than a hundred costumed dancers dazzled the crowd.

We've got Tahiti on the mind this month, as the August issue of Latitude 38 includes reports on both the Tahiti Pearl Regatta, in which a San Francisco team competed, and the Tahiti Tourisme Cup, a rendezvous on Moorea of 'Pacific Puddle Jumpers'. Look for our recap article on the 2007 Puddle Jump in the September edition.

- latitude / at
---
Stop the Presses!
August 3 - San Blas, Mexico
How is Norm Goldie of San Blas like Mark Twain? It appears that the reports of his death, like the premature ones about the famous author, "have been exaggerated."
According to Celia Guiles of St. Briged, who made the original report we ran in the July 30 edition of 'Lectronic, "I got a call from the same friend in San Blas who told me of Norm's death. He said, 'You won't believe it, but Norm Goldie is not dead!' None of us know how the false report could have come about."
We apologize to Norm for the mistake, but are glad that he remains among the living. Goldie, of course, is the 'cruiser guide' in San Blas who has been helping cruisers for decades but, it must be added, driving others nuts. He's a controversial figure, to say the least.
- latitude / rs
---
Mexico-Only Crew List Goes Digital
August 3 - Cyberspace
Our new free online Mexico-Only Crew List forms made their debut on August 1. We already have some potential crew members signed up. Are you a boat owner planning to cruise Mexico or sail in the Baja Ha-Ha this season? You can still have the honor of being the first to sign up on the 'Skippers Looking for Crew' list.
Skippers and crew can read the instructions, fill out the forms, and view the lists at www.latitude38.com/crewlist/Crew.html.
---
And the Real Winner Is . . .
August 3 - Mill Valley
Continuing in the 'mea culpa' vein, we have another apology to make. We strive for editorial excellence, but sometimes we're only as good as the information we're given. Such was the case on Wednesday, when we misidentified the winner of the Schumacher trophy for best performance at the Second Half Opener on the 'Ocean' course.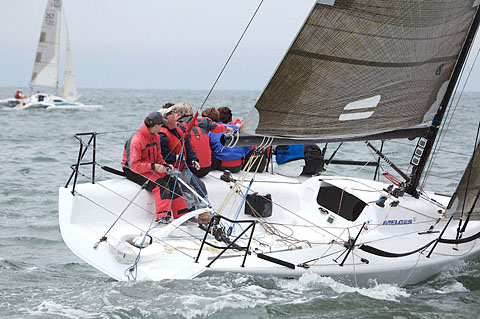 Stewball, before it turned the corner at Pt. Bonita and returned to the Bay for its blazingly fast and victorious run down the Cityfront during Saturday's distance race.
© 2007 Peter Lyons / www.lyonsimaging.com
The real winner was Caleb Everett's Melges 32 Stewball, which not only came out on top of the Party Circuit G division on Saturday, but also edged out its newest sistership on the Bay boat for boat, Richard Leslie's debut-making Southern Cross. Something tells us we'll be hearing more from both these boats in the near future.
- latitude / ss
---
All Quiet on the Hurricane Front
August 3 - Hurricane City
The heart of this year's Caribbean/Atlantic hurricane season lies ahead, of course, but already some experts, such as William Gray of Colorado, are backpedaling on their original predictions of it being a heavy hurricane season. Funny, experts did the exact same thing last year. To date in the Atlantic/Caribbean, there have been only two weak tropical storms. In contrast, by this time in '05 there had been five tropical storms and three full-on hurricanes, and in '03, two hurricanes and two tropical storms.
If the hurricane season continues to be light, it will create doubts as to the ability of forecasters to make intelligent long range global weather forecasts. As for Mexico, where the hurricane season starts earlier and ends earlier, it's also been quiet, with nothing over 45 knots. We want to emphasize that it's still very early in the season, with the big hurricane months still ahead, so vigilance will still be very important for the several months to come. Our thoughts are with all of you who, like us, have boats in hurricane zones.
- latitude / rs
---
Ha-Ha Preview & Potluck Next Saturday
August 3 - Two Harbors, Catalina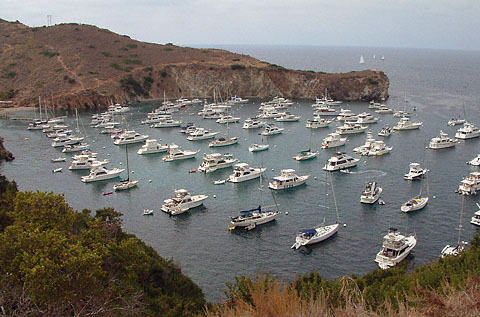 Don't miss the party!
Photo Latitude / JR
© 2007 Latitude 38 Publishing Co., Inc.
The Baja Ha-Ha folks want to remind everyone who has ever done a Ha-Ha or who is thinking about doing a Ha-Ha, that they'll be having a little get-together at the Bandstand at Two Harbors on Saturday August 11, starting at 5 p.m. It's going to be a most casual affair, with a big pit all ready for a BBQ, a slide show of past Ha-Ha's and other fun stuff. In addition, some of the folks from West Marine, whose Santa Cruz 40, Promotion, is one of the 92 paid entries to date, will be on hand to pass out some goodies. We'll see you there!
- latitude / rs
---