---
---

Photo of the Day: TransPac Wrap-up

July 30 - Diamond Head


(Click on the photo to enlarge it.)
Traveler skipper Mike Lawler was happy to step on shore.
© 2007 www.underthesunphotos.com

Today's photo of the day is skipper Mike Lawler, who was understandably overjoyed to reach dry land on Friday afternoon after a 19-day TransPac passage with his crew of eight on his 47-ft Penna-designed Traveler. Lawler was one of hundreds of family and crew representing 68 boats who gathered on Friday night for the TransPac prize-giving in Honolulu. As we reported earlier Roy Disney's super turbo'd 94-ft machine Pyewacket received the Barn Door for fastest elapsed time (it's third, though each with a different version of the boat), and Tom Garnier's J/125 Reinrag2 was awarded the King Kalakaua trophy for fastest corrected time finish.

While the trophy winners were no doubt pleased, there were others even more excited to be in that ballroom on Friday night and on dry ground at long last. They included the Andrews 45 Locomotion, whose crew of eight were down to their last gallon of water when they crossed the finish line late Friday afternoon. They were left high and dry when their watermaker malfunctioned early in the race and one of their five remaining 6-gallon jury jugs leaked days later. Averaging just 7.6 knots during the race, they dipped into their emergency provisions, rationed themselves to a quart of water per person per day, and contacted the Coast Guard to see what their options were for receiving emergency supplies if it got any worse. (If it were us, we'd have contacted another race boat first - there was at least one nearby - before going to the Coast Guard, but sometimes desperate times call for desperate decisions.) Thankfully, the Loco crew was able to get by with what they had, though needless to say they were parched when they docked on Friday afternoon.


The first sips of liquid refreshment for the Locomotion crew were not beers or mai tais, but Starbucks venti-sized cups of ice water.
© 2007 www.underthesunphotos.com

Then there was Lawler and his Traveler crew, whose stories from their 19-day passage will delight, terrify and entertain generations of sailors to come. It started when they had to re-start six hours late after a crew member sliced his finger just after the official class start and required stitches. The next day, west of San Clemente Island, they found themselves in the middle of a naval training exercise with live ammo and were escorted 10 miles off course by a Navy helicopter. In the following days, they told of two separate steering failures (both fixed) and several incidents with their spinnaker and spin pole, the last one taking place just after they finished. "The spinnaker blew out in a gust when we were taking it down after the finish," Lawler said. "Then we tried to start the engine and it wouldn't start. Fortunately, we had a couple of power boaters on board and they got it going." Undeterred, Lawler and his companion Barbara Burdick will continue on with the boat after the rest of the crew disembarks in Hawaii and everyone gets some well-deserved rest and repairs. The race was the first leg of a three-year world cruise. Next stop, Tahiti.

As of Saturday's daily standings, the last position report published, four boats had yet to finish. The farthest boat out was within 250 miles of the finish line and we presume that everyone in the TransPac class of 2007 is back on dry ground this morning at long last.

So with that, we mark the end of our 2007 TransPac coverage in 'Lectronic. For all the results, daily press reports and plenty of photos, go to www.transpacificyc.org. And be sure to check the August issue of Latitude 38, which hits the streets on Wednesday, for complete coverage of this year's race. What a long, strange trip it was!

- latitude / ss
---
Norm Goldie Passes Away
July 30 - San Blas, Mexico
We're told that Norm Goldie, who moved from Brooklyn to San Blas about 30 years ago to become a fishing guide, and who was the source of English-speaking local knowledge in that small but historic port between Mazatlan and Banderas Bay, passed away last week during surgery in the States. He had long
suffered from heart problems.
Goldie was a polarizing figure in San Blas. Some cruisers loved him, as he enjoyed guiding boats in and out of the harbor, and helping cruisers clear up paperwork and other problems with officials. But he also infuriated other cruisers, for what they saw as meddling in their affairs when not wanted. His relationship with Latitude was similarly up and down, most recently being up. We're told that his wife Jan is planning to continue to help cruisers in any way that she can.
- latitude / rs
---
Ha-Ha Aboard the Mothership Profligate
July 30 - Mill Valley
For the first time in years, there are a couple of 'shared expenses' crew positions available aboard the 63-ft catamaran Profligate for the Baja Ha-Ha, the 750-mile cruisers rally, which starts in San Diego on October 29 and finishes in Cabo San Lucas on November 10.
UPDATE: Thanks to the great response, we've filled the positions and Profligate is full up for this year's Ha-Ha.

Photo Latitude / Annie
© 2007 Latitude 38 Publishing Co., Inc.
- latitude / rs
---
Apparently Not 'Either/Or' Between AC and WSL
July 30 - London, England
When BMW Oracle signed Russell Coutts to take over their America's Cup program, and with the Spanish said to be very interested in Paul Cayard, we couldn't help but wonder if the Coutts-Cayard World Sailing League - to feature racing in ports around the world on 70-ft catamarans - was history. Apparently not, as the WSL just released this rendering of their cats, the first of which is to be finished late this year.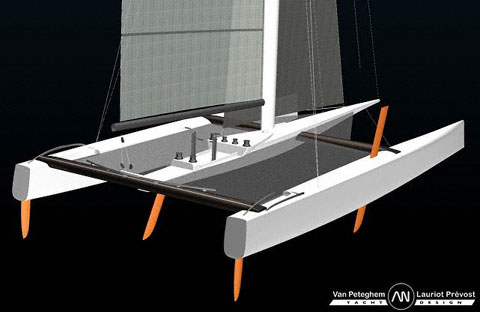 Marc Van Peteghem/Lauriot Prévost designed the state of the art 70-ft catamaran that will be used for the World Sailing League, set to kick off in 2009.
Rendering Courtesy WSL
© 2007 Latitude 38 Publishing Co., Inc.
By the way, it's being reported that BMW Oracle will pay Coutts about $14 million a year for the next two years. Chris Dickson, who previously ran the Oracle campaign, reportedly got about one-third that much.
- latitude / rs
---
Legal Deterrents for Sea Lions
July 30 - Sea Lion City
Last May the National Oceanic and Atmospheric Administration (NOAA) came up with a list of harbor seal and sea lion "deterrents" that are legal under the Marine Mammal Protection Act of 1972. Some things that are allowable might surprise you, such as paint ball guns, rubber bullets, fire crackers, propane cannons, slingshots, cattle prods, super soakers, pepper spray and the like. But before you run out and buy a paint ball gun and go after sea lions and harbor seals for sport, there are some things to remember:
1) You can only use these methods if you own developed waterfront, decks, floats, docks, piers, bait receivers or have a vessel on a mooring or at anchor that is being threatened.
2) If you seriously injure a sea lion or harbor seal, or injure bystanders, you'll be in a heap of trouble.
3) Use of the suggested deterrents may be in violation of local laws and regulations. For example, before loading up on fire crackers or paint ball guns to discourage seals and sea lions from coming on your boat in Newport Harbor - or anywhere else - you're going to want to check with the sheriff's department.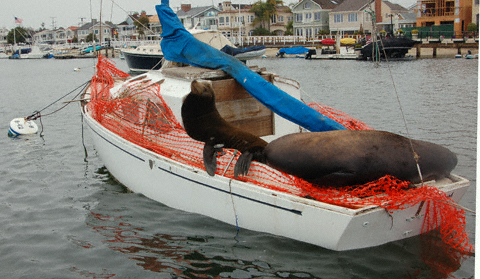 Rambo-like vengence is not allowed.
Photo Latitude / Richard
© 2007 Latitude 38 Publishing Co., Inc.
For details on NOAA's suggestions, please visit www.nwr.noaa.gov/Marine-Mammals/Seals-and-Sea-Lions/Deterring-Pinnipeds.cfm.
- latitude / rs
---